Click here to view original web page at www.huffingtonpost.com
Having lived through a childhood that makes Oliver Twist's look like a walk in the park on a sunny day, Texas-born singer Meat Loaf has overcome all that and, in in more than 40 years — performing innumerable concerts and selling more than 100 million albums– has proven his relevance in music and popularity to fans. Given the opportunity to speak with him, one sees a man who is thoughtful, has a good sense of humor and firm opinions.
He's found success worldwide but, with all the fame and his outstanding record of achievement, he says, "I go to the store by myself all the time. The same with doctor appointments and I don't expect to be recognized. But sometimes I am.
"I don't," he continues, "take pictures in airports because there is always a bunch of people who don't know who you are. But they see someone taking a picture and they know there's a celebrity. Even if they don't know who you are, if they think you're a celebrity they want a picture with you. I always take pictures with kids and, one time, I did that and I missed a plane."
Born Marvin Aday he acquired his stage name in eighth grade. His father would, from the time he can remember, refer to him as "Meat." In eighth grade, when he stepped on his coach's foot, the latter said, "Get off my foot, you hunk of Meat Loaf!" and, as all the bystanders were in eighth grade, the name stuck. Later, after hearing an ad for Levi's jeans that bemoaned the fate of "Poor fat Marvin [who] can't wear Levi's," Marvin Aday legally changed his first name to Michael and notes, "I weigh less today than I did when I was 11."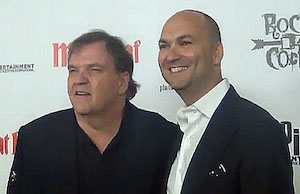 At the moment, Meat Loaf is in LasVegas to reprise his very successful turn in Rocktellz and Cocktails, the show produced at Planet Hollywood Las Vegas by Adam Steck's SPI Entertainment. (Meat Loaf and Steck are seen on the RockTellz and CockTails red carpet at right.)
The description of the show on its promotional website isn't all hyperbole. It describes "An interactive live show comprised of a full-on rock concert, hit songs and intimate, personal stories of the highs and the lows of rock 'n roll's most celebrated and fascinating stars. Grammy Award winner Meat Loaf returns to the RockTellz & CockTails stage by popular demand and will take audiences on a once-in-a-lifetime journey through his 47-year music, stage and film career in this over-the-top production show.
"Performances will incorporate his biggest hits like "I Would Do Anything for Love (But I Won't Do That)" and "Paradise by the Dashboard Light" from his 1977 classic Bat Out Of Hell, and firsthand stories that will blow your mind! Transporting his undeniable stage and film presence to the Las Vegas Strip, the Texas Film Hall of Fame and Grammy Award-winning artist will offer the audience a diverse and unique show like no other entertainer. "
Meat Loaf first did the show for six weeks last November and December and, obviously, the box office was healthy and he enjoyed doing it. So, he's back. This time, appearing Tuesday, Thursday and Saturday nights at 7 pm now through April 8, he will be sharing the stage with The Jacksons — Jermaine, Tito, Marlon and Jackie — who will appear Thursday through Sunday nights at 9:30 p.m. February 20 through April 27.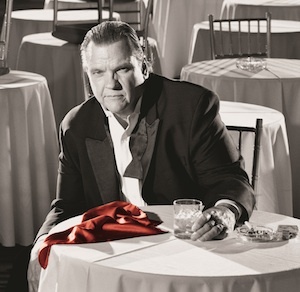 style="float: right; margin:10px"/>I went to the show when it opened last year because I review shows here in Las Vegas. I went not knowing much about Meat Loaf other than a couple of songs and movie gigs. But it was a job I had to do.
I left the show a real fan. He is funny, smart, a fine raconteur, has a good perspective on things and is quick on his feet. And, yeah, though as happens, his voice has changed — gained depth and breadth — he can still deliver a great performance.
Clearly, too, he's thought a great deal about his life, his career, his music. Of the latter, he says, "'Paradise' and 'Bat Out of Hell' have stood up. I recorded them in 1977 and they're still selling 200,000 copies a year." With more than 43 million copies sold globally, "Bat" one of the best-selling recordings ever, the #2 best-selling album of all time, written by his long-time friend and collaborator Jim Steinman.
"My music," he says "doesn't belong to me. It belongs to the listeners."
Despite the fact that he is best known as a singer, Meat Loaf describes himself as an "actor first. I don't sing a song, I live a song." He's acted on Broadway (including a role in the original Broadway run of Hair where, he says, he was "paid $12.75 a show "not to get nekked."
Then he did The Rocky Horror Show both on Broadway and in film and played a priest in Gower Champion's short-lived production of Rockabye Hamlet at Broadway's Minskoff Theatre.
There have also been approximately 70 movie and TV roles, including the soon-to-be-released horror film, Stage Fright.
Now, though, it's Rocktellz and Cocktails in Las Vegas.
In the show, he talks about and performs his hits, including "Red Light," "Life Is A Lemon," "Dead Ringer," "Hot Patootie," "Took the Words," "Frying Pan,"" I Would Do Anything for Love (But I Won't Do That)," "Paradise by the Dashboard Light," "All Revved Up" and "Bat Out of Hell."
Meat Loaf devotes a good portion of the evening to taking questions from the audience. He's prepared answers to 32 possible questions on an iPad that projects relevant images onto a screen. He's been asked the imaginable range of questions and has helped an audience member propose.
For this run, instead of just taking questions randomly from audience members who raise their hands, upon entering the theater, those who may have questions are asked to write them down on index cards. He then chooses the ones he will answer before the show. When asked questions about the meaning of a particular song, he says, "I will never tell you what I meant when I sang a song."
Meat Loaf has become something of a political pundit. He's been on a range of political TV shows and played the Clinton inauguration. He says firmly, "I vote the person, not the party."
In addition to giving thought to current affairs, he also has definite tastes in the arts. He says, "I"m studying Brando. Wonderful! I really like the work of BonJovi and Billy Joel, Bob Seger and Linda Ronstadt. And I wish I, not Joe Walsh, had written 'Hotel California.'"
With all the success he's found in music, Meat Loaf's first love remains the stage. After winning a Grammy® Award, he told Bob Costas that, as nice as that is, he'd rather win an Oscar.® He says he would also "like to do a part I originate on Broadway, not just one I take over from someone else."
Meanwhile, his dream role is Jud Fry in Oklahoma!. As our interview ends on that note, he smiles and says, "I will see you on Broadway, ok?"
Meat Loaf promotes RockTellz and Cocktails on Las Vegas TV:
Photos used with permission/Photo of Meat Loaf seated by Jay White
Click here to view full article
Tags:
actor
,
concert
,
film
,
movie
,
music
,
release
,
singer
,
tv