Click here to view original web page at www.yorkregion.com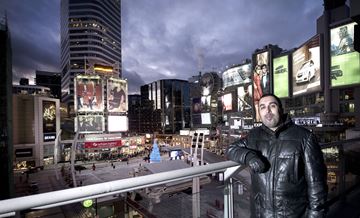 Thornhill Liberal
Thornhill native Raoul Juneja is hard to define with just one label.
The 34-year-old has been described as a hip-hop deejay, hip-hop producer, hip-hop promoter, and hip-hop activist over the years.
"Hip-hop has always been a big part of my life and I'm proud that people have used it to describe my various professions," he said.
He has also worked in film as a producer and actor and is known for The Bhangramentary (2001), A Huey P. Newton Story (2001) and V-Mix (2011).
He was also associate producer on the documentary Mandela and the Children from 1998 and he produced Hip-Hop 4 Africa, a documentary about the Nelson Mandela Children's Fund Canada and their Hip-Hop 4 Africa concert in Toronto, hosted by the CBC's George Stroumboulopoulos.
Today, Mr. Juneja is immersed in TV and radio.
He is a news presenter, music coordinator and interviewer with V-Mix Omni, Canada's first national TV show covering contemporary South Asian artists.
"We have been trying to create a platform for independent Canadian music," he said.
Mr. Juneja is also the programmer for CBC's first South Asian Canadian music radio station, which launches Feb. 28 on CBCMusic.ca.
The station is being added to the CBC's existing line-up of online radio stations. It's also a landmark event in Mr. Juneja's life.
"It will be a groundbreaking moment, not only for my career on a personal level but also for my entire generation of South Asian Canadian artists," he said. "It's certainly a full circle moment for me, having started out on campus radio and now getting the privilege of programming music for an entire station that will be listened to worldwide".
Mr. Juneja's venture into campus radio was planned.
He knew he wanted to work in radio so, before entering university, he contacted each campus he was interested in and asked about the likelihood of getting on the campus radio. At Ryerson, he was told about a more than 1,000-person waiting list to get onto the campus radio station. The University of Western Ontario offered him his own show right away. So, he went to Western, which is where he began deejaying and appearing as a TV host and columnist on various college media outlets. He was in a program called media, information and technoculture.
But he ended up skipping class and his average dropped from his stellar straight A record in high school to 60s and 70s in university.
This academic slide happened for a good reason. Mr. Juneja craved the thrill of real-world experience, experience similar to the kind he got working at the campus newspaper and radio station.
"The feeling I got from working at a newspaper, I couldn't get enough of it. In classes, I was waiting to get out," he said.
He ended up leaving university before finishing his degree.
"I felt I couldn't waste any more time there," he said.
Later on, he became interested in educating young people, specifically about hip hop.
Mr. Juneja is the founder of the Hip-Hop Literacy high school and college campaign.
"Hip hop can be very positive. At the end of the day, it comes from poetry. I was trying to encourage kids to get into it. Why not encourage kids to read about music stars?" he said.
Mr. Juneja was lucky enough to be encouraged and mentored by hugely popular comedian Russell Peters.
He met Mr. Peters through his friend Rasul Somji, a comedian from Markham.
Of course, having Russell Peters as a mentor was a boon to his popularity,
Mr. Juneja would play hip hop during his high school days as comedians entered or exited the stage for a performance.
Mr. Juneja remembers Mr. Peters giving him lots of good advice over the years.
He could have used a good mentor even earlier in his life.
Life was not always easy for him growing up in Thornhill.
Mr. Juneja's grandfather was among the first Sikh professionals to come to Canada in the late 1960s/early 1970s, Mr. Juneja said.
Mr. Juneja was born in Toronto but grew up in a strong hip hop culture in New York.
So, when Mr. Juneja moved from New York to Thornhill in 1993, at about age 13, he endured a sizable cultureshock, he said.
He went to Thornhill's Bayview Fairways Public School, followed by Thornlea Secondary School.
Growing up in Thornhill during the 1990s, the community was a different place — less multicultural than it is today, he said. Back then, he was one of the only South Asians in his class.
In these early days, he spent much of his time at home, earned straight As and listened to music.
When he was at Bayview Fairways, he remembers that going to Bishop's Cross plaza at Leslie and John Sts. was considered a cool place to visit.
The video store helped fuel and intensify his passion for film. Mr. Juneja jokes that he went to the Quentin Tarantino version of film school. As an only child, he had plenty of time to himself. He learned about movies in a hands-on, experiential way. He loved renting behind-the-scenes documentaries about how movies were made.
So, from being the odd one out in the homogeneous world of his youth, it is with considerable satisfaction that Mr. Juneja embarks on a mission he believes will open doors to South Asian artists.
"For many years, South Asian Canadian artists have had to leave Canada for the U.K. or India in order to get some sort of consistent radio airplay", he said. "CBC's South Asian Mix will help provide a local platform for these artists for Canadians of all cultures to enjoy".
V-MIX on OMNI airs Sundays at 4 p.m. in Ontario. CBC Music: South Asian Mix launches Feb. 28 on CBCMusic.ca
Click here to view full article
Tags:
actor
,
concert
,
film
,
movie
,
music
,
producer
,
tv