Click here to view original web page at www.huffingtonpost.co.uk
A Robbie Williams fan has become injured after the singer fell off stage and landed on top of her during one of his concerts last month, according to The Mirror.
Robbie was performing at Newcastle's Metro Radio Arena when he lost his footing after reaching out to touch fans' hands as he performed, and crashed on top of Margaret Nash, who was believed to be in the front row.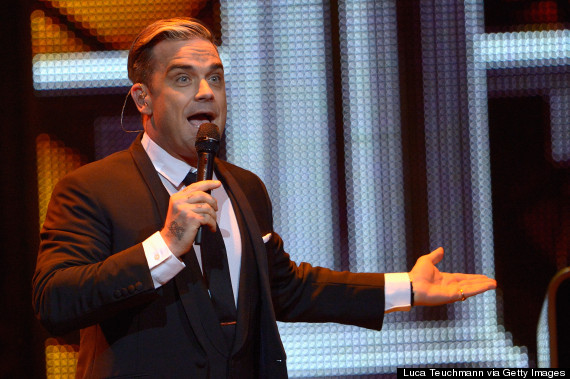 Margaret reportedly missed the rest of the concert as she went to see a medic after the singer fell on her, and then spent the rest of the night in hospital where it was discovered she had a broken arm.
Metro Radio Arena general manager Paul Tattenden told the newspaper: "We attended to the lady after she said she had pain in her arm.
"We were later told she had broken it. We got in touch with Robbie's production company and they have been in touch with the lady."
A friend of the Robbie fan has admitted that she was upset to have missed the rest of the concert due to her injury, saying: "She's still in a lot of pain. She was devastated to miss the show."
Robbie was performing in Newcastle as part of his 'Swings Both Ways' tour, in support of the chart-topping album of the same name.
'Swings Both Ways' – a follow-up to the singer's 2001 album 'Swing When You're Winning' – reached the UK top spot when it was released last year, and features collaborations with Lily Allen, Olly Murs and Michael Bublé.
Loading Slideshow
NRJ Music Awards 2010 – Outside Arrivals

CANNES, FRANCE – JANUARY 23: Robbie Williams attends the NRJ Music Awards 2010 at Palais des Festivals on January 23, 2010 in Cannes, France. (Photo by Francois Durand/Getty Images)

Robbie Williams, Gary Barlow Radio 1 Interview – Photocall

LONDON, ENGLAND – AUGUST 26: (L-R) Robbie Williams leaves the Radio 1 studios after an interview with Chris Moyles on August 26, 2010 in London, England. (Photo by Gareth Cattermole/Getty Images)

Take That Visit Radio 1

LONDON, ENGLAND – OCTOBER 27: Robbie Williams of 'Take That' departs BBC Radio 1 at Yalding House after being interviewed on the Chris Moyles Show on October 27, 2010 in London, England. (Photo by Ian Gavan/Getty Images)

Robbie Williams: Special Announcement – Photocall

LONDON, ENGLAND – NOVEMBER 26: Robbie Williams attends a photocall to announce a forthcoming stadium tour for Summer 2013 in conjunction with Samsung at Soho Hotel on November 26, 2012 in London, England. Olly Murs is scheduled as special guest on all dates which are presented in association with Samsung. (Photo by Ian Gavan/Getty Images)

Brit Awards 2013 – Red Carpet Arrivals

LONDON, ENGLAND – FEBRUARY 20: Robbie Williams attends the Brit Awards 2013 at the 02 Arena on February 20, 2013 in London, England. (Photo by Eamonn McCormack/Getty Images)

Robbie Williams

In this photo made available Wednesday, Feb. 27, 2013 British musician and entertainer Robbie Williams poses during the presentation of his men's fashion collection Farrell at KaDeWe department store in Berlin, Germany, Tuesday, Feb. 26, 2013. (AP Photo/dpa, Paul Zinken)

Robbie Williams

Robbie Williams performs on stage during the BRIT Awards 2013 at the o2 Arena in London on Wednesday, Feb. 20, 2013. (Photo by Joel Ryan/Invision/AP)

Robbie Williams

Robbie Williams seen arriving at the BRIT Awards 2013 at the o2 Arena in London on Wednesday, Feb. 20, 2013. (Photo by Joel Ryan/Invision/AP)

Robbie Williams

Robbie Williams seen arriving at the BRIT Awards 2013 at the o2 Arena in London on Wednesday, Feb. 20, 2013. (Photo by Joel Ryan/Invision/AP)

Ayda Field, Robbie Williams

Ayda Field and Robbie Williams attend a Grammy Party hosted by Lucian Grainge on Sunday, Feb. 10, 2013 in Los Angeles. (Photo by Todd Williamson/Invision/AP)

British pop star singer Robbie Williams performs during the Italian State RAI TV program "Che Tempo che Fa", in Milan, Italy, Sunday, Dec. 2, 2012. (AP Photo/Antonio Calanni)

Robbie Williams

British singer Robbie Williams arrives for the GQ Men of the Year Awards at a central London venue, Tuesday, Sept. 4, 2012. (AP Photo/Jonathan Short)

Leona Lewis, Robbie Williams

Robbie Williams, left, and Leona Lewis, arrive for the official 'switching-on' of the Oxford Street Christmas Lights, in central London, Monday, Nov. 5, 2012. (Photo by Joel Ryan/Invision/AP)

Robbie Williams

Robbie Williams performs at the Queen's Jubilee Concert in front of Buckingham Palace, London, Monday, June 4, 2012. The concert is a part of four days of celebrations to mark the 60 year reign of Britain's Queen Elizabeth II. (AP Photo/Joel Ryan)

Robbie Williams

Robbie Williams performs at the Queen's Jubilee Concert in front of Buckingham Palace, London, Monday, June 4, 2012. The concert is a part of four days of celebrations to mark the 60 year reign of Britain's Queen Elizabeth II. (AP Photo / David Parker, Pool)

Robbie Williams

British singer Robbie Williams arrives for the German premiere of Cars 2 at Matthaeser Cinema in Munich, Germany, Thursday, July 28, 2011. (AP Photo/Matthias Schrader)

Robbie Williams

British singer Robbie Williams listens to questions from reporters as he arrives for the German premiere of Cars 2 at Matthaeser Cinema in Munich, Germany, Thursday, July 28, 2011. (AP Photo/Matthias Schrader)

Brit Awards 2013 – Red Carpet Arrivals

LONDON, ENGLAND – FEBRUARY 20: Robbie Williams attends the Brit Awards 2013 at the 02 Arena on February 20, 2013 in London, England. (Photo by Eamonn McCormack/Getty Images)

BRITAIN-ENTERTAINMENT-MUSIC-BRIT-AWARDS

British singer-songerwriter Robbie Williams poses on the red carpet arriving at the BRIT Awards 2013 in London on February 20, 2013. AFP PHOTO / ANDREW COWIE (Photo credit should read ANDREW COWIE/AFP/Getty Images)

Brit Awards 2013 – Show

LONDON, ENGLAND – FEBRUARY 20: Robbie Williams performs on stage during the Brit Awards 2013 at the 02 Arena on February 20, 2013 in London, England. (Photo by Matt Kent/Getty Images)

Robbie Williams: Special Announcement – Photocall

LONDON, ENGLAND – NOVEMBER 26: Robbie Williams and Olly Murs attend a photocall to announce a forthcoming stadium tour for Summer 2013 in conjunction with Samsung at Soho Hotel on November 26, 2012 in London, England. Olly Murs is scheduled as special guest on all dates which are presented in association with Samsung. (Photo by Ian Gavan/Getty Images)

BRITAIN-ENTERTAINMENT-MUSIC-BRIT-AWARDS

British singer-songerwriter Robbie Williams poses on the red carpet arriving at the BRIT Awards 2013 in London on February 20, 2013. AFP PHOTO / ANDREW COWIE (Photo credit should read ANDREW COWIE/AFP/Getty Images)

BRITAIN-ENTERTAINMENT-MUSIC-BRIT-AWARDS

British singer-songerwriter Robbie Williams poses on the red carpet arriving at the BRIT Awards 2013 in London on February 20, 2013. AFP PHOTO / ANDREW COWIE (Photo credit should read ANDREW COWIE/AFP/Getty Images)

Robbie Williams: Special Announcement – Photocall

LONDON, ENGLAND – NOVEMBER 26: Robbie Williams attends a photocall to announce a forthcoming stadium tour for Summer 2013 in conjunction with Samsung at Soho Hotel on November 26, 2012 in London, England. Olly Murs is scheduled as special guest on all dates which are presented in association with Samsung. (Photo by Ian Gavan/Getty Images)

Robbie Williams – Album Signing

LONDON, UNITED KINGDOM – NOVEMBER 05: Robbie Williams meets fans and signs copies of his album 'Take The Crown' at HMV, Oxford Street on November 5, 2012 in London, England. (Photo by Jo Hale/Getty Images)

Robbie Williams – Album Signing

LONDON, UNITED KINGDOM – NOVEMBER 05: Robbie Williams meets fans and signs copies of his album 'Take The Crown' at HMV, Oxford Street on November 5, 2012 in London, England. (Photo by Jo Hale/Getty Images)

Robbie Williams – Album Signing

LONDON, UNITED KINGDOM – NOVEMBER 05: Robbie Williams meets fans and signs copies of his album 'Take The Crown' at HMV, Oxford Street on November 5, 2012 in London, England. (Photo by Jo Hale/Getty Images)

Oxford Street Christmas Lights Switch On

LONDON, UNITED KINGDOM – NOVEMBER 05: Robbie Williams performs prior to the Oxford Street Christmas Lights switching on on November 5, 2012 in London, England. (Photo by Stuart Wilson/Getty Images)

Robbie Williams – Album Signing

LONDON, UNITED KINGDOM – NOVEMBER 05: Robbie Williams meets fans and signs copies of his album 'Take The Crown' at HMV, Oxford Street on November 5, 2012 in London, England. (Photo by Jo Hale/Getty Images)

'Wetten dass..?' From Bremen

BREMEN, GERMANY – NOVEMBER 03: Robbie Williams performs during the 'Wetten dass..?' show on November 3, 2012 in Bremen, Germany. (Photo by Sascha Baumann/ZDF via Getty Images)

Deutscher Radiopreis 2012

HAMBURG, GERMANY – SEPTEMBER 06: Robbie Williams attends Deutscher Radiopreis 2012 at 'Schuppen 52' on September 6, 2012 in Hamburg, Germany. (Photo by Christian Augustin/Getty Images)

Deutscher Radiopreis 2012

HAMBURG, GERMANY – SEPTEMBER 06: Robbie Williams attends Deutscher Radiopreis 2012 at 'Schuppen 52' on September 6, 2012 in Hamburg, Germany. (Photo by Christian Augustin/Getty Images)

GQ Men of the Year Awards 2012

LONDON, ENGLAND – SEPTEMBER 04: Robbie Williams attends the GQ Men of the Year Awards 2012 at The Royal Opera House on September 4, 2012 in London, England. (Photo by Ben Pruchnie/Getty Images)

GQ Men of the Year Awards 2012

LONDON, ENGLAND – SEPTEMBER 04: Robbie Williams attends the GQ Men of the Year Awards 2012 at The Royal Opera House on September 4, 2012 in London, England. (Photo by Ben Pruchnie/Getty Images)

British singer-songwriter Robbie William

British singer-songwriter Robbie Williams performs during the Queen's Diamond Jubilee Concert at Buckingham Palace in London on June 4, 2012. The star-studded musical extravaganza comes on the third of four days of celebrations to celebrate Queen Elizabeth II's 60 years on the throne. AFP PHOTO / LEON NEAL (Photo credit should read LEON NEAL/AFP/GettyImages)

GQ Men of the Year Awards 2012

LONDON, ENGLAND – SEPTEMBER 04: Robbie Williams attends the GQ Men of the Year Awards 2012 at The Royal Opera House on September 4, 2012 in London, England. (Photo by Ben Pruchnie/Getty Images)

British singer-songwriter Robbie William

British singer-songwriter Robbie Williams performs on stage during the Queen's Diamond Jubilee Concert at Buckingham Palace in London, on June 4, 2012. The star-studded musical extravaganza comes on the third of four days of celebrations to celebrate Queen Elizabeth II's 60 years on the throne. AFP PHOTO / LEON NEAL (Photo credit should read LEON NEAL/AFP/GettyImages)

Diamond Jubilee – Buckingham Palace Concert

LONDON, ENGLAND – JUNE 04: Singer Robbie Williams performs on stage during the Diamond Jubilee concert at Buckingham Palace on June 4, 2012 in London, England. For only the second time in its history the UK celebrates the Diamond Jubilee of a monarch. Her Majesty Queen Elizabeth II celebrates the 60th anniversary of her ascension to the throne. Thousands of well-wishers from around the world have flocked to London to witness the spectacle of the weekend's celebrations. (Photo by Dan Kitwood/Getty Images)

Diamond Jubilee – Buckingham Palace Concert

LONDON, ENGLAND – JUNE 04: Singer Robbie Williams performs on stage during the Diamond Jubilee concert at Buckingham Palace on June 4, 2012 in London, England. For only the second time in its history the UK celebrates the Diamond Jubilee of a monarch. Her Majesty Queen Elizabeth II celebrates the 60th anniversary of her ascension to the throne. Thousands of well-wishers from around the world have flocked to London to witness the spectacle of the weekend's celebrations. (Photo by Dan Kitwood/Getty Images)

Soccer Aid 2012

MANCHESTER, UNITED KINGDOM – MAY 27: Robbie Williams attends The Soccer aid foorball match in aid of UNICEF at Old Trafford at Old Trafford on May 27, 2012 in Manchester, England. (Photo by Nathan Cox/Getty Images)

Robbie Williams Launches New Clothing Range 'Farrell'

LONDON, ENGLAND – SEPTEMBER 15: Robbie Williams launches his new clothing range 'Farrell' at House of Fraser on September 15, 2011 in London, England. (Photo by Tim Whitby/Getty Images)

Robbie Williams Launches New Clothing Range 'Farrell'

LONDON, ENGLAND – SEPTEMBER 15: Robbie Williams launches his new clothing range 'Farrell' at House of Fraser on September 15, 2011 in London, England. (Photo by Tim Whitby/Getty Images)

CARS 2 – Germany Premiere

MUNICH, GERMANY – JULY 28: Singer Robbie Williams attends the CARS 2 Germany Premiere at the Mathaeser Filmpalast on July 28, 2011 in Munich, Germany. (Photo by Hannes Magerstaedt/Getty Images)

British singer Robbie Williams gives an

British singer Robbie Williams gives an interview prior to attend the German premiere for the movie 'Cars 2' in the southern Germany city of Munich on July 28, 2011. AFP PHOTO / CHRISTOF STACHE (Photo credit should read CHRISTOF STACHE/AFP/Getty Images)

CARS 2 – Germany Premiere

MUNICH, GERMANY – JULY 28: Singer Robbie Williams attends the CARS 2 Germany Premiere at the Mathaeser Filmpalast on July 28, 2011 in Munich, Germany. (Photo by Hannes Magerstaedt/Getty Images)

CARS 2 – Germany Premiere

MUNICH, GERMANY – JULY 28: Singer Robbie Williams attends the CARS 2 Germany Premiere at the Mathaeser Filmpalast on July 28, 2011 in Munich, Germany. (Photo by Hannes Magerstaedt/Getty Images)

CAPTION CORRECTION – NAME OF SINGERS —

CAPTION CORRECTION – NAME OF SINGERS — (From L) Jason Orange, Robbie Williams and Howard Donald of Take That pose with their Echo received in the category 'Best International Rock/Pop group' at the 'Echo' music awards in Berlin on March 24, 2011. AFP PHOTO / JOHN MACDOUGALL (Photo credit should read JOHN MACDOUGALL/AFP/Getty Images)

Echo Award 2011 – Winners Board

BERLIN, GERMANY – MARCH 24: Robbie Williams of Take That poses with his award during the Echo award 2011 at Palais am Funkturm on March 24, 2011 in Berlin, Germany. (Photo by Andreas Rentz/Getty Images)

British band 'Take that' singer Robbie W

British band 'Take that' singer Robbie Williams performs at the Ariston Theatre during the 61st Italian Music Festival in San Remo on February 18, 2011. AFP PHOTO / TIZIANA FABI (Photo credit should read TIZIANA FABI/AFP/Getty Images)

British band 'Take that' singer Robbie W

British band 'Take that' singer Robbie Williams performs at the Ariston Theatre during the 61st Italian Music Festival in San Remo on February 18, 2011. AFP PHOTO / TIZIANA FABI (Photo credit should read TIZIANA FABI/AFP/Getty Images)

Wetten Dass…? in Halle

HALLE, SAXONY-ANHALT – FEBRUARY 12: Robbie Williams of Take That performs during the 193th 'Wetten, Dass…?' show at the Messe Halle on February 12, 2011 in Halle, Germany. (Photo by Marco Prosch/Getty Images)
Also on HuffPost:
Click here to view full article
Tags:
concert
,
dates
,
film
,
movie
,
music
,
release
,
singer
,
tour
,
tv