Click here to view original web page at www.theguardian.com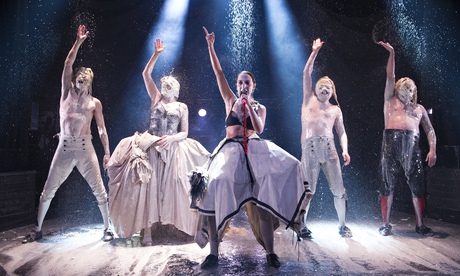 "We use 60 condoms per show," says Nikolaj Cederholm, with a twinkle in his eye. "We've got a special condom girl." The Danish director is talking about the latest Scandinavian creation to hit the UK. But it's not a brooding, corpse-filled murder mystery – nor some explicit movie made by an outspoken maverick. It's a, well, what is it exactly? "It's a theatre concert," says Cederholm proudly. "It's a genre I invented."
Having tackled the Beach Boys, Bob Dylan, the Beatles and more, Cederholm has now given his "theatre concert" treatment to Mozart. The company have had to bring over their own water system: two huge tanks, one for supply and one for collecting the waste. "We can't do two shows a day," he says, "because the costumes get so wrecked. Everything and everyone has to be hosed down afterwards." The instruments, however, are safe from spray, thanks to the condoms stretched over them. The water – which variously drips, streams and gushes down from the ceiling – is a reference to Mozart's music, says Cederholm, its purity and its constancy. But he hesitates to impose any further meaning on Mozart Undone, which opens tonight at the Barbican in London. "Audiences should find their own," he says.
Cederholm's theatre concerts have played to thousands over the past two decades, winning awards as well as popular and critical acclaim, with Mozart Undone selling out its recent 16-night run in Copenhagen. To make it, Cederholm – with his musical collaborator Jens Hellemann and lyricist Neill Cardinal Furio – listened to the composer's entire oeuvre, all 180 CDs of it. From this, they picked out melodic lines that they could turn into pop songs with words, in English, by Furio. There are 30 in all, but there's no overarching story, no dialogue, just a series of mini-narratives around each song. It's part MTV, part Hooked on Classics and part Monty Python.
Purists beware: you often have to strain to hear the original Mozart. The simple band – drums, guitar, cello, violin, mandolin, bass and double bass – plays both acoustic and electric, pastiching cabaret, bluegrass, soft rock, R&B, motown retro soul, folk, country and western and a capella. Not to be outdone, the actors sing, chant, whistle, chirrup, growl, dance and cavort, often while encased in mud, hanging upsidedown, squeezed into an enormous bell jar, or braving that falling water.
Cederholm, now 51, spent his 20s and 30s running an underground theatre company, working with many of the actors who've since become TV favourites here. "I wanted to show that theatre didn't have to be boring," he says, as we have a drink in a Copenhagen bar. "Together we made a revolution."
One of his 11-strong troupe will be familiar to British eyes: Lotte Andersen, who played publisher Bodil in The Bridge and senior cop Ruth in The Killing. "Mozart wrote popular music for a mass audience," she says. "Our show suits what he was doing." How would she describe the theatre concert concept? "There's circus in there. Physical theatre. Music videos. We're breaking down conventions. You have to experience it!" She loves the anarchic energy of the show: the engagement it requires from its actors, who are continually on stage, and the complete submersion in Mozart's music.
Cederholm's brainchild has its origins in the mid-1990s. Setting out to create a new type of show, he turned to Denmark's most successful band of the 1970s, Gasolin', and reinterpreted their songs. He next applied what turned out to be a hit formula to the Beatles (Come Together is still touring throughout Europe), Dylan and the Beach Boys. "Their music is all about California, so I made it into a show about cowboys in the gold rush."
This was no tribute show, though. Instead, familiar tracks were taken out of context, stretched, twisted and re-purposed. Help me Rhonda – a slight, even jokey song in the original version – became touching, even tragic, when performed by a weary, half-starved European immigrant. "It's the most popular genre there is here at the moment," says Cederholm of the theatre concert. "If a theatre needs a surefire hit, they'll programme one. Many other directors are also creating them: the Rolling Stones and Nick Cave have been done." There is even one based on Shakespeare's sonnets.
"Even if people think they don't know the music of Mozart," adds Cederholm, "they will have heard it – on television, in films, in commercials, in supermarkets, on the radio. It's deep inside us, something that's almost unconscious to a lot of us." Andersen nods. "When I was younger, I thought Mozart was a little too childish for me, too naive in a way. But that has changed over the years. You become happier with the straightforward." I mention pianist Schnabel's famous aphorism, that Mozart is "too easy for children, too difficult for professionals!" She laughs. "Yes – absolutely! This has sent us all back to Mozart."
But why Mozart rather than pop stars – surely easier starting points, with their neat three-minute songs and discrete narratives? Are you trying to rehabilitate the composer? Introduce people to classical music? "No, no, no," says Cederholm. There's no pedagogical agenda: "Mozart's music is in no need of my rehabilitation or popularisation." He does, however, rail against what he terms the "Herbert von Karajanisation" of Mozart, which renders his music into elegant polished lines of untouchable beauty that can only be enjoyed in the opera house or concert hall. "Mozart took a lot of his material from folk music – it's almost as if we're returning his work to that. Or wondering what he'd have done had he been a pop musician today."
Does he think Britain is ready for the theatre concert? "No idea!" he says. "It's well known that its audiences are very conservative compared to, say, the German stage, home of the new and experimental. I just hope audiences come out warm, happy and reassured. The show is a celebration of music, of life. It doesn't have to mean anything. You know those Mozart chocolate balls every tourist buys? Mozartkugel? I wanted the Barbican to sell them with the line, 'Now Mozart's balls are rolling!' But they didn't go for that."
Click here to view full article
Tags:
actor
,
concert
,
director
,
film
,
movie
,
music
,
television
,
tour
,
tv