Click here to view original web page at lakewoodobserver.com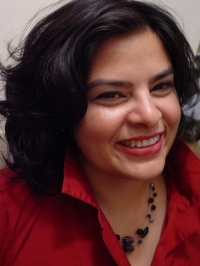 Internationally acclaimed Brasilian singer and guitarist Luca Mundaca will present a concert at the Beachcliff Tavern, 19245 Detroit Avenue, Rocky River, Ohio 44116 on Saturday, January 25, 2014 at 9 p.m. Although an accomplished solo artist, Luca will be accompanied by a stand up bass and a percussionist for this show.
Advanced tickets are $8.00 and are available online at https://www.eventbrite.com/e/luca-mundaca-in-concert-tickets-9738667617. On the day of the show, tickets are $10.00 online or at the door.
Samples of her music can be heard at http://www.lucamundaca.com.
Singer, songwriter, and guitarist Luca Mundaca is one of the great Brazilian artists who have gained international acclaim. Luca is from a small town just south of Sao Paulo. From her early teens on, she has been fine tuning her musical gifts. Early on she quickly mastered the standard Bossa Nova repertoire and she became adept at interpreting the work of the masters.
With the recent release of her debut CD "Day by Day" it is clear that Luca Mundaca is a musical artist in her prime. A formidable composer and arranger, the new CD features all original compositions. Shortly after releasing the CD an unsolicited copy was sent to Putumayo records in New York City. So impressed were the Putumayo people they immediately added her to their brand new "Brazilian Lounge" CD. She is featured alongside several major Brazilian artists on that CD including Bebel Gilberto, Paula Morlenbaum, and Marcos Valle. The Putumayo CD
features her original composition "Ha Dias".
Luca won the 2008 Independent Music Award in the World fusion category. In addition to her own albums, Luca's work has been featured in movies and TV shows, ABC-TV show Mistress (2013), movie End of Watch (2012), The Visitor (2007), the TV Show Californication (2007), the movie Kissing Paris (2008), and the Brazilian TV show TiTiTi, telenovela (2010).
"Luca Mundaca is a gifted young singer and songwriter. Luca's music is a glorious blend of her native Brazil with a touch of downtown New York. She mines the deep melodic roots of her country's heritage, creating musical gems that she polishes with the lightest of touches. A talent to watch."- Tom Evered, General Manager and Senior Vice-President Capitol Jazz and Classics
"Luca Mundaca is a singer and songwriter whose work I have been aware of since she arrived in NYC. Her abilities are unlimited; she has a stunning voice of great intimacy and emotion, and her songwriting is first rate. It is rare to find in an artist both the capacity to write brilliant melodies & profound lyrics, and to then perform them at such a high level of musicianship. She simply has it all." – Seth Rothstein, Vice-President Marketing, Sony Legacy.
Click here to view full article
Tags:
concert
,
movie
,
music
,
release
,
singer
,
tv