Click here to view original web page at www.theguardian.com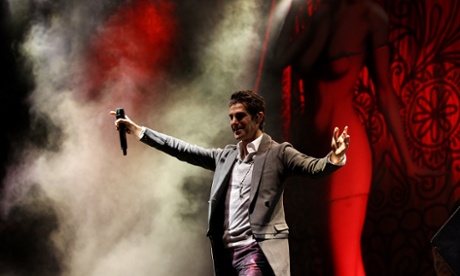 There's no contest: this summer's biggest tour is the aptly titled Lollapalooza, a mobile rock festival featuring a bill of premier alternative bands – Siouxsie and the Banshees, Living Colour, Nine Inch Nails, Ice-T, Butthole Surfers and the Rollins Band – headlined by the critically acclaimed Jane's Addiction.
The tour is currently crisscrossing North America, doing 26 shows in 21 cities, including two New York-area dates at Waterloo Village in Stanhope, NJ, on 11 and 14 August. There may be other, bigger-grossing tours, but for fans disaffected with routine concerts, nothing can rival the sense of expectation and event that Lollapalooza has aroused.
The tour was the brainchild of Jane's Addiction's lead singer Perry Farrell, its drummer, Stephen Perkins, and Marc Geiger and Don Muller from Triad Artists, the group's booking agency. The idea was conceived after Jane's Addiction attended Britain's Reading Festival last year. The band was booked to play at the festival, an annual three-day event featuring top alternative bands, but pulled out because of illness. Instead, band members attended as spectators and, impressed by the atmosphere, soon began to wonder why there was nothing similar in the United States. Mr Geiger and Mr Muller, who had previously organised alternative rock tours of the United States, decided that a mobile festival was feasible, if logistically daunting.
From the start, Mr Farrell wanted Lollapalooza to be not just a musical event but a cultural smorgasbord, with a diverse array of tents, booths and displays exploring a number of political, environmental, human rights and cultural issues. The idea, says Mr Muller, is to bombard festivalgoers with stimuli and data and "raise as much public awareness in a single day as possible." At each show, there is an "art tent", displaying work by local artists personally selected by Mr Farrell.
In this respect, Lollapalooza seems to be a conscious attempt to re-invoke the 60s sense of rock as counterculture, in defiance of today's perception of rock as a leisure industry. "It's throwing a lot of issues into the public consciousness," Mr Farrell says. "I want there to be a sense of confrontation. But I'm not declaring myself left-wing or right-wing, I'm actually bringing both sides into it."
While planning the festival, he toyed with having National Rifle Association and armed forces stalls next to representatives from Greenpeace or animal rights organisations, to stimulate debate. "It would be way too easy for me to take everything that's obviously politically correct and have this hip, left-wing event. But I don't want to make out I have the answers, all I want to do is pose the questions." The NRA and the armed forces recruiters, however, proved to be gun-shy about the event; participants instead range from the League of Women Voters to Handgun Control Inc. to Body Manipulations, which will display body piercing.
The lineup of bands for Lollapalooza is just as varied. Each band represents a different faction of alternative rock: Siouxsie and the Banshees (goth, a mystical, morbid descendant of punk, whose fans look like Morticia from The Addams Family), Living Colour (black rock), Nine Inch Nails (electro-industrial), Ice-T (gangster rap), the Surfers (acid rock) and the Rollins Band (hardcore punk).
Jane's Addiction's music is itself a product of the fragmentation and cultural overload that Mr Farrell wants Lollapalooza to mirror. Like Faith No More and Fishbone, Jane's Addiction belongs to the new hybrid genre that has been dubbed "funk-and-roll", but the group takes musical miscegenation further than any of its peers. Jane's Addiction emerged from the same late 80s Los Angeles metal scene that spawned Guns N' Roses. But by its second and third albums, Nothing's Shocking and Ritual de lo Habitual (Warner Brothers), it became clear that "metal" was an inadequate tag for Jane's Addiction's exhilarating fusion of heavy rock, funk, reggae, ethnic influences, tribal rhythms and art rock. Three Days, an epic, 10-minute track off Ritual, covers the distance between the astral metal of Led Zeppelin and the ethereal, ambient drift of the Cocteau Twins. Some regard Jane's Addiction's departure from the straight and narrow of populist rock as self-indulgent, others as heroically pretentious. But for all its art-rock complexity, the band seldom sacrifices the raw attack of pure rock-and-roll.
At live shows, Jane's Addiction unites disparate subcultures as successfully as it melds musical influences. Its audience is a bizarre coalition of metal fans, punks, college-radio hipsters, goths, nouveau hippies and the unaligned and curious. What attracts such a motley array of fans is that the band has managed to bring back a sense of rock-and-roll as an underground. There's a strong element of ritual and ceremony to Jane's Addiction performances, heightened by the group's stage backdrops: for the Lollapalooza tour, a shrine-like construction is covered with icons, candles and sculptures. "Most of the stuff that we use at the moment is taken out of my apartment," says Mr Farrell, who is something of a jack-of-all-trades (his sculptures appear on the covers of both Nothing's Shocking and Ritual de lo Habitual).
Jane's Addiction also has an aura of danger and the forbidden. Mr Farrell's lyrics and lifestyle are steeped in Romanticism's creed of impulse, instinct, living on the edge and systematic derangement of the senses. His rock-and-roll forebears are Patti Smith, Iggy Pop of the Stooges and, above all, Jim Morrison. Mr Farrell, who is 32, has revived many of Morrison's favourite riffs: the idea of "reinvention of the self" (as a glamorous deviant), the notion of the rock singer as shaman, the Dionysian quest for oblivion through excess. Jane's Addiction is a heady confusion of fin-de-siecle decadence and back-to-nature primitivism. Is there a contradiction there?
"The only way I can see that excess is against nature is that maybe when you get intoxicated, you can get sick," Mr Farrell says. "But both decadence and the back-to-nature impulse are about freedom. You feel free when you hit the great outdoors, and you feel free when you get intoxicated."
Mr Farrell is also interested in magic and syncretic Latin American forms of Catholicism that incorporate pagan rituals. The back of the Ritual de lo Habitual album depicts a medicine shelf packed with potions (plus a canister of Methadone, an allusion to the group's highly publicized drug problems). On a recent trip to Mexico, Mr Farrell married his girlfriend in a blood-mingling ceremony presided over by what he describes as "a very serious witch". Perhaps Mr Farrell is attracted to paganism because it is sensual and earthy, whereas monotheistic religions like Christianity, Islam and Judaism tend to restrict the ways of the flesh.
"The problem that a lot of people have with me is that I'm having a good time," says Mr Farrell. "It's not even that they disapprove of what I do, it's just that I'm doing it, and they're not. That's what I hate about those patriarchal religions: the guilt trip. I just don't feel guilt."
Hence lyrics like "ain't no wrong now, ain't no right, only pleasure and pain" – in essence, Nietzsche's Beyond Good and Evil rendered in rock-and-roll idiom. For Mr Farrell, the only sins are self-denial, the deferment of gratification and boredom. "The only time I feel guilty," he says, "is when I know I'm doing something that's really worthless, like watching TV, when I'm belittling myself by allowing my time to be consumed by nothing."
Mr Farrell's creed is Romanticism's age-old quest to "live now". Or as Mr Farrell puts it on Jane Says: "I'm gonna kick tomorrow." Like Jim Morrison, Jane's Addiction's message to its fans is not to "waste the dawn", but to choose a life of insatiability and restlessness.
"For a lot of the year, I'm usually in a different city every day," says Mr Farrell. "I simply can't fathom how people can bear to stay in one place. I'm bored very easily." His fear of stasis and routine may have led to the decision to break up Jane's Addiction after Lollapalooza and pursue other artistic ambitions. Mr Farrell has directed and appeared in a feature-length film, Gift, which has no release date. "I told Warner Brothers I'd give them five videos if they gave me $125,000 to make a movie. And I went to Mexico and made a film. So basically I got Warners to pay for my vacation. Mexico is wild. The people are hot-blooded, the weather is hot, the food is hot. The art is great too."
Mr Farrell's decision to end Jane's Addiction may confound the group's fans. The band is on the verge not just of major commercial success, but of becoming a countercultural icon for a disenfranchised generation. The singer is adamant, however, that his future musical projects will not take place under the name Jane's Addiction. The group is, however, going out in a blaze of glory. Lollapalooza is a boon for the twentysomething generation, a happening that may instil pride in teenagers who have grown up under the shadow of rock's mythic past. As Classic Girl, the last track on Ritual de lo Habitual, puts it: "They may say, 'Those were the days'… but in a way, you know for us these are the days… Yeah, for us these are the days."
© Simon Reynolds, 1991
• Visit the site on Friday to watch a livestream of this weekend's Lollapalooza
Click here to view full article
Tags:
concert
,
dates
,
film
,
movie
,
music
,
release
,
singer
,
tour
,
tv