Click here to view original web page at www.voanews.com
Pop star Katy Perry scores her 11th Number One song on
Billboard's
Mainstream Top 40 radio airplay chart with "Dark Horse," which now ties her with Rihanna for most chart-toppers on that list. "Dark Horse" is the second Number One Mainstream Top 40 hit from Perry's new album
Prism. Last year, its first single "Roar" held the top spot for five weeks. According to Nielsen SoundScan, Prism has sold more than 1.1 million copies since its October 18, 2013 release.
Some Atlanta Residents Not Keen on Possible Bieber Move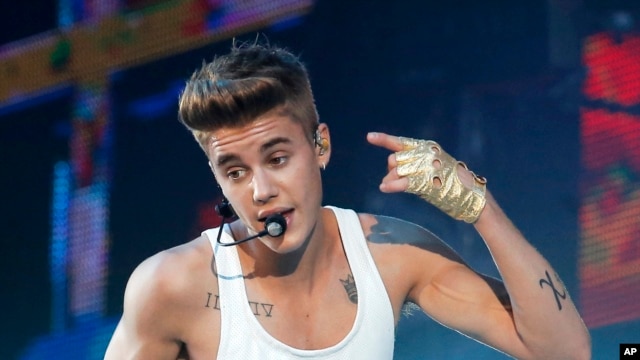 Residents of an upscale Atlanta neighborhood want Justin Bieber to stay out after news that the troubled pop star may move into the area. "If anything, because he's so young, maybe he has more to learn than some of us who are aged," neighborhood coalition president Sam Massell told Reuters. "But we expect him, if he moves to Buckhead, we expect him to obey the laws like everybody else does."
Compilation CD Debuts at No. 1 on Billboard 200
The "Now That's What I Call Music! Vol. 49" compilation makes a Number One debut on this week's Billboard 200 chart. This marks the first release in the "Now That's What I Call Music! series to debut at Number One since 2012's "Now 43." Each of the 49 albums in the series has reached the Top 10. The new "Vol. 49" features hits by 16 of today's biggest music stars. They include Katy Perry, Miley Cyrus, Justin Timberlake, Bruno Mars and Luke Bryan. On May 6, "Now That's What I Call Music!" will celebrate the release of its 50th numbered volume. Its track list has not yet been announced.
Other new entries in this week's Billboard 200 Top 10 include "Love, Marriage & Divorce" by Toni Braxton & Babyface, coming in at Number 4. According to Billboard, the album is Braxton's highest-charting album since 2005's "Libra" and the first Number One ever for Babyface. Debuting at Number 5 is Broken Bells' "After the Disco" and landing on the list at Number 6 is Little Mix's "Salute."
'X-Factor' Cancelled
FOX-TV has cancelled "The X Factor" singing competition due to declining ratings of the once-popular show. Executive producer and judge Simon Cowell plans to return to the U.K.'s "X Factor" in late 2014. In December 2013, Demi Lovato announced that she wouldn't be returning to the U.S. "X Factor" after judging the past two seasons. She said, "I started the show being a singer and a musician, and so I'm going to go back to that. It's been really great, but I'm so excited for 2014. I'm going to dedicate it completely and entirely to music – touring and making a new album. Possibly releasing one."
Queen's "Greatest Hits" Scores with Fans
Queen's 1981 Greatest Hits album recently became the first album to sell more than six million copies in the United Kingdom. According to the Recording Industry Association of America (RIAA), the anthology has sold eight million copies in the United States. The RIAA lists Michael Jackson's "Thriller" and the Eagles' "Greatest Hits 1971-1975" as the top-selling albums in the U.S. with 29 million units sold apiece. Sharing second place are Billy Joel's "Greatest Hits Volume I & Volume II," Pink Floyd's "The Wall" and Led Zeppelin's "Led Zeppelin IV," which have each sold 23 million copies in the U.S.
New Album Releases Feb. 18:
"Burn Your Fire For No Witness" by Angel Olsen
"All the Pretty Things" by Ashley Riley
"Music Speaks" by Candice Glover
"Motivational Jumpsuit" by Guided By Voices
"Past Life" by Lost in the Trees
"Tales from the Realm of the Queen of Pentacles" by Suzanne Vega
"Boy Cried Wolf" by The Feeling
"Weird Kids" by We Are The In Crowd
Musical Events / Festivals / Benefits
The 2014 Country Radio Seminar (CRS) was held February 19-21 in Nashville. The event kicked off with the Country Radio Hall of Fame Dinner & Ceremony. This year's Radio Inductees were Larry Wilson and Mike Brophey and On-air Personality awards went to Paul Schadt and Jim Denny. In addition, Country star Vince Gill was given the Country Radio Hall of Fame's Career Achievement Award and Ed Hardy received the President's Award. CRS culminated with the 2014 "New Faces of Country Music" show. The new artist showcase for radio and music industry professionals from around the world featured performances by Brett Eldredge, Tyler Farr, Cassadee Pope, Thomas Rhett and Charlie Worsham.
Star Birthdays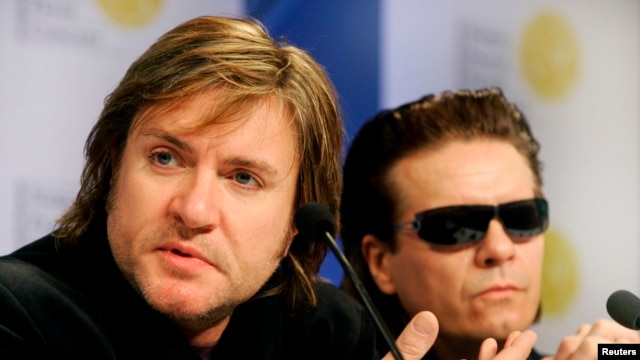 February 16 – Andy Taylor, founding member of Duran Duran celebrated his 53rd birthday. The British pop group is known for such hits as "Hungry Like the Wolf," "Union of the Snake" and "The Reflex." Taylor left the band in 1985 and performed with Robert Palmer, John Taylor and Tony Thompson in The Power Station. In 2001, Andy Taylor reunited with Duran Duran for the first time in 15 years. Their reunion album, "Astronaut," was released in 2004. Duran Duran's latest album, 2011's "All You Need is Now," was released on keyboardist Nick Rhodes' independent label. Last year, the group began work on a new album with producer Mick Ronson.
February 17 – British pop singer Ed Sheeran turned 23. Sheeran earned his big break in 2011 with the international hit "The A Team." Sheeran collaborated with superstar Taylor Swift on her latest album "Red" and also was a special guest on her 2013 "Red Tour." His new single, "I See Fire," is featured on the soundtrack to "The Hobbit: The Desolation of Smaug." Sheeran recorded his sophomore album with producers Rick Rubin, Jake Gosling and Pharrell Williams. It's expected to be out in a few months.
February 19 – Motown legend Smokey Robinson celebrated his 74th birthday. In 1955, Robinson formed The Miracles. The Detroit-based vocal group made its first appearance on the rhythm-and-blues chart in 1960 with the Number One hit "Shop Around." Robinson left The Miracles in 1972 to pursue a solo career. In 1987, he was inducted into the Rock and Roll Hall of Fame. Two years later, Robinson received a Grammy Living Legend Award. In 2006, he was presented with a Kennedy Center Honor. His latest album, "Time Flies When You're Having Fun," was released in 2009. Guests on the collection include Joss Stone, India Arie and Carlos Santana.
February 20 – Pop singer Rihanna turned 26. Born Robyn Rihanna Fenty in Barbados, she was signed to Def Jam Records after auditioning for the label's president, Jay-Z. Rihanna's 2005 debut album, "Music of the Sun," produced the Number One dance single "Pon De Replay." Since then, she has recorded many other hits, including "SOS," "Umbrella," "Don't Stop the Music," "Only Girl (in the World)" and "Diamonds." Last year, the seven-time Grammy-winner was given the first-ever American Music "Icon" Award. She's featured on Shakira's new single "Can't Remember to Forget You." Rihanna is working on a new album, due out this year.
February 21 – Singer-songwriter Mary Chapin Carpenter celebrated her 56th birthday. Carpenter grew up in the Washington, D.C. area, where she performed in folk clubs. Her debut album, "State of the Heart," was released in 1989. In 1992 and 1993, Carpenter was named the Country Music Association's Female Vocalist of the Year. Her many hits include "Down at the Twist and Shout," "I Feel Lucky" and "Passionate Kisses." In 2012, Carpenter was inducted into the Nashville Songwriters Hall of Fame. Last month, she released her first orchestral album, "Songs From the Movie." The 10 tracks are new versions of songs from her previous albums that weren't released as singles. Carpenter told Billboard, "It was a particular kind of song that I wanted to draw from my discography. I was wanting the ones that were fairly lyrically demanding on the part of the listener, and ones that told stories, but most importantly that lent themselves musically to these new treatments with an orchestra. Vince [Mendoza], my co-producer Matt Rollings and myself all kind of squirreled ourselves away and worked with different lists of songs. Then we collectively came up with the final track listing. They all seemed to fit together. I think the orchestra was the central component, but even though they are drawn from several different records over the years, there seemed to be this connection that makes it a wonderful new thing as a whole."
February 22 – British pop singer James Blunt turned 40. Blunt was born into a military family and spent six years with the British Army. After leaving the army in 2002, he was discovered by songwriter/producer Linda Perry at the South By Southwest Festival in Texas. She signed Blunt to her Custard Records, which released his debut album, "Back To Bedlam." In 2005, he topped the Hot 100 chart and many other charts around the world with "You're Beautiful." The album also featured the Top 10 hit "Goodbye My Lover." Blunt's past three albums have failed to produce any chart hits in the United States. However, his music continues to be popular throughout Europe.
Awards Presentations / Winners: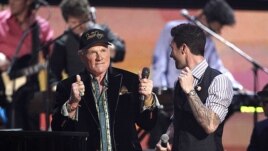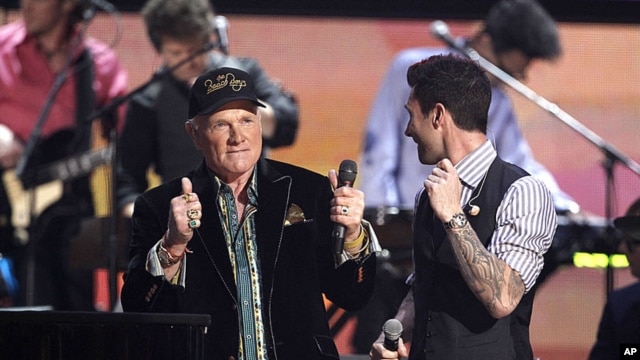 Beach Boy Mike Love received the prestigious Society of Singers 2014 ELLA Award on February 20 during an all-star event in Beverly Hills, California. The gala featured performances by America, Christopher Cross, David Lee Roth and Dave Koz, among others. Previous ELLA Award recipients include Celine Dion, Ella Fitzgerald, Elton John, Barry Manilow, Smokey Robinson and Frank Sinatra. Also recognized were producer Nigel Lythgoe (Leadership Award) and The Waters Family (The Voice Award).
Look Who's Going On Tour!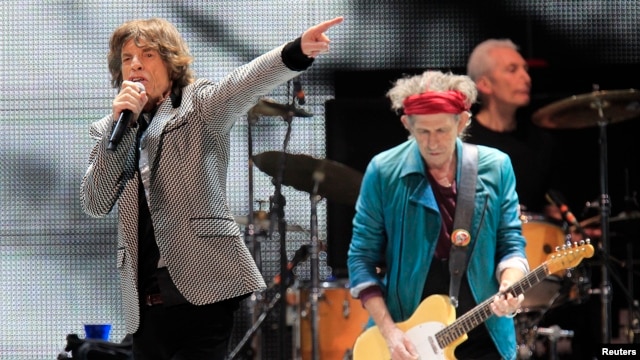 The Rolling Stones kicked off their "14 On Fire" tour on February 21 in Abu Dhabi. The legendary band's itinerary also includes three shows in Tokyo, Japan on February 26, March 4 and March 6, and stops in Macau, China on March 9, Shanghai on March 12 and Singapore on March 15. On March 19, they'll play the first of six Australian concerts. The 13-date trek wraps up on April 5 in Auckland, New Zealand. Mick Taylor, who was a member of the Rolling Stones from 1969-1974, will be the special guest on the tour.
Click here to view full article
Tags:
concert
,
movie
,
music
,
producer
,
release
,
singer
,
tour
,
tv