Click here to view original web page at www.gmanetwork.com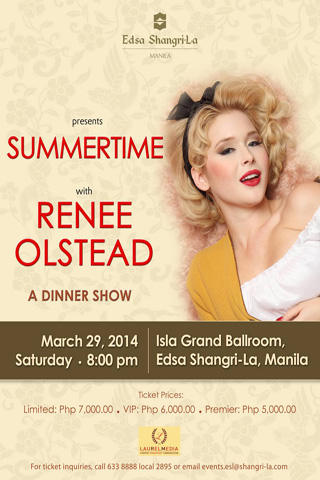 It's her fifth time in the Philippines, and yet 24-year-old American actress and jazz singer Renee Olstead could not seem to contain her excitement. She was very happy to be back and performing for Filipino jazz enthusiasts.
"I really love it here! Everyone is really so welcoming and friendly. What keeps me coming back is the people…People here really love music, and it's very important for me. People here really love this (jazz) kind of music," Olstead said in a press conference,Wednesday night.
"Actually, Filipinos are open to various kinds of music and I really respect that so much," she added.
The setlist
After her successful "A Love That Will Last"concert in August of last year, Olstead is set to enthrall her Filipino fans once again, this time, in a more intimate setting.
"I'm so excited! My band is here as well. We will have a great, intimate set and I will be performing songs that people would love to sing along to. I will also be performing songs in my new album Skylark," described Olstead of her dinner-concert "Summertime" on Saturday, March 29 at Isla Grand Ballroom of EDSA Shangri-La Hotel in Ortigas set to start at 8 p.m.
Olstead said among the songs she will be performing are those from her 2009 and most recent album Skylark such as "Hold Me Now", "Hit the Road Jack", and "Skylark" as well as those from her self-titled debut album in 2004 such as "Summertime", " A Love That Will Last", "Someone To Watch Over Me", "Sentimental Journey", and "What a Difference a Day Makes".
Olstead said her playlist would also include some songs she had personally written such as "She's Got Your Name", "My Baby Just Cares for Me" and "Taking a Chance on Love".
The young jazz singer will also give her own reinterpretation of the classics such as Louis Armstrong's "What a Wonderful World", Nat King Cole's "When I Fall in Love", and Neil Sedaka's "Breaking Up Is Hard To Do".
A fortuitous accident
Born in Kingwood, Texas on July 18, 1989, Olstead was first exposed to country music—until her pre-adolescent year when she came across the jazz genre by accident.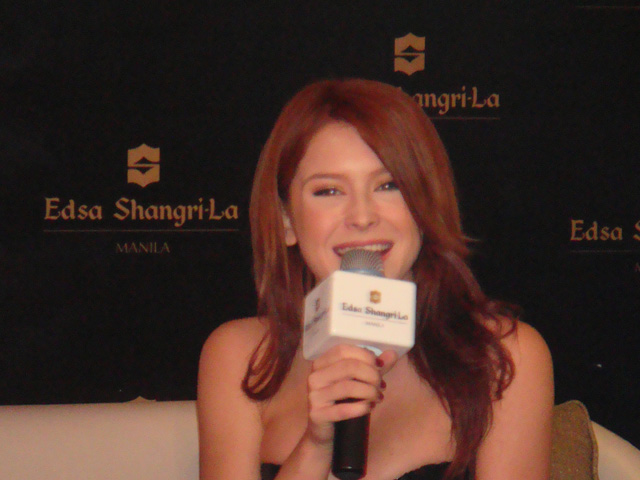 "The way that I fell in love with jazz was actually very organic. I was watching an old movie and then the movie played the song "At Last" by Etta James. I haven't heard that song before and I liked it instantly. I said, 'What kind of song it this?' 'Why I haven't heard it before?' So I went to a local music library—I'm a huge fan of libraries by the way—and I began searching about it, and then I discovered other jazz songs by other great singers like Jimmy Sommers, Billie Holiday, and liked them," Olstead recalled.
"So, I discovered it (jazz) by myself and for myself…and because I didn't have a knowledge or an idea of what a jazz girl should look like, I said 'It could be me, a 12-year-old girl'," she added.
Acting in films and commercials since the age of eight, Olstead became more interested in music in her teen years. Grammy-awarding winning composer and producer David Foster discovered her in 1995.
"I remember the first time that I presented to David Foster the song that I written, I was very nervous that I told him it was a song written by a friend of mine. And after he heard it he said, 'It's wonderful!' It was only then that I have admitted to him, 'Okay I wrote it'," Olstead recalled fondly. "As I got older, I became more comfortable with my work," she added.
'Pursue what you love'
For young, aspiring musicians, Olstead gave this advice: "Don't be afraid to show the world what you got! Young people should have the courage to explore the good things…pursue what you love, your interests."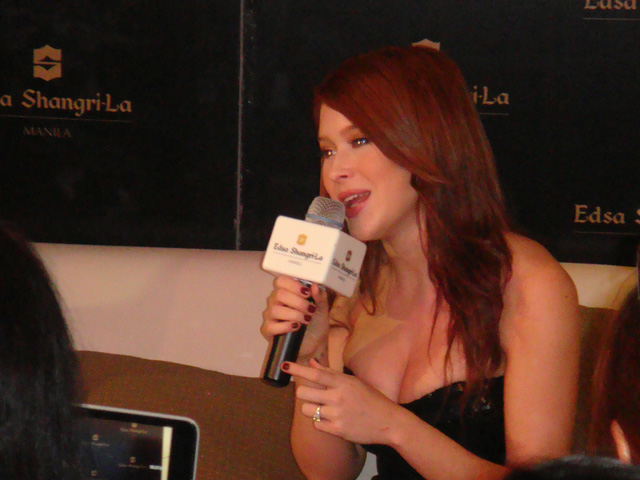 "One thing that I learned about song writing is that it's not just using vague words. To create something, you have to feel it, close your eyes, and picture, feel exactly what it is like to be in that situation," she added.
From a 12 year-old country girl who had her first musical awakening through a movie theme song, Olstead had captured the world with her sultry, soothing voice.
Her song "Summertime" was nominated for Best Instrumental Arrangement Accompanying a Vocalist in the 2004 Grammy Awards while the romantic ballad "A Love That Will Last" was included in the soundtrack album of "Princess Diaries 2: The Royal Engagement" (starring Anne Hathaway and Julie Andrews).
Sterling past credentials, bright future
A petite, bubbly girl, who is also a vegan and an animal rights activist of PETA, Olstead continues to make a name not just in the international music scene but also in the big screen, appearing in films like "13 Going On 30" (starring Jennifer Garner and Mark Ruffalo), End of Days (with Arnold Schwarzenegger), Space Cowboys (starring Clint Eastwood and Tommy Lee Jones) and The Insider (starring Al Pacino and Russell Crowe).
In 2002, she won the Best Performance from the Young Artist Award for her role in the comedy TV series "Still Standing," which ran from 2002-2006. Olstead is also currently appearing in another TV series "The Secret Life of the American Teenager," which debuted in 2011.
But amid all the entertainment accolades, Olstead said her dream in the future is to do more original music and produce some albums.
Olstead said she is also open to working with the Filipino composers and musicians, such as local jazz singer, Annie Brazil.
"I would love that (working with Filipino talents). Hopefully in my next visit I could do some song writing sessions with some Filipino song writers," she said. — VC, GMA News
For "Summertime: A Dinner Concert" ticket inquiries, call 633.8888 (local 2895) email events.esl@shangri-la.com.
Click here to view full article
Tags:
actress
,
concert
,
film
,
movie
,
music
,
producer
,
singer
,
tv