Click here to view original web page at alloveralbany.com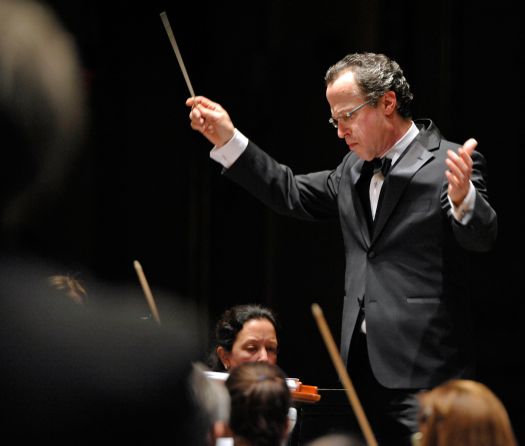 The recent Grammy win for the Albany Symphony Orchestra and conductor David Alan Miller — in the best classical instrument solo category for a recording with percussionist Evelyn Glennie — is even cooler when you take a look at the competition.
"We were up against the New York Philharmonic and major international orchestras," says Miller. "So we play in this big, fabulous, international sandbox and we are a little like the little engine that could."
The ASO's musical director and conductor also points out the company the orchestra was in at appearances at Carnegie Hall over the last few years. "The New York Times did an article about the Carnegie festival the ASO participated in a few years ago — most of the six orchestras involved had annual budgets of $16 million to $25 million," Miller says, "Ours is about $2 million."
How is an Upstate New York orchestra with such a small budget getting this kind of recognition? Miller thinks it comes in part from a rare combination of classics and a dedication to new American compositions.
We talked with Miller this week about the ASO's Grammy win, its "secret" garage band project, and why you shouldn't talk to him about "classical" music.
How do you try to bring people around to classical music if they're not already classical fans?
Well, I hate the term classical music because I think that has all sorts of baggage attached to it. That may seem a little disingenuous because we always categorize music — jazz, rap — but I always feel that what we do is so broad and covers so many eras, and so much of what we do covers our own time. (laughs) I really hate that term.
I hope the fear factor has gone away. I hope people don't think they have to dress up or act a certain way. We really combine the best new music with well-known pieces. We are very much about embracing the present. This weekend we are doing a big concert with Ravel's Bolero and a modern piece by Christopher Rouse, but Sunday afternoon we are doing a fabulous, funny, family program called Raiders of the Lost Symphony where I play Michigan Miller and we go back in time in search of the origins of the symphony and have to answer the riddles of the "Symphonic Sphinx" and we go in search of "Papa" Haydn.
Demystifying the art form is what I am most interested in. I didn't fall in love with this music because it's erudite, but because it's beautiful and powerful and dramatic and we want to be sure and communicate that to our potential audience. This whole Grammy thing reaffirmed that for me — going to LA and seeing this much larger group of musicians, so many musicians from so many different genres, reaffirmed the power of music.
So you went out to the Grammy Awards. What was that experience like?
Oh, yes. I went. My wife made me go. I didn't want to go. I had a concert here, but my wife insisted I go and bring my 14-year-old son, who is a rap artist and aficionado. We sat five rows in front of Steve Martin. It was very exciting just to go, but to win in particular was a great affirmation.
What does something like winning a Grammy change?
I hope it shows people what we do. I don't think an orchestra of our small budget size has won a Grammy in many years — or has played with Yo Yo Ma, or has been invited to Carnegie Hall. We were invited twice to Carnegie Hall, and that's all because of our standing as an orchestra that bravely and boldly embraces the present as well as the past. That is our uniqueness. I hope we can be attracting people to continue to take that journey with us.
What intrigues you about a piece of music? What makes you want to perform it?
I only am interested in pieces that transport me somewhere or really take me on a journey to places I haven't been. Maybe that is why I'm so passionately connected to the present in concert music.
Next week we are playing Beethoven's Third Symphony, and every time you do it it gets richer, but new pieces offer new journeys. But that was one of the reasons I was so proud to win this Grammy. It was for a percussion concerto very much of today. And last year we recorded a piece by Chris Rouse, a set of Hindi songs that really establish a sense of place and a sense of uniqueness. I like a lot of world music and music that takes you other cultures or other parts of the world. Sometimes we've featured instruments from other cultures — new and different sounds that aren't typically orchestral — like a pipa, which is a plucked Chinese instrument.
There is no doubt Bolero sells more easily, but once people are in the hall, I find the audience is very much embracing of the new. But this beautiful mix of the two that we have really come to specialize in is what we hope they come to trust.
One of the projects you've created is the Dogs of Desire. What is that group and why did you create it?
The Dogs of Desire was an idea I had long before I got here. I was still living in, working in LA. I was associate conductor of the Los Angeles Philharmonic. I was working in the TV and movie part of the world and thinking, "How come we can't be more like that? Profitable with more commercial style audiences."
The Dogs of Desire is our R&D garage band of the future. It's a 16-member chamber ensemble with a drum set and a female vocalist, but also string instruments. My theory was that if we acted kind of like a rock band and only played pieces written specifically for us and had a beat and vocals, that would make us more commercially viable. So I went looking for the most non-classical name I could find, and that one was the one that my mother hated the most — so I knew that was it. We have had opportunities to work with filmmakers, and a robot builder who makes musical robots, and a fantastic thing with LED lights on a dancer and choreographer.
This spring we're planning a mainly choreographic concert. It has a great following among the people who know about it, but it's still a well-kept secret. It is rock and pop based but it's not a rock band –but it's an interesting and new hybrid.
When did you realize music, and conducting, would be your life's work?
My dad was an opera singer and when I was growing up he was a high school vocal music teacher. We always had music in our lives and when I was 15 I thought I wanted to have a life in music and I thought conducting sounded neat. So I asked my dad for conducting lessons (laughs) and he found an old Viennese conductor to give me lessons.
What drew me to new and unusual music is really old and not-so-unusual music. I think it's like eating — the more interesting your diet becomes, the more interested you are in trying unusual things. There are people who eat meat and potatoes all the time and its fine with them, but I'm always looking for a new thrill. The exotic and the new is always very exciting to me. And also to be the handmaiden of creation. Composers and songwriters are so important… and helping to be the handmaiden of that creation is such an important thing.
What's the hardest thing about your work? What is the most joyous?
The hardest thing is the never ending search for support for what we do. It's a challenge. It's probably the most important thing that we do. There is nothing worse than doing a show and having nobody show up, so our whole life is outreach.
The nice thing about living and working in an enlightened community like ours is we have a really strong audience, but growing it is what we spend a lot of time on. Our orchestra has incredibly generous supporters, but it's a never ending struggle. Most of what we do isn't fancy concerts in the evening for grown-ups. We spend so much time in the schools doing programs that are not revenue driving but they are an important part of our mission. My mission for the orchestra is not to be perceived as an orchestra but as a complete music resource for the community. Whether it is teaching kids about music or reaching out to retirees and bringing them a music experience — recordings, radio broadcasts, concerts, library talks — it's all part of the community engagement.
The most joyful thing is feeling so much a part of this community that they orchestra is so loved and embraced and supported. My hope is that more people will want to come because they have interest in the orchestra and trust the orchestra and know whatever we do it will be fabulous. Some people will say, oh, I'll go to Ravel's Bolero, but not Brahms' Second Symphony. But's my hope that people will trust and come on the journey with us.
And the orchestra has improved so much in the last ten years or so. Standing in front of them is just an honor and it's amazing.
This interview has been edited and condensed.
photo courtesy of the Albany Symphony Orchestra
Click here to view full article
Tags:
concert
,
director
,
film
,
movie
,
music
,
singer
,
tv