Click here to view original web page at www.theguardian.com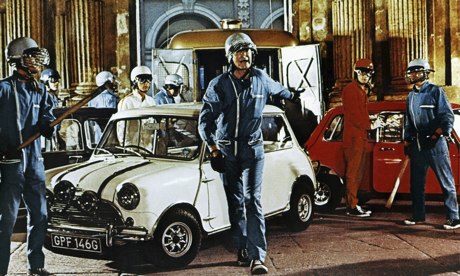 Self-preservation society … The Italian Job. Photograph: Allstar/Cinetext/Paramount
There is a kind of music in Michael Caine's voice: deceptively flat, barely inflected, emitting just the tiniest glints of detached insolence and laconic menace as it maps the area between the pre-war docklands community of Rotherhithe, his birthplace, and Elephant and Castle, where his family was rehoused in a prefab built on bomb-damaged land not far from the location of Shakespeare's theatres. Few people alive know more about the actor's craft than Caine, none is more gifted in the art of underplaying, and that voice is integral to his virtuosity.
But there is music of a more conventional kind in the films that made him famous – when the former Maurice Micklewhite rather unexpectedly became the model of a new kind of English leading man, a symbol of the supposedly classless 60s. Knighted in 2000 and nominated for an Oscar in each of the last five decades, Caine turned 80 last year, prompting the musician Terry Edwards to come up with the idea of a concert based on four of the actor's most popular and influential films. To be performed at the Barbican on 6 February, the event will feature music from The Ipcress File (1965), Alfie (1966), The Italian Job (1969) and Get Carter (1971).
Now aged 53 – too young to have seen any of these films on their first release – Edwards is a post-punk multi‑instrumentalist whose expertise extends to saxophones, guitar, trumpet, keyboards and flute. A founding member of the Higsons – championed by John Peel – in the early 1980s, he has since been heard with Lydia Lunch, Tindersticks, Spiritualized, Tom Waits, PJ Harvey, Nick Cave, the Blockheads and many others. The Caine concert – titled Blow the Bloody Doors Off! in reference to The Italian Job – gives him the chance to spread his wings further, with the aid of clips, stills, a narrator, a master of ceremonies (the comedian Phill Jupitus) and a band of roughly a dozen musicians and singers, including the saxophonist Finn Peters, the percussionist Seb Rochford and a string quartet.
"The original idea was far too ambitious," he explains. "Caine's had such an interesting career, all the way from British TV things where he played bit parts and wasn't credited at all. There's something like The Edgar Wallace Mysteries, which had a great theme tune, and I thought, 'Let's work from that all the way up to the Batman franchise.' Even if some of the movies weren't that great, perhaps the music was. But it would take you a week of concerts to get all that in. A bit of brainstorming put it into focus, and it's ended up being a kind of greatest hits."
The chosen films were given their original soundtracks by four very different composers. John Barry, fresh from scoring the early Bond films, came up with the music for The Ipcress File, whose central character, the deliberately downbeat and glamour-free British agent Harry Palmer, was seen as a kind of anti-007. The incidental music for Alfie, a modern Rake's Progress, was written by the great American jazz saxophonist Sonny Rollins. Another jazz-trained American musician, the almost pathologically versatile Quincy Jones, whose long career began in the bebop era and reached a climax with Michael Jackson's Thriller, scored The Italian Job. A British jazz musician, the former piano prodigy Roy Budd, gave the images of Get Carter their spare and largely improvised accompaniment.
The only common factor was the presence of Caine himself, tasked with the job of developing the nuances of character suggested by four very different roles: the laconic intelligence operative of director Sidney Furie's Ipcress File, the crafty Lothario of Lewis Gilbert's Alfie, the wisecracking bank-robber of Peter Collinson's Italian Job and the vengeful killer of Mike Hodges' Get Carter. At a time when pretty boys such as Michael York and David Hemmings were Britain's screen heart-throbs, Caine managed to make wearing spectacles seem attractive, partly because he knew how to use the eyes behind them to show the process of thought. ("Do you always wear your glasses?" Sue Lloyd's character inquires in The Ipcress File. "Yes," he replies, "except in bed." She promptly removes them.)
In the absence of original scores, Edwards and his band will work from transcriptions, although their interpretations are unlikely to be literal. "We're being reasonably faithful to the recorded scores," he says, "but we're going to have a nice mixture of feel and notated elements."
For The Ipcress File, Barry made sparing but effective use of the trombone stabs and fluttering alto flutes that were becoming a feature of spy flicks. Rollins's Alfie soundtrack – taped in a London studio with a band that included Ronnie Scott and Stan Tracey, but then re-recorded for LP release in New York with American musicians – consisted of undiluted modern jazz. (The classic title song, written by Burt Bacharach and Hal David, was tacked on as an afterthought.) Jones's Italian Job soundtrack featured "The Self-Preservation Society", destined to become a lager-lout anthem, and a jazz-waltz version of "Greensleeves" among snatches of mood music more clearly inspired by the film scores of Michel Legrand and Francis Lai. (It also included Matt Monro singing the theme song, "On Days Like These", and Edwards has persuaded the late crooner's son, Matt Monro Jr, to perform it at the Barbican.) Get Carter made economical use of electronic keyboards, funkier bass lines and tabla drums, allowing the cinematographer Wolfgang Suschitzky's images of the Newcastle cityscape and the delivery of Hodges's hard-boiled lines by an expensively suited Caine to set the tone of menace and mayhem.
"Some things will be played straighter than others," Edwards said. "There are elements that are fairly rigid – like 'The Self-Preservation Society', which sounds like a raucous rabble-rousing song, and indeed it is, but it goes through quite a number of key changes and it has to be read quite meticulously." He is reminded of the story told by the lyricist Don Black of coming up with the words to the song after Quincy Jones, a black American, had shown an interest in rhyming slang: "He'd say, 'What do you mean, having a butcher's?' It's like a shopping list of rhyming slang – a bit like one of Ian Dury's list songs. That's my type of music."
But not the only type. A CD titled Large Door, an anthology of tracks representing various phases of Edwards' career, reveals a musician equally happy to engage with Thelonious Monk's "Well, You Needn't", a medley from Napalm Death's grindcore songbook, Captain Beefheart's "Ice Cream for Crow", Earl Bostic's "Harlem Nocturne" and an unreconstructed punk rant titled "Margaret Thatcher We Still Hate You". He combines the eclectic enthusiasms of John Zorn, the godfather of the New York downtown scene, with the mischievousness of Billy Jenkins, the south London jazz-blues parodist.
Born in Hornchurch, Essex, Edwards started playing the piano at the age of five, when he had broken his leg. "I couldn't run after a football for a while," he says. "My mum was a pianist and there was a piano in the house. I started on the trumpet when I went to senior school, and when I was 13 I wanted to be a rock star so I took up the guitar. I got a saxophone for my 18th birthday. I liked the idea of being a multi-instrumentalist from a reasonably early age."
He studied music at the University of East Anglia, where he became a founder member of the Higsons, indie favourites whose songs included "Put the Funk Back Into Punk". "We began making records almost as soon as the band started," he says. "John Peel took a great interest in us and we were signed to 2-Tone for a couple of singles." Davey Payne, saxophonist with Dury's Blockheads, introduced him to Roland Kirk's technique of playing two saxophones at once and became an important influence, as was Bostic, a master saxophonist whose hits in the 1940s, such as "Flamingo" and "Sleep", came at the expense of his jazz credibility, despite his association with many great musicians, among them Lionel Hampton and John Coltrane.
After the Higsons came Butterfield 8, a band he formed with Mark Bedford, bassist with Madness. Surviving a period when the saxophone "had a very bad name" among indie rock bands, he exploited his instrumental skills to carve a niche for himself and became a session musician much in demand among younger bands, who prized his versatility and an ability to turn up at a recording session with his trumpet and saxophones and create the sound of a full horn section. Thinking of the Caine concert, he says: "I've been a foot-soldier in these projects before." Now it is his turn, and he is undaunted by the challenge.
The word "individual" is tattooed vertically on his otherwise unmarked neck, rising above the collar line. "I had it done when I was 18," Edwards explains, gently rubbing a finger down the blue-black lettering, "so that I'd never be able to work in a bank or get a straight job. I'd have to be a musician. Today, I suppose it wouldn't be a problem." But it seems to have served its purpose.
Click here to view full article
Tags:
actor
,
concert
,
director
,
film
,
movie
,
music
,
release
,
singer
,
tv