Click here to view original web page at www.normantranscript.com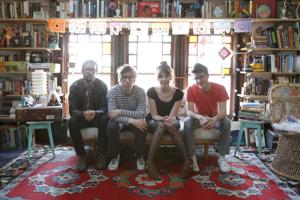 If You Go

What: Bishop Allen in concert

Where: Opolis, 113 N. Crawford

When: Monday, Sept. 1, 10 p.m.

Cost: $10
Bishop Allen's Justin Rice:

"When you're in New York City it feels like the center of the world. And at some point you realize it ceases to be the center of your world. Life follows you wherever you go and you realize you're not missing out by not being somewhere else."
By Doug Hill For The Transcript
Kingston, N.Y.-based Bishop Allen has a history with Norman and the band is excited about coming back.
The pop rock band whose core members are Justin Rice and Christian Rudder will perform Sept. 1, at Opolis. Rice spoke with The Transcript by telephone from his home near fabled Woodstock.
"We've played in Norman several times, have toured with the Starlight Mints and recorded our second record at Blackwatch Studio," he said. "Because of our connections there, we stop in Norman on every tour."
Bishop Allen has achieved a level of success that includes appearing in Hollywood flick "Nick and Nora's Infinite Playlist" and having their music chosen for use in a variety of media, including TV commercials and a video game.
They've released a string of EPs and LPs since 2003 and are currently touring in support of "Lights Out" (Dead Oceans, 2014), which dropped last week.
"Reconnecting with people you know, no matter where it is, helps make for better shows and makes you feel better about your place in the world," Rice said.
Bishop Allen hasn't been playing shows for a few years, so this tour is getting back in the saddle again for them.
"Your readers can expect a fun and high-energy show," Rice said. "You'll be able to go and feel uninhibited and non-judgmental. We're going to play with as much abandon as we can on this tour."
He described their new set of songs as having a spunkiness that will be even more so played live.
"'Lights Out' feels like an album of amazing, fun, summer jams," he said, "which it is. The songs are upbeat and engaging, and listening to them, you can really let yourself go."
Countering that, Rice noted that the time off from the road and growing maturity has given the lyrics a sense of introspection. It's a curious albeit attractive observation, considering that Rice's and Rudder's first project as Harvard undergraduates was in hardcore punk rock outfit The Pissed Officers.
They've moved from sound and fury to music selected by Target for their holiday season commercials a few years back.
"Punk rock always seemed to be a combination of thug culture and art school kids," Rice said. "We were more the art school kids, our punk rock was more do-it-yourself attitude where music wasn't something just made by celebrities. It's something you make with your friends for your immediate environment."
That ethos of camaraderie and immediacy lives on in Bishop Allen's music today. It's a highly approachable sound that intends to develop closeness with and comfort for the listener.
The songs are well-crafted, lyrically compelling and attractively melodic while avoiding being saccharinely precious. He explained why so much of their music has been tapped for use in other media.
"We make pop music with structure and hooks," Rice said. "Sometimes there's such a brief amount of time to capture people's attention in commercials and in movies, they're usually using a song to enhance some sort of mood that's going on in the story line.
"Songs with a pop sensibility that's clear and with sentiment to it makes it usual for those kinds of things."
That's a lot of words just to say that Bishop Allen's songs are good, people like them and they have broad appeal.
"Each record comes at a particular point in life and this new one comes five years since the last one," Rice said. "The lyrics feel different from earlier albums. 'Lights Out' is about feeling a little bit older and having an ambivalence about our prior experiences."
It's a looking-back collection of songs with a definite focus on relocating from Brooklyn, N.Y., to the more bucolic Hudson Valley. Bishop Allen had been early migrants to the city borough that began attracting creative people for a variety of reasons a decade ago.
"When you're in New York City, it feels like the center of the world," he said. "And at some point, you realize it ceases to be the center of your world. Life follows you wherever you go and you realize you're not missing out by not being somewhere else."
Don't miss out on this opportunity to hear Bishop Allen in concert. They'll be a reason to make Norman's downtown arts district the center of your world that evening.
Click here to view full article
Tags:
concert
,
movie
,
music
,
release
,
tour
,
tv