Click here to view original web page at www.stltoday.com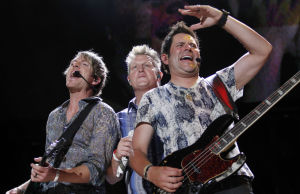 7:30 p.m. Friday • Verizon Wireless Amphitheater, 14141 Riverport Drive, Maryland Heights • $24.75-$76 • Livenation.com
If you like your country with a tasty coating of pop, head to Verizon on Friday for the Rascal Flatts and Sheryl Crow show. The trio's new album, "Rewind," is being hailed as its best in years, and Crow is giving country a go on last year's "Feels Like Home."
'A Prayer for the Gun Bug'
9 p.m. Friday, 4 and 9 p.m. Saturday, 2 p.m. Sunday; May 23-25 • Meskerem Ethopian Restaurant, 3210 South Grand Boulevard • $30 • 314-749-8302; onsitetheatre.org
Playwright Carter Lewis, who has a history with the inventive little Offsite Theatre troupe, has cooked up three short comedies tied together with stories of an overcrowded planet where fanatics of various stripes arm themselves to the teeth. Bill Whitaker directs the show, which includes a sampling of Ethiopian dishes.
Noon-9 p.m. Saturday • Sutton Boulevard, Maplewood • Free admission; vendor charges vary • maplewood-chamber.com
Maplewood celebrates its impressive array of restaurants and retail operations at the sixth annual edition of this event. Food vendors range from the smash-hit doughnut shop Strange Donuts to the swingin' Caribbean joint Boogaloo to the classy Italian restaurant Acero. Taste of Maplewood will also feature live music and other entertainment on two stages, and a "Best of Taste of Maplewood" contest with celebrity judges.
Lucas Park reopening celebration
8:15 p.m. Saturday • Lucas Park, between St. Charles and Locust streets and 13th and 14th streets downtown • Free • friendsoflucaspark.blogspot.com
After an extensive renovation and cleanup, downtown's Lucas Park (across Locust Street from Central Library) is ready for its big reveal. Bring a lawn chair or blanket for a screening of "The Princess Bride," and enter a raffle to win gift cards for downtown restaurants.
Editor's pick: 'Henry IV'
Saturday through June 14 • Shakespeare Glen in Forest Park • Free • 314-531-9800; sfstl.com
Shakespeare Festival St. Louis opens its biggest season ever with a double bill that traces the life of Prince Hal, from his wild days as a reckless youth to his battlefield valor as King Henry V, leading the English troupes "once more into the breach." On Saturday, "Henry IV" is up. "Henry V" previews May 22 and 23 and opens May 24. After that, the two plays alternate nightly, with marathons that start at 4:30 p.m. on June 7 and 14. Arrive early to picnic, find a place to sit and enjoy preshow entertainment, which starts at 6:30 p.m.
7:30 p.m. Saturday, 3 p.m. Sunday • Edison Theatre in the Mallinckrodt Center at Washington University, 6445 Forsyth Boulevard • $25 in advance, $30 at the door • ashleyliane.com
Earth, water, fire and air are the inspirations for this dance program, which promises to be a watershed showcase for the Ashleyliane Dance Company. And the ensemble's stylistic scope — from hip-hop to jazz to modern — should appeal to an equally wide range of dance fans.
7:30 p.m. Saturday • Powell Symphony Hall, 718 North Grand Boulevard • $25-$75 • 314-534-1700; stlsymphony.org
Relive those storied days of yesteryear, the 1970s, filled with polyester outfits, sincere hair, and the glittering light from disco balls. Return with us now to the music of the Bee Gees, as performed by a very good band, the St. Louis Symphony Orchestra, with guest vocalists singing all the familiar tunes, stayin' alive for one night only at Powell Symphony Hall.
3 p.m. Sunday • Second Presbyterian Church, 4501 Westminster Place • $20-$37 • 314-652-2224; bachsociety.org
The theme of the closing concert of the Bach Society of St. Louis' 2013-14 season is "Beyond All Mortal Dreams," and much of the music could be described as heavenly. The program features René Clausen's "Tonight Eternity Alone," Stephen Paulus' "Pilgrim's Hymn," and beautiful contemporary works by John Tavener, Eric Whitacre, Morten Lauridsen, Steven Stucky, Howard Helvey and Frank Martin's Mass for Double Chorus, along with the premiere of a new work by Stephen Mager.
Dennis Miller
7 p.m. Sunday • Peabody Opera House, 1400 Market Street • $42-$72 • Ticketmaster.com
Expect the humor to be on the sharp, witty and political side once former "Saturday Night Live" newscaster Dennis Miller hits the Peabody stage. Miller currently hosts the syndicated radio program "The Dennis Miller Show," and contributes regularly to "The O'Reilly Factor."
2-6 p.m. Sunday • Atomic Cowboy, 4140 Manchester Avenue • $10 • strayrescue.org/s4s
The dog days of summer are probably our least favorite. But before those get here, enjoy Stray Rescue's annual dog day of spring. At Spring for Strays, your donations help support the group's rescue efforts. The event includes drag, burlesque, auctions and raffles, plus food and drinks. There will even be some adorable pups available for adoption.
8 p.m. Sunday • Old Rock House, 1200 South Seventh Street • $13 in advance, $15 day of show • 314-534-1111; MetroTix.com
Singer-guitarist Jenn Wasner and drummer Andy Stack are Wye Oak, and they perform what has been called 21st century folk music. The New York Times has praised Wasner's singing as "strong and centered: an alluring but dispassionate alto," while noting that Stack brings the "same focused energy" to his drumming. At Old Rock House, the duo will likely be leaning on tunes from their ambitious new album, "Shriek."
Hip-Hop Appreciation Week
Monday through Saturday • St. Louis Public Library, 1301 Olive Street • Free • 314-539-0395
The library shows off its new recording studio and introduces a new open mic night all while celebrating hip hop. At 7 p.m. Monday spoken word, rap artists and other writers present their work at open mic. On Tuesday afternoon, music professionals from ex'treme Institute by Nelly discuss the industry at a writing workshop. Register with cexp@slpl.org. After demos in the recording room, new rappers can make reservations to record their music. The rest of the week includes a lunchtime dance party, a documentary on graffiti and hip-hop movies, such as "Notorious" and "Pass the Mic." For details on times, call the library. Email mlambert@slpl.org to sign up for open-mic night.
7 p.m. Monday • Meyer's Grove, 4510 Manchester Avenue • $10 suggested • stlfringe.com
At this offbeat fundraiser, nine St. Louis actors will perform all kinds of theater games, naughty and nice, to raise money for St. Lou Fringe 2014. To choose the winners, the audience votes with tips. Don't forget some cash.
Pop girl group Danity Kane, famously assembled by P. Diddy on reality TV, is on the comeback trail with its "No Filter" tour. In a statement, the group said ""To our fans: Danity Kane is doing this for you. We want to give, see, and promote a real, unrestricted, uncensored, unfiltered life!"
FAST FORWARD
Shop at the marketplace, try different foods and see "Mandela: Long Walk to Freedom" at the Muny West Pavilion
Click here to view full article
Tags:
actor
,
concert
,
movie
,
music
,
singer
,
tour
,
tv