Click here to view original web page at www.theguardian.com
Barack Obama has guested on Zach Galifianakis's weirdo talk show Between Two Ferns, a clear play for a trendy young voter base – and it's not the first time he has targeted a demographic so cannily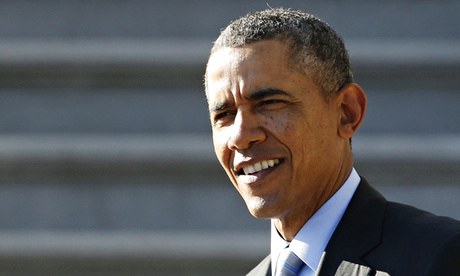 Barack Obama, who has appeared on outsider comedy show Between Two Ferns. Photograph: Jonathan Ernst/REUTERS
Barack Obama became the latest celebrity to appear on Zach Galifianakis's occasional talkshow Between Two Ferns, and it's a pretty far-out political appearance by any standards.
As ever, Galifianakis plays a ruddy-faced, quietly boiling version of himself, prodding his guest's most obvious pressure points with self-hating irritation at the whole chatshow charade. It fits into the outsider online comedy realm of Tim and Eric, with whom he memorably made the masterclasses in deadpan surrealism A Vodka Movie and Just 3 Boyz – and as such it's a very odd place to find the commander-in-chief.
This is Cool Dad Obama, the guy who doesn't quite get pop culture but whose game attempts and charisma mean we fawn over him anyway. He can't go toe to toe in the finely wrought awkwardness stakes with Galifianakis, but fires some cute barbs at The Hangover 3, so it works. It's the latest in a series of appearances where he doesn't just court the hazily faced everyman as so many politicians do, but targets certain groups, be they hipsters, housewives or sports fans. Here are his canniest moments.
The View
Reading on mobile? Click here for video
Obama appears with Michelle on the Loose Women-esque talk show – a media slot clearly intended to humanise him. Host Barbara Walters even tells him he is thought of as being cold, and so this is him being explicitly warm and cuddly, talking about anniversaries and romance, flirting with the hosts, and saying PG-rated potential Jodeci lyrics such as: "I like to lavish her with attention, when she deserves it – and she always deserves it." A nation's housewives are left buttered up.
The Jimmy Fallon Show
Obama 'slow jammed the news' in Fallon's regular skit, using a sexy soul backing to explain his stance on student loans. Raunchy music + stilted politician = easy common-room laughs, though Fox News lamented and frothed: "That's what we do now, when we're president of the United States? I think it's nutso."
Charles Barkley
Reading on mobile? Click here for video
Politicians usually flounder when asked about who's going to win the World Cup and to be fair, they've got bigger fish to fry than consider Danny Welbeck's form. But while Obama doesn't go for hardcore analysis when interviewed by former NBA star Barkley, he's better than most, smoothly delivering bland changing room opinions on LeBron James: "I've never seen somebody that size, that fast, who can jump that high."
Made In America
The thought of most leaders appearing on a big screen ahead of a rap concert is patently laughable, but Obama, who has dropped Young Jeezy references into speeches, can get away with it. He told the crowd that Jay Z "got ahead because he worked hard, learned from his mistakes and just plain refused to quit". The only person who was unconvinced was Kanye West, who later said that the president was merely "trying to be cool" with the namedrops.
Harold Ramis
Obama responded to Harold Ramis's death with a testimony crowned with a fanboy Caddyshack quote – it was heartfelt, but with exasperation around a relatively stagnant double term growing, Cool Dad Obama is an increasingly risky strategy. By aligning himself with pop culture, he leaves himself open to accusations of shallowness, but worse still, he's going after the media-savvy, internet-cultured metropolitans that he doesn't need.
Between Two Ferns is a funny, buzzy way to promote his healthcare reforms, but arguably he's just preaching to the hipster choir – finally, he needs to start targeting the silent majority.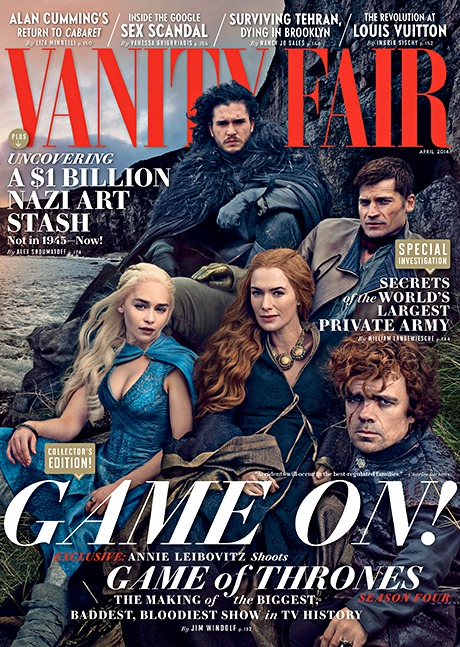 Game of Thrones on the cover of Vanity Fair's April 2014 issue. Photograph: Annie Leibovitz/Vanity Fair
Being set in the vaguely medieval, mythical lands of Westeros and Essos – where fur capes, armour and corseted gowns are de rigueur – Game of Thrones has never been quite as celebrated in the style press as more obviously chic TV shows such as Mad Men.
And yet, ahead of the fourth series, which debuts on 7 April, the swords-and-sandals fantasy series is having a fashion moment. First, Peter Dinklage was photographed for the cover of US Esquire's Style issue wearing custom-made Armani. Now Annie Leibovitz has photographed the cast – including Kit Harington, Nikolaj Coster-Waldau, Emilia Clarke, Lena Headey and Dinklage on the cover – for Vanity Fair.
They look very Alexander McQueen indeed, in capes, corsets, feathers and gauntlet-style gloves, although true Games of Thrones fans will recognise their clothes as costumes created by the show's own designer, Michele Clapton. It's a shame that Khaleesi's dragons didn't make the cover, but other than that, we approve.
Click here to view full article
Tags:
concert
,
movie
,
music
,
tv