Click here to view original web page at lancasteronline.com
Ten-year-old Becky Box loves movies, concerts and shows.
But sometimes the experience can be a little overwhelming for Becky, who has Down syndrome and some characteristics of autism.
"She has an issue with loud noise … and a lot of commotion," says Becky's mother, Elaine. "She doesn't do very well with that."
Elaine Box often packs ear plugs for Becky to wear at concerts. Sometimes even the TV at their Lancaster home is too loud for Becky.
The Boxes leave Becky's ear plugs at home when they attend Penn Cinema's "sensory-friendly" movie screenings, where the house lights stay on and the volume goes down.
Regular movies are "hit and miss" for Becky. But, Box says, "the sensory-friendly one is very enjoyable for her, because it's not as loud."
The theater is one of a growing number of local venues that offer sensory-friendly activities for children with autism and other special needs, who often find loud sounds, bright lights and big crowds overwhelming.
Sugey Cruz-Everts, president of The Tommy Foundation, a local autism nonprofit, says many families avoid community events for fear that their child with autism will have a meltdown or that they will spend money on an experience they won't enjoy.
"Having events that take those challenges into account is a blessing for many families," says Cruz-Everts, the mother of a teenager with autism. "…We hope that more and more businesses will look for ways to make the needed accommodations to make families feel more welcome and accepted."
Here are events planned in time for April's Autism Awareness Month.
Choo Choo Barn
Choo Choo Barn will offer sensory-friendly hours from 5:30 to 7 p.m. the second Tuesday of each month, starting April 8.
The Strasburg attraction, which first held sensory-friendly hours in 2013, consulted with Schreiber Pediatric Rehab Center to adjust its 1,700-square-foot model train layout for the events.
"We've taken out some of the elements that can be alarming to children on the spectrum, such as the fire siren and loud music, and we've covered the mirrors," manager Kristi Largoza says.
Choo Choo Barn also created a photo version of its popular scavenger hunt, which challenges children to find nine local landmarks in the display.
•Admission is $7.50; $4.50 for ages 3 to 11. Advance RSVPs are requested to maintain a small number of attendees. Visit or , or call 687-7911.
Fulton Theatre
The Fulton's sensory-friendly program aims to demystify the theater experience and help children learn skills to successfully attend a show.
Theater education director Jennifer Ridgway developed the program with support from Schreiber.
The program is offered for one performance of each production in the Fulton's Saturday Morning Family Series. Upcoming shows include "Pinkalicious," today; "Seussical," May 10; and "How I Became a Pirate," June 28.
The atmosphere is generally more relaxed, with lights dimmed but not completely off. People may choose their own seats and walk around during the performance, which is recorded and shown on a lobby TV for families who need a break from sitting in the theater.
The Fulton, 12 N. Prince St., helps children prepare with a "social story" called "What Happens When I Go to the Theatre." Children also learn what to expect at a free preshow workshop, where they may touch set pieces, props and costumes.
The theater asks parents to identify any potential negative triggers for their child, such as echoes, strobe lights, screaming, wigs, bubble machines and full-body puppet costumes.
•Tickets are $10 to $20. Email or visit and click on the "Education and Outreach" tab.
Lancaster Public Library
A sensory storytime at 10:30 a.m. Friday, April 25, will feature preschool-level books, songs and movement.
The interactive program is open all children but is especially designed for those who are on the autism spectrum or have sensory challenges or difficulty in large groups. Register online at .
Community relations manager Heather Sharpe says the library began offering similar programs with the 2010 opening of its Autism Resource Center.
"The response from the public has been very positive, as there is certainly a need for these types of resources," she says.
•Other library events for April's Autism Awareness Month include a screening of "The United States of Autism" April 2; free Early Intervention screenings April 17; and a resource center orientation April 19. Visit
North Museum of Natural History & Science
Special activities for Sensory Friendly Earth Day, Monday, April 21, will include a nature touch table, live animals and a reuse-it craft table.
The museum, 400 College Ave., offered its first sensory-friendly event in late 2013 and plans two this year. It's part of an effort to make the museum more accessible for all visitors.
Museum education specialist Nora Joyce, who has worked with children on the spectrum, created the program with community input.
Joyce trained museum staff on interacting with children with autism. Other accommodations include gluten-free snacks in the vending machines and an online museum tour that children can view ahead of time.
"One of the things that really helps children with autism with new experiences is knowing what to expect," Joyce says.
During sensory-friendly events, the planetarium audience may talk and walk around, which is usually discouraged.
"The volume is lower, the lights are on a little bit more than usual and the doors are open so people can come and go as they please," Joyce says.
The event is open to all families because, as she points out, the month is about raising awareness of autism in the entire community.
•Admission, which includes the 10 a.m. sensory-friendly planetarium show, is $7.50 for adults; $6.50 for ages 3 to 17. Therapeutic support staff are free with the purchase of regular admission. Call 291-3941 or visit .
Penn Cinema
The Lititz theater will partner with Aaron's Acres for a sensory-friendly screening of "Rio 2" at 10 a.m. Saturday, April 12.
Theater director of operations Drew Sheaffer says sensory-friendly screenings are part of an effort to make movies open and accessible to the entire community.
"During these special screenings, the house lights are turned up, the sound level is turned down and audience members are invited to walk around, dance, talk and sing," he says.
There is a clear demand for sensory-friendly movies, Sheaffer says. Penn Cinema has offered the screenings once or twice a year but might increase to quarterly showings.
"With the support of (Aaron's Acres), the screenings have been remarkably successful, oftentimes requiring additional auditoriums," he says.
•Tickets for the April 12 screening are $8 at the door. For information, contact 626-7720 or .
---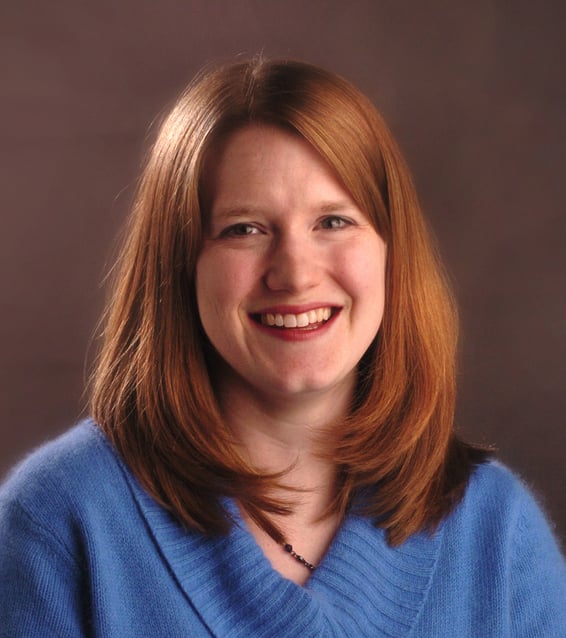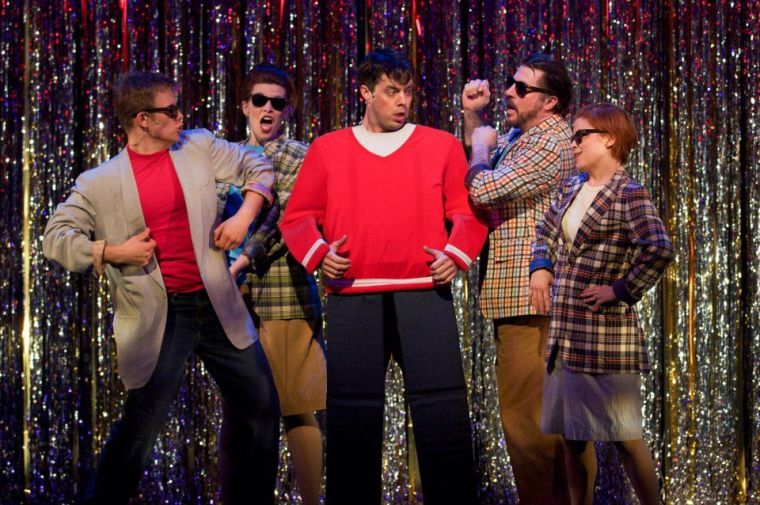 Fulton Flat Stanley
The Fulton Theatre offers sensory-friendly performances of shows in its Saturday morning family series. A past performance of "Flat Stanley" is shown.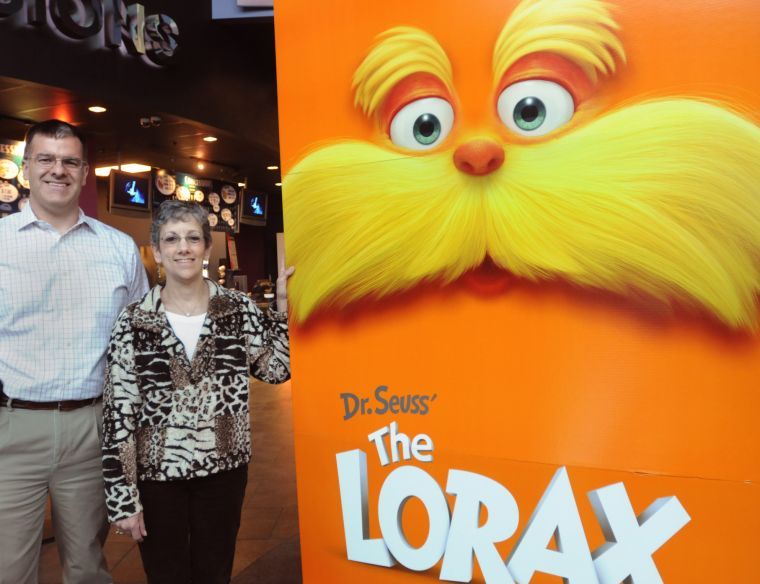 Penn Cinema sensory friendly
At right, Penn Ketchum, Penn Cinema owner, and Risa Paskoff, Aaron's Acres director, stand next to a lobby display for the film "Dr. Seuss' The Lorax," which was shown at a past Sensory Sensitive Cinema event.
Click here to view full article
Tags:
concert
,
director
,
film
,
movie
,
music
,
release
,
tour
,
tv