Click here to view original web page at english.vietnamnet.vn
The Amazing Race to unveil nine celebrity teams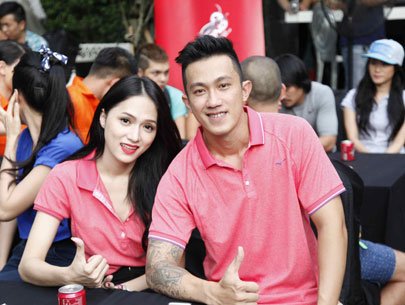 Transgender singer Huong Giang from Vietnam Idol 2012 contest and her partner, Vietnamese Canadian athlete Criss Lai, will be one of the nine teams to compete in the third season of The Amazing Race 2014
Nine couples who are models, singers and actors had a meeting with local media to announce the third season of The Amazing Race Vietnam.
Models Trang Khieu and Trang Khan, singers Kiwi Ngo Mai Trang, Huong Giang Idol, Son Ngoc Minh Vmusic, Miko Lan Trinh, Dinh Khai Anh, and actors Long Dien and their partners showed up at the meeting. However, the names of the 9th couple will not be unveiled until the last minute.
This year the reality show will be broadcast on VTV6 and VTV9, instead of VTV3 as in two previous years. Each pit stop of the race will be divided into two episodes and screened from 8 p.m. to 9 p.m. every Saturday and Sunday starting from June 21.
The Amazing Race Vietnam, produced by BHD and VTV3, is a 30-day race around the country in which participating teams travel and complete various tasks to obtain clues to help them reach a Pit Stop. This is where they're given a chance to rest and recover before starting the next leg. Clues provided in each leg lead the teams to the next destination or direct them to perform joint or single tasks.
The first team to arrive at a Pit Stop is often awarded a prize, while the last team may be eliminated altogether. The final leg will feature the final three teams with the first to arrive at the final destination scooping first prize.
"12 Years a Slave" to premiere in Vietnam
A 2014 Oscar-award winning film, "12 Years a Slave" will be shown in a number of cinemas across Vietnam, starting on May 23.
The film, written by John Ridley and directed by Steve McQueen, is based on an incredible true story of one man's fight for survival and freedom.
In the pre-Civil War United States, Solomon Northup (portrayed by Chiwetel Ejiofor), a free black man from upstate New York, is abducted and sold into slavery.
Facing cruelty and unexpected kindnesses, Solomon struggles not only to stay alive, but also to retain his dignity.
In the twelfth year of his unforgettable odyssey, Solomon's chance meeting with a Canadian abolitionist (Brad Pitt) changes his life forever.
The screenplay "12 Years a Slave" received widespread critical acclaim, and was named the best film of 2013 by several media outlets.
It proved to be a box office hit, earning over US$178 million on a production budget of US$18 million.
"12 years a Slave" won three Academy Awards including Best Picture (becoming the first film made by a black director or producer to receive the award), Best Supporting Actress for Nyong'o, and the Oscar for Best Adapted Screenplay for Ridley.
It was also awarded the Golden Globe Award for Best Motion Picture – Drama, and the British Academy of Film and Television Arts acknowledged the film with the Best Film and the Best Actor award for Ejiofor.
Quang Nam to restore historic sites
Authorities in the central province of Quang Nam have decided to spend VND1.85 billion or US$87,700 on urgent restoration of 12 historical sites in the province this year.
The sites in need of repair include the tomb of Ngoc Dung Princess in Tam Ky District, the Dong Ban Communal House in Dien Ban District and the relics of the Hoa Long War Airport in Nui Thanh District.
The authorities have asked the concerned localities and agencies to complete the projects in time to avoid further damage to the sites.
Drama portrays realities of urban youth
Children and their parents this week learned a great deal from teenager Chau Anh, a character played by actress Hai Bang, in the TV series Duong Hoang Lac Buoc (On the Wrong Path).
Directed by Nham Minh Hien of the Golden Wave Studio, the much-anticipated series portrays the lives of urban youth and focuses on Anh, whose parents are preoccupied with their businesses.
After finishing high school, Anh faces difficulties, including family troubles, and begins to smoke and drink and use crystal meth in glass pipes.
She joins a gang to sell the drug and sleeps with men to earn more money. Her good friends admonish Anh about her lifestyle, but she continues.
After finally meeting her true love, she tragically discovers that she has no chance to get her life back on the right path.
Eager to show how young girls can be led astray and how they can redirect their life, Hien has paid close attention to detail.
Key parts of the film script by Tong Phuong Dung and Le Anh Thuy were also rewritten during the shooting to show that Anh was a good girl who had been wronged in life and love.
"We want to attract a large young audience, despite the domination of South Korean films on local television," he said.
Before making Duong Hoang Lac Buoc, Hien asked his young actors to visit nightclubs and drug detoxification centres around the city.
"I wanted it to accurately reflect the true lives of victims of their lifestyle. I wanted Anh's life to be a realistic story."
"I contacted many bar girls and drug dealers who earn a living in the darker places of the city. Thus, I could understand the girls' lives and hardships they face," said actress Hai Bang.
As a young pop singer, Bang is experienced in performing.
In a recent interview with local media, Bang said: "I love this movie and my role. I can learn about different experiences and feel more confident and powerful to fight my own problems."
Bang is particularly enthusiastic about a scene in which Anh begins to return to the right side after she learns about love.
"I believe young audiences will like this scene," she said. "Anh wants to restart her life but it is too late for her. I hope young people will never follow in her footsteps."
Nguyen Quy Hoa, general director of the Ho Chi Minh City Television, said Anh's situation in Duong Hoang Lac Buoc was a warning to youth.
"Our station's priority is to air productions on education, particularly films featuring social issues, to educate young viewers living in urban areas who tend to choose devious paths if they don't receive good advice," he said.
The 32-episode series is broadcast at 10pm every night on HCM City Television's channel 9.
Images of World Heritage sites on display
An exhibition featuring 280 images of 15 UNESCO-recognized World Heritages in Vietnam has been opened in the northern port city of Haiphong.
The World Heritage sites are Halong Bay, Phong Nha-Ke Bang National Park, Imperial Citadel of Thang Long, Ho Dynasty Citadel, Imperial City in Hue, the Ancient Town of Hoi An and My Son Sanctuary.
Also on display are eight Intangible Cultural Heritages: Hue's royal music, Space of Gong Culture in the Central Highlands, Bac Ninh's quan ho (love duet), ca tru (traditional ceremonial singing), xoan singing at Phu Tho Province, Hung Kings veneration ritual, Giong Festival at Phu Dong and Soc temples, and don ca tai tu (traditional music of southern Vietnam).
Visitors can also see images of Haiphong's Cat Ba archipelago, the world's biosphere reserve. Cat Ba has an impressive ecological diversity including Asia's largest limestone area, so Haiphong is asking UNESCO to put the archipelago on the list of World Heritage sites.
Relationship of mind, body and physical environment shown in art
'Mind, Flesh, Matter', a group exhibition featuring painting, photography, installation and video by artists Le Phi Long, Lai Dieu Ha, and Nguyen Van Du, opened at San Art yesterday.
The exhibition presents the relationship between mind, body and the physical environment that Long, Ha and Du have discussed and made in Session 4 of 'San Art Laboratory'.
The idea is depicted in photographic snapshots taken by Du in his regular visits to an abattoir on the outskirts of Saigon. Above his oil-paint spattered studio floor, these pinned images of animal flesh being violently torn apart are amongst color photocopies of painted similar scenes of death by celebrated artists such as Francesco de Goya or Francis Bacon.
He believes painting to be the first medium in the history of art, so he wants to command its language as a tool of human documentation. His large-scale canvases, thick with gestures of oil in red and pink his brush like the knife that has killed, reveal a controlled horror in slaughter.
Long expresses the related relationship with images of crocodiles that once pervaded its swampy waters and drawn on the floor as if they are emerging from the studio walls. Long also uses his own body in photographs to talk about the endangered presence in the pollution of a nature reserve in Can Gio.
Long's use of materials is central to this ensuing body of works, in which metal is molded to depict human wounds. Working with sculpture, photography, performance and drawing, his practice subtly refers to the trauma of industrialized societies.
Meanwhile, Ha set up her studio like a kind of doctor's office with scientific images of human brain activity hung alongside painterly renderings of the same on glass and canvas. Ha's fascination with the brain is connected to her experiments with psychodrama therapy, often turning her studio into a quasi-confessional space for visiting patients and scientists.
Ha takes her performance practice one step further by delivering visualizations of her emotional experiences of observing and participating inside such a stage which includes a large-scale sculptural installation of the brain as an enveloping machine and video documentation of interviews with guest artists, patients and scientists questioning ideas of psychology and the various treatments of associated illnesses.
The exhibition is on until August 7 at San Art, 3 Me Linh Street in HCMC's Binh Thanh District.
HCM City students gear up for TV commercial contest
Hoa Sen University will give a VND20 million prize to the winner of the television commercials creativity contest TVCreate2014 themed "Turn on your idea".
The university announced that they start accepting applications for the competition, which is open to students from universities in HCMC only. In total there will be nine prizes.
The event presents itself as a creativity platform for university students who are interested in movie making, publicity and media. A three-day tutorial on skills and technicalities for making a TV commercial will also be organized. Details and schedules of the class can be found at tvcreate.hoasen.edu.vn.
Mademoiselle sings blues to entertain Saigonese
Hundreds of expats and locals had great chance of seeing French singer Patricia Kaas singing, dancing, and telling stories about love and life.
Returning to Vietnam after 20 years, Kaas is 48 but her charm, allure and throaty husky voice captivated audiences at the "Kaas chante Piaf" (Kaas sings Piaf) concert in HCMC to mark the 50th anniversary of the death of one of France's greatest singers, Edith Piaf.
In the two-hour show, Kaas together with three musical instrument players infused new spirit into some 20 popular pieces by Piaf and herself in a simple yet theatrical stage.
She brought audiences different nuances of feeling like romance, fierceness and fiery loss of love.
In the first half of the show, the "Mademoiselle chante le blues" (the lady singing blues) performed Piaf's "Mon Dieu" (my God), "Paris", "L'hymme a lamour" (love song), and especially "La vie en rose" (life is pink) which were applauded by audiences. They sang along with Kaas and asked for an encore that she sang without musical instruments afterwards.
She also amazed audiences in another Piaf song called "Les blouses blanches" as she showed her sexy body in a pink satin sleeping gown and acted as a crazy woman hopelessly in love.
Near the end of the show, Kaas pushed her emotion to the climax via two songs "D'Allemagne" (Germany) and "La belle histoire d'amour" (a beautiful love story). Especially, the song "Non, je ne regrette rien" (No, I don't regret anything), also by Edith Piaf, marked a great end to the "Kaas chante Piaf" concert. It was when Kaas who wore a beautiful white dress with sophisticated lace patterns on bare feet showed off her strong voice and contemporary dance moves in a forceful melody of a symphony.
When the final note hit the air, audiences swiftly approached the stage to shake hands and ask for autographs and pictures with her. Audiences gave her an ovation until she made a bashful bow and moved away behind the black curtain.
The "Kaas chante Piaf" show has already been held in the world's most prestigious venues such as the Royal Albert Hall in London, Carnegie Hall in New York, Olympia in Paris, Operett Theatre in Moscow, and Sejeon Cultural Center in Seoul.
After the Vietnam show, Kaas will return home and prepare for her next destinations in Baku (Azerbaijan) and Tbilisi (Georgia) at the end of this month. Her upcoming plan is to release an album in 2015.
Patricia Kaas is one of the most renowned French artists in the world of the 21st century with over 16 million records sold worldwide.
Japanese giant monster comes back
Legendary Godzilla is making a titanic comeback this year in a reboot by British filmmaker Gareth Edwards.
This latest remake sees Godzilla evolve from a mindless destructive monster 60 years ago to an ancient guardian who stomps on metropolises, representing human arrogance, to restore the balance.
The familiar tale of nuclear radiation and human hopelessness and courage in the face of disaster is authentically narrated through Gareth Edwards' visual imagination with the help of IMAX technology. It surely will induce awe and fear among moviegoers.
The film cast Aaron Taylor-Johnson, Elizabeth Olsen, Bryan Cranston, David Strathairn, Ken Watanabe and Juliette Binoche.
Godzilla (2014) is distributed by Galaxy Studio in Vietnam in both IMAX 2D and 3D from May 16 at local cinemas.
Yxineff to host Fun Film Fair for dreamers
The Saigon team of the online international short film festival YxineFF will host a Fun Film Fair 2014 to give young filmmakers an open playing field to exchange, dream and create. The event is called a festivity for dreamers to reflect the spirit of the film fest's 2014 theme.
The fair will feature booths for all attendees to try being actors, actresses, directors and make-up artists, and talk with young directors and actors about their first steps in cinema industry. Those wanting a role in a film crew, or looking for members for their own groups to make short films for competition in YxineFF 2014 can also join.
Moreover, visitors will be entertained by music, lighting and DJ performances of young artists. The fair will also screen the best short films of YxineFF in an outdoor space.
At the event, the YxineFF 2014's jury in International Competition category will be announced.
YxineFF, an annual online international short film festival at www.yxineff.com, is a voluntary, non-profit and independent project targeting young independent filmmakers and cinema lovers. The YxineFF project receives support from many organizations, companies and individuals, including the Danish Cultural Development & Exchange Fund, Goethe Institute Vietnam, British Council Vietnam and the U.S. Consulate General in HCMC.
YxineFF 2014 is themed Dreamers, following Choice (2013), Individual (2012), Belief (2011) and Love (2010). YxineFF 2013 screens short films in four categories: International Competition, Local Competition, Panorama and In Focus.
Vietnam to hold film month in Paris
Vietnam's film month called "Canh Dieu Vang" (Golden Kite) will be held in Paris at the Vietnam Cultural Center in France and Pleiade – Cachan movie theater from May 21 to June 21, reports Sai Gon Giai Phong.
The event, jointly organized by the Vietnam Cultural Center in France and the Vietnam Cinema Association, will screen locally acclaimed movies such as dramas Long Th anh cam gia ca (song of string instrument player in Long Thanh), Nhung nguoi viet huyen thoai (The Legend Maker) and Than Tuong (Idol); three cartoons Xe dap (Bicycle), Bo vang (Golden Cow), Khoang troi (Sky Space); and documentary Co Mot Co Hoi Bi Bo Lo (Missed Opportunity).
VNN/SGT
Click here to view full article
Tags:
actor
,
actress
,
concert
,
director
,
film
,
movie
,
music
,
producer
,
release
,
singer
,
television
,
tv