Click here to view original web page at host.madison.com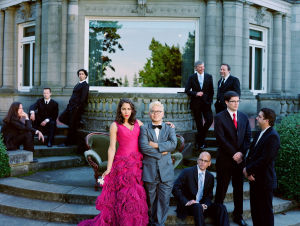 Pink Martini bandleader Thomas Lauderdale says his pop-jazz ensemble is used to collaborating with "older" people. But while their most recent collaborators aren't a day older than 25, their name is one of the oldest and most well-known in show business. Yes, they're those von Trapps (grandchildren of Werner, renamed "Kurt" in the musical and film).
Lauderdale and Pink Martini will play hits from the group's 20-year career at the Capitol Theater on Thursday night, and Sofi, Melanie, Amanda and August von Trapp will join them to play songs from the Pink Martini/von Trapps collaboration, "Dream a Little Dream." Lauderdale talked to 77 Square about what it's like to collaborate with the von Trapps and why he's excited about the new record.
77 Square: How did your collaboration with the von Trapps come together?
I met the von Trapps two years ago, at a Christmas tree lighting in Portland, Ore., and we became instant friends. They were sort of at a crossroads when I met them. They had had a decade-long career traveling the world as the "Sound of Music" kids, trying to figure out what to do as the next incarnation of von Trapp-ness.
They're no longer kids, for one thing. They have a lot of different interests, and were trying to figure out how to integrate the past, present and future into a career. I had a lot of ideas that I thought would be compatible with their past but would also open up their future. We started working on this album, and eventually they moved to Portland. Everything sort of blossomed and unfolded into this album that's out today. I love it.
I think it really sets them free and allows them to explore any direction they could possibly want to explore in the future. It has a couple songs from "The Sound of Music," songs in different languages, different styles, songs they've written.
The idea was to give them an education of how to make an album, how to do this on one's own and not be under the direction of a record company or a terrible manager. I feel like this album really does put them in a position where they can explore any avenue they want to explore and they're not beholden to anybody. They're independent and can stay that way as long want and go in any direction they wish to.
That sounds like a good position to be in.
It used to be in the record industry the goal was to get signed, 20 years ago, everybody fixated on the idea of getting signed by a major record company. I thought, at the time, "Why would I sign over my life to a record company who wouldn't take as good care of the music as I would take care of it? Why would I sign over the economics to anybody else?" That was the same approach I approached the von Trapps with — giving them an education so they could not feel trapped in any way. I wish that more people had that kind of education, so that they could be more in charge of their careers. I just think it's a good thing.
It sounds like a rare thing in the music industry.
It's a terrible industry, like most industries, and being independent is definitely hard. Pink has gone on for 20 years, which is 15 years longer than I ever thought it would go on. But it seems to be resonating with audiences, and I think the music is unusual and beautiful and almost ambassadorial in a way. It crosses generations and cultures and languages. Similarly with the music of the von Trapps. I think there's probably not a more beloved name, not a name you can name anywhere in the world where people don't have this emotional, deep response to, than von Trapp. People who are 30 years and older, everybody has this collective sigh when they think of the von Trapps.
What's interesting is, because media has changed, there's a whole generation who has no idea who the von Trapps are. They've never seen "The Sound of Music." It used to be on national television every Thanksgiving. Everybody in the country had this knowledge of the von Trapps.
It's interesting facing a new generation that's never seen it. I guess maybe now they have, because of the horrific thing that happened on TV last December. But there's a whole generation of kids that have never seen it.
That seems crazy.
At the time the film was panned by critics as sappy and saccharine. I've always loved it. I think it's the last great optimistic American musical. After it … films have become much bleaker — maybe more realistic, but bleaker.
This generation of von Trapps are pretty amazing. They were home-schooled in Montana, and they never watched TV growing up. Their grandfather, Werner, who was Kurt "the incorrigible" in the film, taught them Austrian folk songs. They sang to themselves in front of their grandfather. When he had a stroke they recorded a little album for him, somebody heard them and they found themselves on the road. It was not the intention of their parents, nobody ever thought, "We're going to make a new generation of von Trapps." It came about very organically. So for a decade they were going around the world, touring. Since they were home-schooled by their parents they never really came under the influence of modern pop culture.
Working on this album, they would go through my music library, and it was like a whole new world. They had never heard most things. It was like an amazing thing. And because they never watched TV they had an unusual ability to concentrate.
They're just on the precipice of a very fun new era of career. They've already had one for 10 years.
There's something about child performers that I get a little nauseous and nervous about, but somehow they seem to be unscathed. There is something weird about kids on stage, but somehow I think because of their parents, and they have this internal moral compass, it feels all right. And now that they're young adults it's certainly very exciting.
It's unusual — the bands we've collaborated with historically have been people over 75 — Carol Channing, Phyllis Diller. I gravitate toward people who are older. But, that said, these four are sort of old souls. And it's been an inspiring project to work on.
What are some of the tunes you're most excited about on this album?
I like all of them. In the past, I've made albums that I'm not entirely sure about, but this one, I'm really sure about. I think it's really, really great. some people will not like the "Lonely Goatherd" because it's too giddy, but the thing is, I love it. We've got Wayne Newton, who is a friend of theirs, to record on it. and Charmian Carr, who played Liesl in the movie, Jack Hanna. We tried to make the whole thing very fun. The "Lonely Goatherd" — that will be the one people love or hate. Small children will really love it and adults will probably not like it so much.
I think the three original songs that August wrote are tremendous. I think he's the new Bob Dylan. He's really brilliant. They're all brilliant. But August wrote all of the parts and all of the harmonies. I think he's destined for some really great stuff.
I like the title track. We all pitched in and tried to make an album. The goal was really to have fun in the studio, and that sort of shines through in the music. It just feels really good. The Rwanda national anthem, they recorded because they spent time in Rwanda teaching in an orphanage. That's beautiful.
We did "Fernando," the ABBA song, sung in the original Swedish. Set to a Samba beat with a full orchestra. Maybe that's my favorite. There's a beautiful version of "Edelweiss," which is opened by Charmian, who played Liesl and in recent years she was an interior decorator. The album, from start to finish, I love it. I think that people are going to really respond to it. It crosses generations and crosses cultures.
There are a lot of cultural and musical influences on the record. Where does the idea to sing an ABBA song in its original Swedish, with a Brazilian beat, come from?
We tried "Fernando" a bunch of different ways. The first several takes of Fernando are not very good at all. I always thought the English lyrics were a little weird, but I had a copy of Frida singing with the Swedish lyrics, and it made more sense. I'm a historian. I like doing investigation and research.
How much influence did you let "The Sound of Music" have on the collaboration?
We decided not to do that much. The idea was to move beyond that, and try to not be tied at all to "The Sound of Music." Obviously there's a whole history that I thought we all had that was important to honor, so there are the two "Sound of Music" songs, but I also feel like all of those other songs are compatible with the repertoire. So even if it's not "My Favorite Things" or "Do Re Mi," one has the impression that it's not so far away.
You were involved in politics in the early days of Pink Martini, right?
Yes, I thought I was going to run for office.
Is that still an important part of what you do?
We sort of do political things. We did a rally in support of the Occupy movement a couple years ago, for example. It was a good rally, because I felt like a lot of the discussion was being lost, and people couldn't really identify with the scrappy looking protesters. We did a rally with a singalong and a Pink Martini concert, and we interspersed that with speakers — clergy, a rabbi, the head of the AFL-CIO in Oregon, congressmen from Oregon — and I felt like it was a really good representative rally which stated a case and the issues in a way that was totally accessible. I wish that that kind of rally had been done across the country. I think the whole movement would have unfolded differently. As it is, I think because the movement is sort of lost and without leadership and articulate spokespeople, it just kind of fell apart, which is too bad. I think the issues, at least as I saw them being raised, were totally relevant, and are still relevant.
Click here to view full article
Tags:
concert
,
film
,
movie
,
music
,
television
,
tour
,
tv