Click here to view original web page at www.huffingtonpost.ca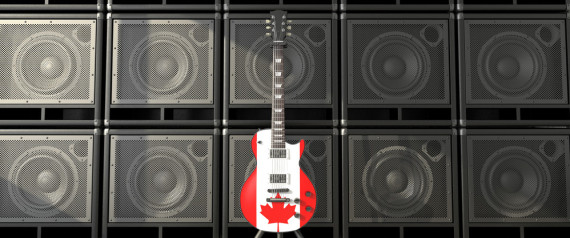 Canadian artists have long hit above their weight class in the global music business, from Paul Anka becoming a teen idol in the '50s to Leonard Cohen, Neil Young, Joni Mitchell and The Guess Who emerging as icons of the '60s and '70s while Bryan Adams and Corey Hart ruled the '80s. Then Alanis, Celine, Sarah and Shania took over the world in the '90s and Tragically Hip, Blue Rodeo and Sloan became homeland heroes.
This is more true today than ever before with Canadian artists like Drake, Arcade Fire, Feist, Michael Buble, Deadmau5 and, yes, Bieber and Nickelback at or near the top of nearly every genre.
Still, we thought it would be easier to come up with a best Canadian songs. We had planned on 50, then expanded to 75 and finally called it at 100 and restricted ourselves to one song per act and from the 1950s onward. Really, we could have done a list ten times this size and still had to cut.
While you may or may not agree with all the songs or their placements, we're pretty sure everyone can agree that the diversity and quality of music coming from Canada is something worth celebrating.
So please add more songs in the comments if we didn't include your favourites — and be proud to live in a country that has such an incredible musical history.
Loading Slideshow
100. Toronto – "Your Daddy Don't Know"

Underappreciated gal rock act Toronto had a hit with the gals-get-to-cause-trouble song "Your Daddy Don't Know" in 1982. The song experienced a renaissance in 2003 when The New Pornographers covered it for the "FUBAR" movie soundtrack.

99. Terry Bush "Maybe Tomorrow (The Theme From Littlest Hobo)"

Yes, it's a theme for a cheesball Canadian TV show from the '80s about a dog who saves people. And yes, you know all the words. Maybe tomorrow we won't like it so much, but until tomorrow we'll just keep listening.

98. Trooper – "Raise A Little Hell"

Trooper's 1978 arena rock jam "Raise A Little Hell" was the band's only song to become a hit in the U.S. The song was produced by BTO/Guess Who's Randy Bachman.

97. Joel Plaskett – "Nowhere With You"

We make fun of the not so dearly departed Canadian discount department store Zellers, but they did at least one thing right: they picked up this infectious and rollicking 2006 single from Clayton Park, Nova Scotia's indie folk rock hero Joel Plaskett for a television spot, which made the chain temporarily cool. "Nowhere With You" scored Plaskett Single of the Year and Songwriter of the Year trophies at the 2007 East Coast Music Awards.

96. Daniel Lanois – "The Messenger"

"The Messenger" was the lead-off track from Daniel Lanois' 1993 album "For The Beauty Of Wynona." Aspiring mystic rockers The Tea Party would cover the song in 1999.

95. Snow – "Informer"

This song is a punchline, but Snow's skin colour shouldn't colour our opinions on this radio smash. In hindsight we can appreciate how impressive his rapid-fire toasting actually is, how bold it was back then to shout-out Toronto and how cool it was he collaborated with rap legend MC Shan.

94. Sweeney Todd – "Roxy Roller"

Taken from Sweeney Todd's self-titled 1975 album, the glam rock-ish "Roxy Roller" became a number one hit in Canada. Fun fact: Bryan Adams was part of Sweeney Todd when he was 15 years old.

93. Jully Black feat. DeMarco – "Sweat Of Your Brow"

Canada's R&B and entertainment show queen, Jully Black, scored her first top 20 hit with this sexy single from her 2005 album, "This Is Me."

92. Great Big Sea – "Lukey's Boat"

The pride of St. John's made traditional Newfoundland music cool with their playful and punkish take on the old comic folk song "Mari-Mac" from their 1995 album, "Up."

91. Andy Kim – "Rock Me Gently"

"Rock Me Gently" was a Billboard number one hit for Andy Kim in 1974. The Montreal musician was a noted songwriter, scoring hits with songs like "Sugar Sugar" for The Archies. Kim is currently working on a new album with Broken Social Scene's Kevin Drew.

90. Northern Pikes – "Teenland"

Part of Can-Rock's breakout late-'80s scene, "Teenland" gave Canada its own answer to R.E.M. The band's biggest hit would come three years later with "She Ain't Pretty."

89. Bass Is Bass – "Funkmobile"

"I Cry" is the song that gave North York's Bass is Base a top 40 hit, but the far superior sing-song jam "Funkmobile" is the song that scored the R&B trio their record deal in the first place. It's also a lot more fun to break out at parties.

88. Martha And The Muffins – "Echo Beach"

This hit 1980 single by Toronto new wave artists Martha and the Muffins was so good they named a concert venue after it. Echo Beach, the venue, is located along Toronto's waterfront, but it's more fun if you tell people that it's far away in time.

87. Rush – "The Spirit Of Radio"

One of the all-time classic tributes to the wireless music transmission, Rush's "The Spirit Of Radio" was a worldwide hit from their 1980 album "Permanent Waves." The song was a nod to Toronto alternative radio station CFNY, who were one of the first outlets to play Rush songs.

86. Ashley MacIsaac – "Sleepy Maggie"

The second single from Cape Breton native Ashley MacIsaac's 1995 debut album "Hi, How Are You Today?" Only in Canada could an enfant terrible fiddler hook up with a Celtic folk singer and produce a ridiculously catchy, chart-topping pop hit sung in Scottish Gaelic.

85. Edward Bear – "Last Song"

This Toronto-based group who had neither an Edward or a Bear in the band, were one of the earliest Canadian acts to sign to a major U.S. label when they joined Capitol Records in 1969. Their 1972 hit "Last Song" reached number one in Canada and number three in the States, their best chart performance.

84. A Tribe Called Red – "Electric Pow Wow Drum"

First Nations DJ crew A Tribe Called Red have radically flipped what it means to make aboriginal music, combining modern beats and drops with traditional powwow drums and singing to create something completely new. "Electric Pow Wow Drum" is the signature song for the Ottawa trio.

83. The Parachute Club – "Rise Up"

One of the pillars of Toronto's innovative Queen Street scene, The Parachute Club's new wave dance track "Rise Up" was a hit in 1983. The self-titled album this came from was produced by future U2 conductor Daniel Lanois.

82. Helix – "Rock You"

One of '80s most iconic songs, "Rock You," with its helpful lesson "Gimme an R-R, O-O, C-C, K-K, whatcha got?" taught hair metallers everywhere how to spell Rock. Years later Sum 41 would cover the song and start a minor feud with the band.

81. Lee Aaron – "Whatcha Do To My Body"

Belleville, Ontario's own Lee Aaron, further cemented her status as the Metal Queen with this 1989 single from her most successful album, "Bodyrock." The record was nominated for Album and Rock Album of the Year at the Junos and "Watcha" received a nomination for Video of the Year.

80. Loverboy – "The Kid Is Hot Tonight"

"Working For The Weekend" may get more attention, but leather pant rockers Loverboy's first real hit was "The Kid Is Hot Tonight" from the band's self-titled 1980 debut. Bob Rock, later to become a producer for the likes of Bon Jovi, Metallica and Aerosmith, was an engineer on this album.

79. D-Sisive – "Nobody With A Notepad"

Prolific and brilliant Toronto rapper D-Sisive, along with his longtime collaborator Muneshine, won SOCAN's ECHO Songwriting Prize for this complex and confessional look at his life and career from the 2009 album "Let The Children Die."

78. Red Rider – "Lunatic Fringe"

This 1981 song by the Tom Cochrane-led Red Rider was written to address the wave of anti-Semitism which took place in the late-1970s. Mixed martial arts champ Dan Henderson has used the song as his walkout music before fights.

77. Jane Siberry – "Mimi On The Beach"

This single from ethereal Toronto singer/songwriter Jane Sibbery's 1984 album "No Borders Here" accomplished what few seven and a half minute-long art rock epics have ever managed: it received massive radio play and became a breakthrough hit for the ethereal Toronto singer/songwriter.

76. Shad – "The Old Prince Still Lives At Home"

Shad's self-deprecating throwback track captured everything that was right about old-school hip-hop — clever references, catchy rhymes and a sense of humour. That this song about a grown man too broke to move out was released during the Great Recession adds some strong subext, too.

75. Payolas – "Eyes Of A Stranger"

This Police-style new wave/reggae song "Eyes Of A Stranger" was a Canadian hit in 1982. Perhaps more notable was that the band, anchored by super-producer Bob Rock and Paul Hyde, also featured David Bowie collaborator Mick Ronson and future Last Gang Records owner Chris Taylor at various points.

74. Skinny Puppy – "Assimilate"

The first track on Skinny Puppy's first full-length album, "Bites," released in 1985, is one hell of a way to kick off a disc and is the perfect introduction to the Vancouver industrial gods in general. "Assimilate" is Skinny Puppy at their most melodically sinister.

73. Klaatu – "Calling Occupants Of Interplanetary Craft"

This hit 1976 song by Klaatu was inspired by the idea of earthlings trying to contact alien races telepathically. Though written by Canadians and Klaatu band members Terry Draper and John Woloschuk part of the song's success can be attributed to the rumours when it came out that it was a secret Beatles side-project.

72. New Pornographers – "Mass Romantic"

This title track from indie supergroup The New Pornographers' 2000 album featured Neko Case on lead vocals.The song has appeared in a number of places, including the TV show "Queer As Folk" and the curling movie "Men With Brooms."

71. Tegan and Sara – "Closer"

This instant synthpop classic from Calgary's beloved singer/songwriter twins Tegan and Sara was the lead single from their massively successful 2012 album "Heartthrob." The platinum-certified single scored the duo "Single of the Year" honours at the 2014 Junos and got the "Glee" treatment in March of 2013.

70. Deborah Cox – "Nobody's Supposed To Be Here"

Think of this song as a dual citizen. It was written by American singer Montell Jordan of "This is How We Do It" fame and his songwriting partner Anthony "Shep" Crawford, but it was performed by Canada's own R&B star Deborah Cox. It was a massive breakthrough for Cox, topping the Billboard Hot R&B/Hip-Hop Songs chart in October of 1998 and staying there for a record 14 weeks.

69. Change Of Heart – "There You Go"

In a perfect world, Toronto indie rock gods Change of Heart would have dominated the airwaves throughout their decades-long career. In the real world, they did have one moment of unexpected top 40 glory. This beautifully delicate little song from their epic 1992 album, "Smile," briefly charted in Saskatchewan.

68. Barenaked Ladies – "Jane"

College rock goofballs the Barenaked Ladies named the titular character of this sweet love gone wrong song from 1994 after the intersection of Jane and St. Clair in Toronto. Stephen Duffy, who cowrote the song with BNL singer Steven Page, thought that it sounded like the most beautiful intersection in the world. Page didn't have the heart to tell him it wasn't.

67. Peaches – "Fuck The Pain Away"

This breakthrough single from Toronto electroclash art rocker Peaches' 2000 album, "The Teaches of Peaches" is about, well, fucking the pain away (and staying in school). The unabashedly dirty and undeniably addictive tune been featured on a bevy of film soundtracks and has been covered of Montreal and Bollo from The Mighty Boosh. Oh, and in "30 Rock" Liz Lemon used it as her ringtone.

66. Lowest Of The Low – "Salesmen, Cheats and Liars"

Toronto indie rock legends The Lowest of the Low were/are one of the smartest, sharpest, and most literate bands that Canada has ever produced. And this tune from their 1991 debut album, "Shakespeare My Butt," is one of the smartest, sharpest, and most literate songs they ever produced.

65. Mystery Machine – "Brand New Song"

Vancouver shoegazers Mystery Machine scored their biggest hit with this swirling and swoony single from their second album, "10 Speed." If social media had been around in 1994, all of the indie rock kids would have been tweeting about all of the feels this song gave them.

64. Grimes "Oblivion"

Electro-pop breakout Grimes pairs her chipmunk vocals, la la las and burbly beats, not to mention that adorable video, with dichotomously dark lyrics about the mental aftermath of a sexual assault.

63. Cowboy Junkies – "A Misguided Angel"

With "Sweet Jane," the sexy and smoky first single the Cowboy Junkies' debut album, The Trinity Sessions, the Toronto alternative folk band proved that they were good enough to cover a legendary band like The Velvet Underground. With their second single, the haunting and dreaming "A Misguided Angel," they proved that they were even better when they played their own songs.

62. Danko Jones – "Cadillac"

This 1996 song from the Toronto rock trio is basically the Platonic Ideal of a Danko Jones song: naughty, boastful, bombastic, and bad ass with a killer rock riff and a refreshing lack of stereotypical Canadian meekness.

61. The Demics – "New York City"

This 1979 single from London, Ontario's The Demics was named the greatest Canadian song of all time in Chart Magazine's inaugural Best Canadian music poll in 1996 and was ranked fifth in a follow-up poll in 2000. In 2014, this punk ode to small-ish town frustration remains as vital as ever, and no Best Canadian Song list worth anything would be complete without it.

60. The Rheostatics – "Record Body Count"

This song from The Rheos' beloved and critically acclaimed 1991 album, "Melville," sees the Etobicoke, Ontario rock band at their strangest, most unique and most arresting. The short tune about about a suicidal young man named Joey remains a favourite of disaffected weirdos and art rockers the world over.

59. Bachman Turner Overdrive – "Takin' Care Of Business"

It didn't take long for Randy Bachman to make his mark when he split from The Guess Who in 1970. By 1974 BTO were an established band and "Takin' Care Of Business," their ode to getting things done, was a hard rock hit. Oddly, it was their song "You Ain't Seen Nothing Yet" from next album "Not Fragile" that became an international number one.

58. The DeFranco Family – "Heartbeat It's A Lovebeat"

In the early seventies, Canada had a pretty good reputation for folk music and a burgeoning reputation for rock, but the Great White North wasn't really known for its boy bands and cheesy pop music. Port Colborne, Ontario's DeFranco Family did their part to change all of that with this cheesy but catchy as hell ditty that hit number one in 1973 and landed the whole DeFranco family in Tiger Beat.

57. Esthero – "Heaven Sent"

Trip-hop gets a bad rap, which may be why rip-hop duo Esthero have ben laregly forgotten. The late-90s outfit's best song, "Heaven Sent" mixed singer Esthero's breathy, jazz-inflected and progressively tougher vocals over future Weeknd producer Doc's impeccable quiet-loud production and turntable scratcing.

56. The Pursuit Of Happiness – "I'm An Adult Now"

This 1986 hit isn't just a killer single that becomes more pointed and uncomfortably true with each passing year, it's also one of the first and best independent success story in Canadian music history. In 1985, a little known band from Toronto recorded a song called "I'm An Adult Now," filmed an extremely low budget video for it and released both by themselves. It became a massive hit and landed TPOH a record deal. Their debut album, "Love Junk," went platinum in 1988.

55. 54-40 – "Baby Ran"

This track from 54-40's eponymous second album was a breakthrough college radio hit for the Vancouver band in 1986. It remains the best 54-40 song that Hootie and the Blowfish never covered.

54. Poppy Family – "Which Way You Goin' Billy"

The sweet and melancholy title track from The Poppy Family's 1969 album was the Vancouver psychedelic pop rock band's biggest hit. It was a number one single in Canada and Ireland, and reached number two of the US charts.

53. Michie Mee & L.A. Luv – "Jamaican Funk Canadian Style"

The godmother of Canadian hip-hop was the first northern rapper to sign to a U.S. label and be taken under the wing of an American star (KRS-One) and she did by representing the Tdot's cultural mix with a healthy does of dancehall reggae as this classic single makes crystal clear.

52. Kathleen Edwards – "I Make The Dough, You Get The Glory"

Ottawa alt country singer/songwriter sings about eating at Toronto's infamous Vesta Lunch diner, getting CBC airplay, and being more of a Marty McSorely than a Wayne Gretzky in this clever and thoroughly Canadian single from her critically and commercially successful 2008 album, "Asking For Flowers."

51. Melanie Fiona – "It Kills Me"

This blistering and emotional track from Toronto's Melanie Fiona topped cracked the Billboard Hot 100, earned a Grammy nomination for Best Female R&B Vocal Performance (the award eventually went to some up-and-comer named Beyonce), and established the singer as an R&B force on both sides of the border.

50. Zaki Ibrahim – "Draw The Line"

This striking and gorgeous lead track from Zaki Ibrahim's 2012 album, "Every Opposite," is a fine example of why the Canadian and South African soul and R&B singer garners so much praise, so many prestigious award nominations (including the Polaris 2013 short list), and opening slots for artists like Erykah Badu.
Click here to view full article
Tags:
concert
,
film
,
movie
,
music
,
producer
,
release
,
singer
,
television
,
tv