Click here to view original web page at www.virtual-strategy.com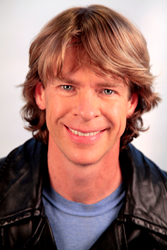 Gregory Graham aka Heavy Metal Greg interviews music celebrities on this TV show and on his ongoing Youtube show "Heavy Metal Greg." He is always posting new videos and content on his channel to please music fans.
The show "Heavy Metal Greg" will debut on Torrance Cablevision on 7/16 at 8 pm, and will run for 2 months. This is a 30-minute show in which the host, Gregory Graham, attends concerts and other music events and interviews beloved members of bands such as Guns and Roses, Rob Zombie, Motionless in White, and many more. Gregory's show is shot by Dan Feliz, a 2005 Emmy award-winner, who shared that "it is always a blast working with Gregory because all the creative vibes tend to work in unison. No big egos to overcome no matter how tired we are."
This fun music show was inspired by Gregory's love of listening to rock music and going to concerts. "I grew up listening to rock bands like Van Halen, Aerosmith, and Kiss. Seeing these bands live was always very exciting and entertaining, especially given that I grew up on a farm in rural Iowa, half a mile from my nearest neighbor," stated Gregory. He recalled that he "often played very loud rock music in the tractor while planting corn in the field."
After studying acting and hosting in Los Angeles for several years, Gregory decided to take his knowledge of rock and roll and put it to good use by interviewing well-known musicians and professionals in the music industry. "I remember being a bit shy at first when approaching a renowned musician. Now that I have been doing this for a while, I am much more composed and able to talk with famous musicians as if I have known them all my life," shared Gregory.
When talking with Chris Motionless of Motionless in White, Gregory asked him how he wound up in the music video "Whore" for the band "In this Moment". Chris responded "I have been friends with the 'In This Moment' guys and girl for quite some time, so they needed somebody that fit that image and they called me and I, of course, said yeah, and the rest is history."
In another interview, Gregory asked Ron "Bumblefoot" Thal, the Guitarist for Guns and Roses, what his favorite song was. He responded "Don't Cry, and from the newer Chinese Democracy, Shacklers Revenge." Gregory proceeded to ask him what it is like being a member of Guns and Roses. He was shocked by the answer he received: "Don't do it…!" Then Ron laughed and said "You know, you wake up in the morning, you put your pants on, and you go and make music." It sounds like making great music is second nature to Ron.
During another part of the TV show, Clown from Slipknot came right over to Gregory and shouted into Gregory's microphone "2014 Slipknot, you figure it out…!!!" And, when Gregory asked John 5, the lead guitar player for Rob Zombie, if he was going to win best guitarist at the Golden Gods Awards, John answered "I hope I do…It is a huge thing for me and I hope I do, keep my fingers crossed… and I hope I do." That night, he did win best rock guitarist of the year, showing that hope is rewarded when accompanied by great talent.
Besides watching the Heavy Metal Greg TV show, you can watch Gregory on his "Heavy Metal Greg" Youtube channel. "I am always posting new videos and content on my channel, because I live in Los Angeles, which many people consider the center of the universe for metal music. I often get opportunities to attend events where famous musicians will be. It is a joy doing the Heavy Metal Greg show, and I think that viewers will agree that it is fun to watch," he concluded.
Written by Matthew Terhune, MFA
Gregory Graham is an award-winning screenwriter and has been an actor since 2000. He has 47 IMDb credits and has acted in several movies as well as TV series such as "CSI Miami" and "Trust Me."
For the original version on PRWeb visit: http://www.prweb.com/releases/2014/07/prweb12021875.htm
Click here to view full article
Tags:
actor
,
concert
,
movie
,
music
,
release
,
tv