Click here to view original web page at www.philstar.com
Enrique Gil, Sheila Valderrama, Atom Araullo
MANILA, Philippines – "Exciting" is the most apt way to describe the year being enjoyed by Stages talents.
Led by Audie Gemora and Carlo Orosa, the roster of artists of Stages is currently busy dabbling in groundbreaking projects that continue to challenge them as performers.
Asian Singing Sensation Christian Bautista just finished the successful run of the local production of Ghost, where he played the musical's male lead Sam.
Christian is now recording for his new album under Universal Records. The album's songs, with the romantic balladeer's soothing voice, are set to make romantics fall in love over and over again.
Recently, Christian flew to Indonesia to do a number of performances and guested in a string of TV shows. Until now, he is certainly the biggest Filipino act in Southeast Asia.
He is also set to start another series for GMA, and is still a part of the Sunday variety show Sunday All Stars.
Entertainment ( Article MRec ), pagematch: 1, sectionmatch: 1
Karylle is still enjoying her daily stint on ABS-CBN's top-rating show It's Showtime. The singer/host/actress is also busy promoting her K album under PolyEast Records, doing mall shows all over the country.
She recently headlined Bench's campaign for their Shapewear line, and Belo Medical Group's Bride marketing effort.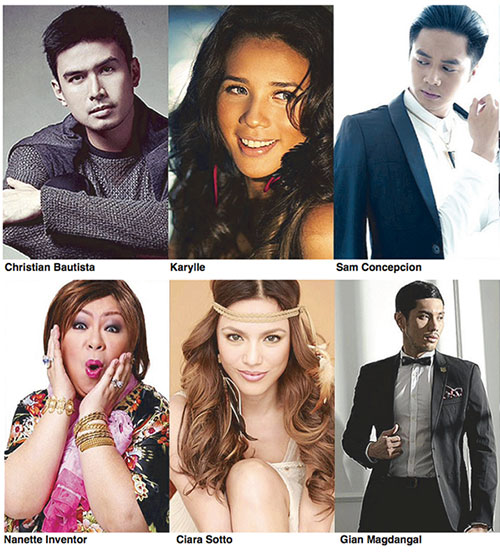 She also started working on her online show with Yahoo, which will premiere very soon.
Karylle is also preparing for a string of projects that will excite her fans, including an upcoming concert within the year.
Sam Concepcion continues to prove his versatility as an actor in the hit series MiraBella, where he plays one of the leading men of Julia Barretto. This is the first time that the young performer is doing a grey character.
He is also still promoting his latest album Infinite under Universal Records. He is working on some new collaborations with some of his favorite artists.
Sam is still one of the VJs of the music channel MYX.
He was recently tapped to be the endorser of Skypad and Chef's Noodle.
Sam will have a major concert in October. Details of the show will be released soon.
The CompanY continues to be the country's top vocal group. In fact, the group is currently working on its new album under Viva Records.
The group is also busy doing corporate shows around the country, and will have a major concert later this year.
Tippy Dos Santos is busy shooting for Laurice Guillen's Once A Princess, topbilled by Enchong Dee and Erich Gonzales. The movie is based on a popular Precious Hearts Romances book.
The young singer, who performed the hit Dati with fellow Stages artist Sam and Quest, also recorded her version of the theme of the hit series Dyesebel.
Tippy is also set to release new songs, and eventually an album from young composers Thyro Alfaro and Jensen Gomez.
The Voice's alumna Morissette exhibited her versatility as a performer in her recently-held concert This is Me… Morissette at the Teatrino. She is also one of the performers in ASAP.
Her album under Star Records is set to be released soon.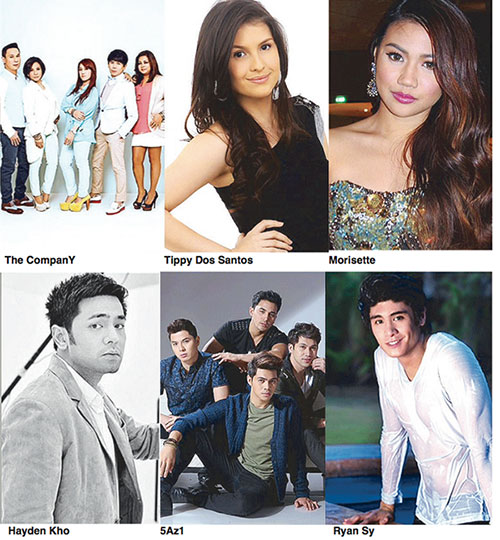 Nanette Inventor has just finished shooting for two upcoming movies — Filemon Mamon and Beauty in a Bottle.
In Felimon Mamon, the veteran comedienne plays the lola of the lead character with the traditional view that being fat is synonymous with being healthy. While in Beauty in a Bottle, she is the rich balikbayan matron mother of lead star Tom Rodriguez, who is about to get married.
Nanette is still developing new materials for her stand-up gigs, including further improving her hit impersonation of Janet Napoles (Nanet Nafoolish). She is also set to launch her new character Dr. Beki Belat, slated for a KPub The Fort run.
Ciara Sotto was recently named grand winner in the third cycle of Celebrity Dance.
Gian Magdangal has just recently released his new song Only God. The music video will soon premiere on MYX.
Hayden Kho is busy sharing the Word of God to the community. He recently brought esteemed evangelist Dr. Ravi Zacarias to the country for his birthday.
Boy group 5Az1, currently performing several days a week in different branches of UNO, will release new singles in a few weeks.
Aspiring singer-songwriter Ryan Sy is currently working on his music, set to debut in a few months.
Even Stages heads are also busy with their respective showbiz commitments. Carlo Orosa is part of TV5's JasMine, topbilled by Jasmine Curtis-Smith. Audie Gemora is directing for the Cultural Center of the Philippines' Virgin Lab fest and Best Seat in the House, a concert featuring Hong Kong Disney's musical director Rony Fortich with the best of the best musical theater stars.
Stages also books teen star Enrique Gil, news personality Atom Araullo and theater actress Sheila Valderrama.
(For details, call Stages at 818-111 loc. 253, e-mail booking@thestagesgroup.com or visit www.thestagesgroup.com.)
Click here to view full article
Tags:
actor
,
actress
,
concert
,
director
,
movie
,
music
,
release
,
singer
,
tv