Click here to view original web page at www.pantagraph.com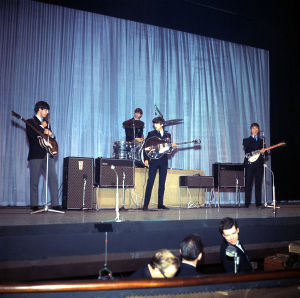 BLOOMINGTON — Students at Illinois Wesleyan University have an inside track to Beatles lore, thanks to the Fab Four-specific course, "The Beatles and Their World," offered every other year.
For a decade now, Mike Weis, a professor of history at IWU, has watched interest in his class expand … even as the Beatles' era and their generation recede into the fog bank of time.
"The class has 25 spaces. It always fills up fast," he says.
That observation is made as the 50th anniversary of the Beatles' Feb. 9, 1964, "Ed Sullivan Show" debut fast approaches (see accompanying story for two offerings tied to the anniversary, being observed today).
"I see interest growing among young people, who really do listen a lot to '60s and '70s rock 'n' roll," Weis continues. "Even though it's their parents' music, to a large extent, it's their music, too."
Walk around campus housing any day of the week, he suggests, and you'll hear the sonic proof, sooner or later.
Weis' forte is gauging the Brit invaders' impact on the world and society at large, beginning with the specifics of their origins and growth, and then working toward the bigger picture.
He knows whereof he speaks, having been one of the millions huddled around the plump cathode-ray tube on a winter's eve in '64.
Like many his age, the 9-year-old Weis was in the company of his entire clan — "a big Catholic family with six kids," he recalls.
"We all convinced Dad to watch the show, and he wasn't one to watch a lot of TV."
Weis hasn't been the same in the half-century since.
The same could be said for the rest of Earth's population, even if they don't realize it.
Here are Weis' choices for the 10 key ways the Beatles shook our world from Feb. 9, 1964, onward:
1. Baby Boomers come of age
When the Beatles made their 1964 "Ed Sullivan Show" debut, the Baby Boomer generation had just turned 18.
Weis says the conjunction of Boomer adolescence and Beatles invasion marked nothing less than an "epiphany" on 2/9/64.
"That was the most widely watched TV show at that point," Weis notes. "It was the moment that heralded that Baby Boomers were taking over, economically, culturally and politically … the beginning of flexing their power."
Feeding off the Sullivan show appearances was the summer release of the first Beatles movie, "A Hard Day's Night."
"At that point, they had completely invaded America … soon the whole world was awash in Beatles music."
2. Beatles usurp youth leadership
In the aftermath of the Sullivan appearance, the Beatles "became the heads of youth culture," says Weis.
While Elvis had ruled the '50s, the banner for early-'60s youth culture had been carried outside the music realm by America's first political superstar, President John F. Kennedy.
"He was the symbol of youth culture, and when he died in November 1963, there was a period of eight weeks when everyone was in mourning, through Thanksgiving and Christmas into January," says Weis.
Come February and the Beatles' arrival stateside, America's youth is ready to be rescued and swept away — and is.
3. Agents of globalization
Before the Beatles' invasion of America, all British are, says Weis, "exotic people with accents, none of which we can distinguish, from working class to upper class."
Post-invasion, "even though they are playing 'our music' (rock), they've come from another culture, one that we've never been so ready to accept before … that's a huge thing. And then they become the very heads of our culture. Where they went, we wanted to go, too."
To wit: "If they decided to try Eastern meditation, we tried, it too. If they experimented with LSD, it was 'maybe I should try that.' They were taking us in lots of different directions that way, often while promoting multiculturalism by going off to India, Japan and other areas around the world. The fact that they went there made us want to go, too."
4. Promoters of Feminism
Weis sees the Beatles as poster boys for feminism "in a variety of ways," chief among them "whom they chose to marry — John and Paul both married very strong women (Yoko Ono, Linda Eastman) who were themselves artists."
George and Ringo each married a woman from the States, furthering their multicultural ways.
Weis also sees Beatlemania as a form of empowerment, in which women were made to feel comfortable expressing their sexuality through the screaming and other displays of emotion … women could do this, and it was OK."
5. Avatars of a new art form
Weis sees the Beatles as the architects of nothing less than "a new art form" — they transformed rock into a higher art form.
And: "As they mature, rock music matures with them."
Along the way, they revolutionize the concept of an album as a repository for a couple hit singles and lots of filler into a sustained work with a beginning, a middle and an end — "a complete artistic statement," says Weis.
Along with Bob Dylan's pioneering work in the form stateside (1965's "Highway 61"), the Beatles move the album to a higher plane, first with 1965's "Rubber Soul," then definitively with 1966's "Revolver."
At the same time, the Beatles were revolutionizing the art form, says Weis, "by using the recording studio as an instrument and producers who become stars, like George Martin."
6. Giving peace a chance
Weis credits the Beatles as "leaders of cultural promotion with their peace-and-love agenda, one that captured the vibe of the '60s extremely well … they anticipated where the culture was headed, and with the huge talent they had, they could always figure out what the next big thing to do was, be it psychedelic music, adding orchestras or going acoustic."
7. Altering mid-road states
In addition to all the other cultural shock waves the Beatles sent through America and beyond, the fact they experimented with drugs and said so "popularized drugs among the middle class," says Weis.
"They weren't the first to use them, and they weren't the most avid promoters, but they did say 'yeah, we do them'."
8. Hair-raisers
Another profound realm of influence came via the follicles from whence the Fab Four's most infamous trademark emerged … their long locks.
The group's hairstyle leadership began at the "mop-top" level of the mid-'60s, then extended, literally, into the long-haired-hippie-freak dimensions of the psychedelic era.
"For many of us, wanting to have long hair like the Beatles became our first act of independence and the source of one of our first major arguments with our parents," says Weis … himself included.
9. Class barriers falling down
On their home turf, says Weis, the Beatles led a revolution that sent centuries-old class barriers crashing down. "For the first time, working class people were the leaders of the culture," he says, referring to the Fab Four's humble working-class origins.
Meanwhile, the quartet became "agents of Americanization in England and throughout Europe," via their spread of the indigenous U.S. art form: "Rock soon became the music of the entire Continent."
10. Instruments of influence
Last but not least, Weis credits the year of 1964 as pivotal in the role of the guitar among America's musical youth.
"The image that they projected, first on 'The Ed Sullivan Show,' and, next, with the release that summer of 'A Hard Day's Night,' caused every kid to want to go out and buy a guitar or to get their parents to buy them a guitar, and then form a rock band."
Concurrently, the foursome were promoting the idea that "life should be fun … 'A Hard Day's Night' was a riot of a movie, and anyone who saw it probably said, 'hey this looks like fun … let's try it!"
That urge continues, to this day.
Click here to view full article
Tags:
movie
,
music
,
producer
,
release
,
tv