Click here to view original web page at www.huffingtonpost.com
NEW YORK — More than 400,000 people turned out for the People's Climate March in New York City on Sunday, just days before many of the world's leaders are expected to debate environmental action at the United Nations climate summit.
Early reports from event organizers are hailing the turnout as the largest climate march in history, far bigger than the Forward on Climate rally held in Washington, D.C., last year. High-profile environmentalists including Bill McKibben, Leonardo DiCaprio, Jane Goodall and Vandana Shiva marched alongside policymakers such as Sens. Sheldon Whitehouse (D-R.I.), Bernie Sanders (I-Vt.) and Charles Schumer (D-N.Y.). U.N. Secretary-General Ban Ki-moon and former Vice President Al Gore were also there, and more than 550 buses carried in people from around the country.
Follow along for live updates below.
The rally comes at an opportune time as 120 world leaders, including President Barack Obama, are expected to convene Tuesday at the United Nations in New York to discuss ways to tackle the growing threat of carbon pollution.
The White House has pledged to "show the world that the U.S. is leading on climate change, and to call on other leaders to step up to the plate," John Podesta, who serves as a counselor to the president, told reporters on Thursday. However, a recent study found that the world spewed more carbon dioxide into the atmosphere last year than ever before, primarily driven by China, India and the United States. And the top leaders of China and India announced earlier this month that they won't be attending Tuesday's summit.
The march began around 11:30 a.m., at New York City's Columbus Circle just off Central Park. At times, it stretched more than 4 miles as marchers carried banners, signs and entire contraptions depicting everything from Mother Earth herself to the dinosaurs that now make up fossil fuels.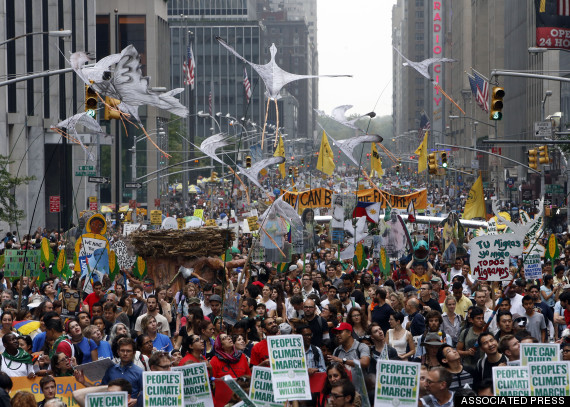 Demonstrators make their way down Sixth Avenue in New York during the People's Climate March on Sunday.
"Today I march because I want to behold a brighter future. We have destroyed ourselves. We have destroyed our health and I'm here because our political leaders have failed us," Stanley Sturgill, a retired coal miner from Kentucky now suffering from black lung, said at a press conference before the march. "We know together we can build our bright future."
More than 1,500 groups filled Central Park West before the march. They represented a variety of interests, including the scientific community and religious organizations. More than 50,000 students were there because they were worried about their future, while grandparents came out of concern for their legacy.
"We need to act now … We only have one atmosphere and we of the Marshall Islands only have one land to call 'home,'" Kathy Jetnil-Kijiner, a young mother from the island nation, said before the march. "We don't want to move and we shouldn't have to move."
live blog
Share +
Today 9:58 PM EDT
Oil Heirs To Divest From Fossil Fuels
The Rockefeller family is divesting its massive fortune from fossil fuels, the New York Times reported on Sunday. They will announce the landmark decision on Monday along with 49 other philanthropic foundations.
According to USA Today, the groups will give up any and all stock in the world's biggest oil and gas companies.
The Rockefeller Brothers Fund is especially noteworthy as its patriarch amassed his fortune by founding Standard Oil Company.
Share this: Tweet Share tumblr
Share +
Today 9:06 PM EDT
Final Count: 400,000 Marched In NYC
UPDATE: Final count from NYC march is 400,000! #PeoplesClimate #PeopleClimateMarch #ClimateMarch

— People's Climate (@Peoples_Climate) September 22, 2014
Share this: Tweet Share tumblr
Share +
Today 6:57 PM EDT
The New York City Police Department told Reuters that as of 3PM Eastern, there were no arrests at the People's Climate March in Manhattan on Sunday. In the hours since their statement, there have been no arrests reported.
As Reuters points out, the 2009 climate rally in Copenhagen ended with over 2,000 protesters detained. Earlier this year, another major environmental rally (a protest of the Keystone XL pipeline) saw hundreds of arrests.
Share this: Tweet Share tumblr
Share +
Today 6:51 PM EDT
The last #climatemarch marcher is finally done, 6 hours later. What a day!

— Bill McKibben (@billmckibben) September 21, 2014
Share this: Tweet Share tumblr
Share +
Today 6:44 PM EDT
March Organizers: Over 2000 Events In 166 Other Countries
Climate justice marches similar to the one in New York on Sunday took place in at least 166 other countries. Organizers told Reuters that at least 270,000 participated in events outside of New York.
According to the Guardian, about 2,700 events took place this weekend.
One of the biggest marches took place in London, where 40,000 people rallied and celebrities like Emma Thompson showed up. Melbourne also saw a huge turnout, with at least 30,000 people showing up.
Share this: Tweet Share tumblr
Share +
Today 4:06 PM EDT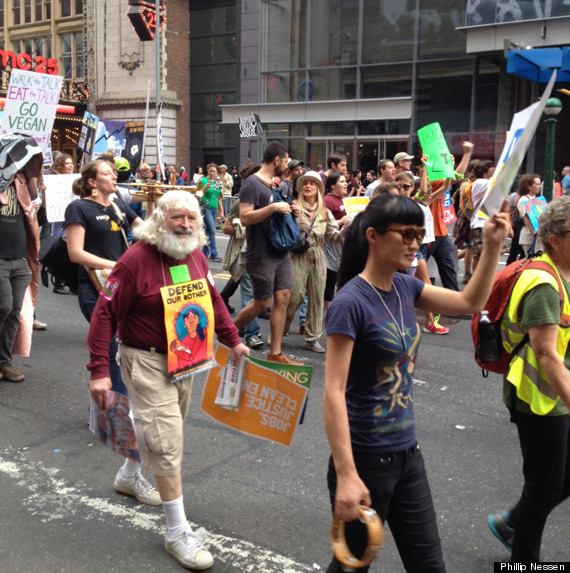 Share this: Tweet Share tumblr
Share +
Today 3:57 PM EDT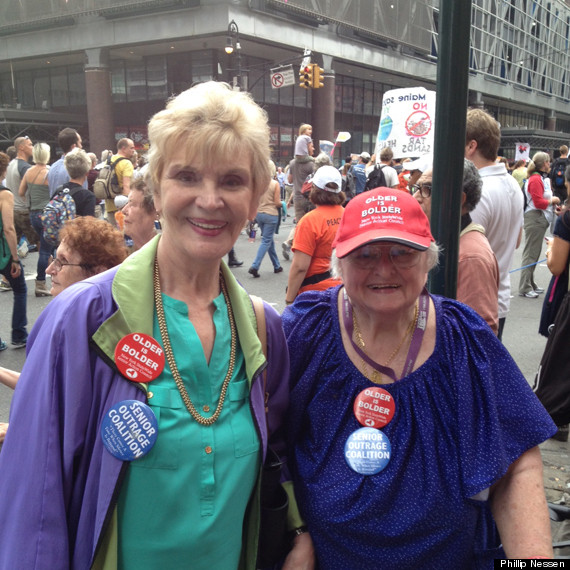 Share this: Tweet Share tumblr
Share +
Today 3:08 PM EDT
Leading Climate Expert: May Be More Than 310,000 Marchers
Probably much larger than 310k– but even at that the biggest protest about anything in America in a very long time

— Bill McKibben (@billmckibben) September 21, 2014
Share this: Tweet Share tumblr
Share +
Today 2:54 PM EDT
At least 310,000 people are marching on Sunday in support of climate change action, the march's organizer's said.
Share this: Tweet Share tumblr
Share +
Today 1:59 PM EDT
Share this: Tweet Share tumblr
Share +
Today 1:27 PM EDT
Got myself on a roof. The #PeoplesClimate march stretches as far as I can see in both directions. pic.twitter.com/dTiWjowdWm

— Nick Pinto (@macfathom) September 21, 2014
Share this: Tweet Share tumblr
Share +
Today 1:22 PM EDT
All these radical fringe extremists marching… #peoplesclimate pic.twitter.com/UijGjvI3oe

— Sally Kohn (@sallykohn) September 21, 2014
Share this: Tweet Share tumblr
Share +
Today 1:03 PM EDT
Ban Ki-moon at #PeoplesClimate March w/ @AlGore, @JaneGoodallInst @LaurentFabius @RoyalSegolene & more pic.twitter.com/jsNM5l3CLU #Climate2014

— United Nations (@UN) September 21, 2014
Share this: Tweet Share tumblr
Share +
Today 12:51 PM EDT
I've been trying to walk to the back of the march for an hour. It just doesn't end. There are a lot of people here. #climatemarch

— Zoë Schlanger (@zoeschlanger) September 21, 2014
Share this: Tweet Share tumblr
Share +
Today 12:17 PM EDT
NYC represent @ people's climate march. Hurricane Sandy survivors pic.twitter.com/oQBYCrlPKE

— David Biello (@dbiello) September 21, 2014
Share this: Tweet Share tumblr
Share +
Today 12:12 PM EDT
Enough said. #PeoplesClimateMarch pic.twitter.com/kqI2oaV7Ag

— HuffPost Green (@HuffPostGreen) September 21, 2014
Share this: Tweet Share tumblr
Share +
Today 12:12 PM EDT
Mother Earth is swaying down Sixth Avenue. pic.twitter.com/dneixyFb4i

— Annie Correal (@anniecorreal) September 21, 2014
Share this: Tweet Share tumblr
Share +
Today 12:11 PM EDT
Corporations and right-wing donors as skeletons. #PeopleClimateMarch pic.twitter.com/VV1RLRM7vk

— Nicolás Medina Mora (@MedinaMora) September 21, 2014
Share this: Tweet Share tumblr
Share +
Today 12:05 PM EDT
Start of #PeoplesClimate in NYC – marchers stretching back at least 25 blocks pic.twitter.com/srShStAiLC

— Melissa Kent (@KentUNCBC) September 21, 2014
Share this: Tweet Share tumblr
Share +
Today 11:59 AM EDT
Lili Wang, 37, Chinese immigrant. "I just want to give back the fresh air to the people…" #peoplesclimate pic.twitter.com/arw2dqRGUq

— John D. Sutter (@jdsutter) September 21, 2014
Share this: Tweet Share tumblr
Share +
Today 11:49 AM EDT
People's Climate March leaves Columbus Circle pic.twitter.com/7JG70WOepB

— Liz Pierson (@liz_pierson) September 21, 2014
Share this: Tweet Share tumblr
Share +
Today 11:48 AM EDT
Bill McKibben At Climate March
Bill McKibben talking to @democracynow at #PeopleClimate March pic.twitter.com/pr5UPOwE31

— Katherine Boehrer (@kboehrer) September 21, 2014
Share this: Tweet Share tumblr
Share +
Today 9:45 AM EDT
Al Gore Heading To Climate March
I've got #ClimateHope so I'm joining the #PeoplesClimate March in NYC today. It's time for climate action!

— Al Gore (@algore) September 21, 2014
Share this: Tweet Share tumblr
Share +
Today 9:04 AM EDT
'Largest Climate March In History'
Today, 1,100 organizations, all 50 states and 300 plus colleges will be represented in the #PeoplesClimate March http://t.co/R0BZ3nng0x

— Huffington Post (@HuffingtonPost) September 21, 2014
Share this: Tweet Share tumblr
Click here to view full article
Tags:
car
,
show
,
today