Click here to view original web page at www.philly.com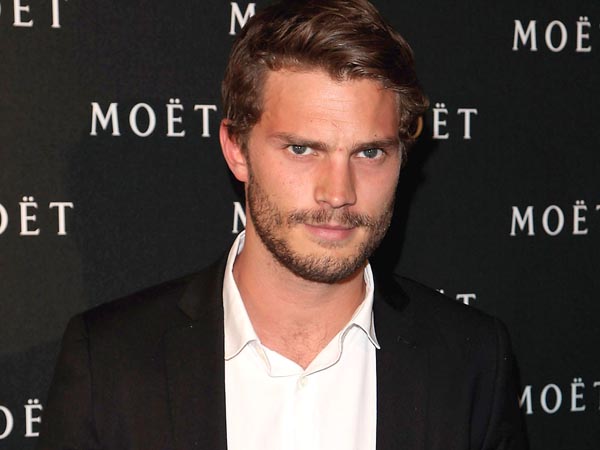 Travel Deals
Howard Gensler, Daily News Tattle Columnist
Posted: Friday, July 25, 2014, 3:01 AM
EVEN THOUGH its premiere is nearly six months away, the trailer for "Fifty Shades of Grey" is already getting the moralists' crotchless panties in a bunch.
Dawn Hawkins, executive director of Morality in Media, said that the "Grey" trailer "deceives the public with a visually appealing melodramatic love story that romanticizes and normalizes sexual violence."
Considering how many people read the trashy novels, we're not sure the trailer is deceiving anyone, but, yes, the trailer hints at the bondage scenes that so tittilated readers.
And tittilation is a big no-no. Even saying the word's first syllable is a big no-no.
In her statement, Hawkins said: "There is nothing empowering about whips and chains or humiliation and torture. Women as a group will not gain power by collaborating with violent men. Women would be serving only as an agent to further their own sexual degradation, handing themselves on a silver platter to exactly the sort of men who want to use and abuse them, and take away their power."
There are perfectly normal people who like a little latex and leather once in a while, so Tattle is not wading into the argument about what's sexual degradation and what's just kinky fun.
But since Hawkins writes about empowerment, you know what else is not empowering? Ceding your moral compass to someone else.
* In a sort of related story, on a WorldNetDaily post by Michael Brown, he warned that the acceptance of homosexuality and scenes from HBO's "Game of Thrones" were leading America on a "slippery slope" toward "sexual anarchy" and the acceptance of incest.
Not to mention the acceptance of beautiful women who mother dragons.
Movie's 'Origins' story
Pitt plays a scientist trying to debunk intelligent design via the study of sight, only to find odd links among people with certain characteristics of the iris. Cahill ("Another Earth") wrote the story to challenge his own rational beliefs.
"I wanted to create a convincing narrative, convincing to someone who's strictly rational, that maybe there's a paradigm that can exist in the world of concrete reality that suggests there is some consciousness beyond death, beyond your last breath," he told Daily News film critic Gary Thompson. (See review, Page 27.)
It's a popular subject. The movie's interplay between the rational and spiritual follows HBO's "True Detective," its current series "The Leftovers," and prefigures Woody Allen's "Magic in the Moonlight" and John Michael McDonagh's "Calvary."
Is there something in the air?
"I'm suspicious that there is something more to life than what's available to our conventional senses, that we can see and feel. I think other people are, too," Cahill said.
Pitt said Cahill approached him with the idea several years ago, so he'd like to point out they were first.
"All these other guys are ripping us off," he joked.
TATTBITS
* As Comic-Con gets underway in San Diego, local comic publisher Nick Barrucci, of Dynamite Entertainment, has told Tattle Comics Correspondent Jerome Maida that famed writer Ron Marz will relaunch "Warlord of Mars," that Dynamite has acquired "The Spirit" license in time for the 75th anniversary of Will Eisner's classic character and that Gail Simone will write "Women of Dynamite" – featuring Red Sonja, Vampirella and Dejah Thoris – the company's biggest ever female crossover.
* Puerto Rican pop star Ricky Martin will join Yuri, Julion Alvarez and Italian songstress Laura Pausini as a judge for "The Voice . . . Mexico."
* MTV said yesterday that Iggy Azalea, featured in the summer hits "Fancy" and "Problem," will provide a running commentary on fashion during the MTV Video Music Awards on Aug. 24. The following night, she'll host an MTV fashion recap show under the "House of Style" banner.
* Willie Nelson and the annual Farm Aid concert and food festival are coming to North Carolina.
The concert is scheduled for Sept. 13 in Raleigh and will feature performances by local artists and the Farm Aid Four: Nelson, John Mellencamp, Neil Young and Dave Matthews.
Since 1985, Farm Aid has raised more than $45 million to help family farmers keep their land and to publicize locally grown food.
Tattle does, too: Now is the time for local apricots, plums, peaches, blueberries and veggies.
– Daily News wire services
contributed to this report.
Phone: 215-854-5678
On Twitter: @DNTattle
Click here to view full article
Tags:
concert
,
director
,
film
,
movie
,
music