Click here to view original web page at www.ladowntownnews.com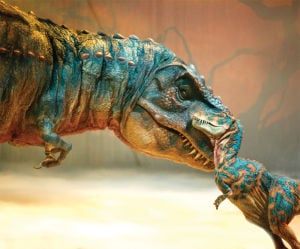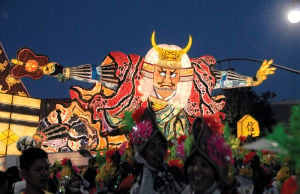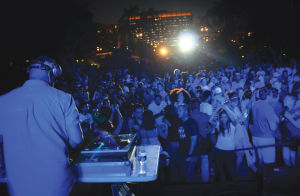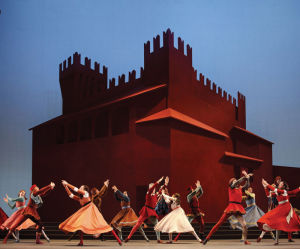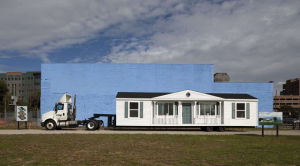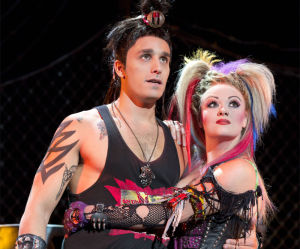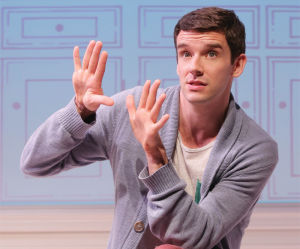 DOWNTOWN LOS ANGELES – Walking with Dinosaurs: Staples Center, September 11-14, Everyone loves dinosaurs, and if you doubt that, just consider the fact that more than 8 million people worldwide have watched the live production Walking With Dinosaurs. No wonder: Audiences get to ogle 20 life-size dinosaur re-creations in a show that explores their origins and lives. The arena-sized spectacular, which lands at Staples Center Sept. 11-14, also depicts environmental changes and the way the dinosaurs reacted. The creatures include the Stegosaurus, the feared Tyrannosaurus Rex and the Garcettiosaurus (one of those is made up). The highlight is 56-foot-long Brachiosaurus. Basically, the $20 million production is as close as you'll get to trekking back in time to see the real thing. At 1111 S. Figueroa St., (213) 742-7100 or staplescenter.com/events.
Nisei Week: Little Tokyo, August 9-17, The first Nisei Week took place in 1934, and 80 years later, the annual celebration of Japanese and Japanese-American life is the highlight of the cultural calendar in Little Tokyo. The festival is many-splendored, with events including the Grand Parade though the streets of the tight-knit community (August 10, shown here), a gyoza-eating competition (August 16) and a huge ondo street dancing party in which everyone participates (August 17). The neighborhood will be full of culinary, sports and cultural displays. Park and make a day of it. Throughout Little Tokyo or niseiweek.org.
Budweiser MadeinAmerica Festival: Grand Park, August 30-31, Downtowners went bananas in the spring when this massive two-day event for the normally free park was announced. Like it or hate it, the barricades for Jay Z's festival will go up all around the park and City Hall. It remains unknown if Jay Z himself will make a surprise appearance, but the lineup is surprisingly diverse. Saturday's headliner is Imagine Dragons, and they'll be joined by Steve Aoki, Rise Against, Weezer and many more. John Mayer tops the bill Sunday; also playing are Afrojack, Kendrick Lamar, Metric and, once again, many more. There will be multiple stages, food trucks and plenty of ancillary events. Though the shows are all ages, you'll need to be 21+ to enter the beer gardens. Expect them to serve Budweiser. At Grand Park or madeinamericafest.com.
Lady Gaga: Staples Center, July 21-22, Once upon a time there was a little girl named Stephanie Germanotta. She liked to sing and disliked wearing pants. She adopted the nom de music Lady Gaga, dressed in provocative outfits that usually didn't involve pants, released an album called Born This Way, and became super famous. The media and the kids loved her and she responded by wearing a dress made out of meat. The media and the kids loved her more. Then, in 2013, Gaga released an album called Artpop, and on July 21-22, she brings her "Artrave: The Artpop Ball" tour to Staples Center. There will be lots of music, as well as runways made out of translucent material which fans will walk on and dance under. At press time, it was impossible to say if there would be meat clothing. At 1111 S. Figueroa St or staplescenter.com.
Buyer&Cellar: Mark Taper Forum, July 9-August 17, Most people are surprised when they learn that Barbra Streisand has her own private underground shopping mall in her posh Malibu residence. Those unawares include playwright Jonathan Tolins. The glorious bit of information spurred the author of Twilight of the Golds, which played the Taper back in the '90s, to write a one-man show about an unemployed Hollywood actor who lands a job in Her Barbraness' secret emporium. The comedic play, which stars "Ugly Betty" alumnus Michael Urie, was a hit in New York and lands at the Mark Taper Forum July 9-Aug. 17. Don't expect something that slams Streisand and celebrity, however — there's a tender, touching aspect, too. At 135 N. Grand Ave., (213) (213) 972-4400 or centertheatregroup.org.
Fourth of July Block Party: Grand Park, July 4, Downtown's biggest Independence Day celebration takes place at Grand Park, where the staff is preparing to handle up to 25,000 people. The Music Center is tripling the size of last year's event, and the 4-9 p.m. celebration will feature two stages, one for soul, disco and funk bands, the other for indie and alternative acts. The proceedings will be topped off by a 15-minute fireworks show, which Grand Park officials claim is the biggest pyrospectacular in Downtown in more than a decade. Not only will the 12-acre park be dedicated to the festivities, but so will surrounding streets. Note: This is a perfect event for public transportation. Use the Metro Red Line's Civic Center/Grand Park stop. At Grand Park or grandparkla.org.
Romeo and Juliet: Dorothy Chandler Pavilion, July 10-13, The National Ballet of Canada puts a terpsichorean twist on William Shakespeare's classic tale of love and tragedy. The company first mounted Romeo and Juliet in 1964, and three years ago it celebrated its 60th birthday by commissioning choreographer Alexei Ratmansky to create a new production to accompany the Prokofiev score. The Toronto Post hailed it as a "new modern classic," and it's landing at the Dorothy Chandler Pavilion July 10-13 as part of the Glorya Kaufman Presents Dance at the Music Center series. There will be five performances, including two weekend matinees. At 135 N. Grand Ave., (213) 972-0711 or musiccenter.org.
Mike Kelley: MOCA, Through July 28, Although Mike Kelley was born in Michigan, he moved to Los Angeles in the mid-70s and, before his death in 2012, was widely considered a Los Angeles artist. His career is recalled in the massive Mike Kelley, which fills the MOCA Geffen Contemporary in Little Tokyo and part of the museum's Grand Avenue home as well. The show, which runs through July 28, includes sculptures, assemblages, drawings, paintings, videos, performances, photography, installations and even a giant mobile home, known as the "Mobile Homestead," where a series of events will take place during July. Pace yourself: Mike Kelley has more than 250 pieces, and they actually force you to think. At 250 S. Grand Ave. and 152 N. Central Ave., (213) 626-6222 or moca.org.
We Will Rock You: Ahmanson Theatre, July 15-August 24, This is the era in which big bands spur musicals — think Abba's Mamma Mia and Green Day's American Idiot. So it makes perfect sense that a show would be built around Queen, which thanks to the late Freddy Mercury and some forward-thinking songcraft was one of the most theatrical rock bands ever. We Will Rock You, which is on a national tour, has a slim plot concerning a couple young renegades — Galileo and Scaramouche — looking for a long-buried electric guitar. Of course, you're there for the rock, not the plot, and the set list includes 24 Queen songs, among them "Another One Bites the Dust," "Somebody to Love" and, yes, "Bohemian Rhapsody." FYI, Queen's Brian May and Roger Taylor were musical supervisors in the show written by Ben Elton. At 135 N. Grand Ave., (213) 972-4400 or centertheatregroup.org.
Pompeii: At the California Science Center, All Summer, Check out how an Italian civilization lived, then died, during the height of the Roman empire. The 150-piece Pompeii: The Exhibition, which opened last month at the California Science Center and runs through Jan. 4, 2015, displays artifacts from the day in 79 AD when Mount Vesuvius blew its top, burying the city about 15 miles south of Naples in ash. Excavated items include mosaics, marble furniture, frescos, gladiator armor and jewelry. Ironically, the destruction of Pompeii is what preserved Pompeii, as it allowed archeologists to discover how an ancient civilization lived. Keep your eyes open, and keep the kids out of the replica bordello. At 700 Exposition Park Drive, (213) 744-2019 or californiasciencecenter.org.
Mountain Goats: Mayan Theatre, June 17, The Mountain Goats may never fill the Coliseum, but since 1991, the Southern California outfit has strummed out its unique brand of irreverent and impassioned contemporary heartland music in a rich catalog that predates the work of bands like Mumford and Sons. Long built on the creative prowess of John Parnielle and Peter Hughes, the Mountain Goats have put out an amazing 14 albums, with the most recent being 2012's Transcendental Youth. On June 17 they'll entertain the throngs of indie Americana fans in Hill Street's fantastic Mayan Theatre. No moshing at this one. Just hang out and enjoy the tunes. At 1038 S. Hill St., (213) 746-4287 or clubmayan.com.
Roger Guenveur Smith in 'Rodney King': California Plaza Watercourt, July 24-26, Most actors simply act, and that's fine. Roger Guenveur Smith, however, inhabits the parts he plays. Smith is a serial monologist, known for one-man shows about individuals including Bob Marley and Black Panther Huey Newton. A few years ago he came Downtown for Juan and John (shown here), about the famous fight between Dodgers catcher Johnny Roseboro and San Francisco Giants pitcher Juan Marichal. Things take an intense turn on July 24-26, when cultural programmer Grand Performances brings Smith to the Cal Plaza Watercourt for three free showings of Rodney King. It's no simple bio piece about the man whose beating and arrest, famously caught on video, would ultimately lead to the Los Angeles riots, but something deeply thought-provoking. After all, Smith views King as the world's "first reality TV star." At 350 S. Grand Ave., (213) 687-2159 or grandperformances.org.
California Philharmonic: Walt Disney Concert Hall, July 13 and August 3, 10 and 17, During the fall, winter and spring, Disney Hall belongs to the Los Angeles Philharmonic. But come summer, Gustavo Dudamel and the Phil drive to the Hollywood Bowl, and the California Philharmonic is happy to jump in to fill Downtown's symphonic void. The orchestra led by Victor Vener adds a fun flair to the music. Consider the August 10 program "Movie Masterpieces," which features everything from Wagner's "Die Meistersinger" to selections from "Game of Thrones." The "Broadway and Bolero" lineup on Aug. 17 offers flamenco music and numbers from Cats and Evita. You get the picture. At 111 S. Grand Ave. or calphil.com.
Laurel Canyon: Grammy Museum, All Summer, South Park's Grammy Museum programs the Way Back Machine to Los Angeles of four and five decades ago with California Dreamin': The Sounds of Laurel Canyon 1965-1977. Built upon the photographs of Henry Diltz, the show focuses on the musicians who lived and hung out in the bucolic scene that felt removed from the bustle of L.A., yet was still close to the clubs on the Sunset Strip. There's some Joni Mitchell (shown here) and The Mamas and the Papas, as well as pieces that recall The Byrds, Frank Zappa, The Doors and many others. California Dreamin' (which runs through Nov. 30) even includes a place where those who lived through the era can write their remembrances of the time. At 800 W. Olympic Blvd., (213) 765-6800 or grammymuseum.org.
National Dance Day: Grand Park, July 26, So you think you can dance? On July 26 in Grand Park, you can. That's because it's National Dance Day, and this year's day-long celebration will showcase Los Angeles' dance talent, provide aspiring dancers the chance to learn from the best local dance companies, and highlight the health and wellness benefits of moving and exercising through dance. From 10 a.m.-10 p.m., dancers of all skill levels are invited to participate in hip-hop and jazz dance routines. Dance fans of all ages should appreciate the informal shimmy and shake party in the park's fountain, along with a dance film screening in the park after sunset. The Music Center is partnering with Grand Park and the Dizzy Feet Foundation to put on the event. At 227 N. Spring St., (213) 972-8080 or grandparkla.org.
Butterfly Pavilion: Natural History Museum,Through September 1, While everyone likes butterflies, most people's knowledge of them is limited to: They start as caterpillars. They spin cocoons. They emerge as butterflies. Build upon that, and ogle some of the world's most beautiful winged creatures, at the Butterfly Pavilion, which runs through Sept. 1 in a tent on the lawn of the Natural History Museum. The Exposition Park attraction contains more than 50 varieties of butterflies, including the monarch, the mourning cloak, the buckeye and the grey cracker. Learn about their eating and other habits. Did you know they use their tubular mouthparts to obtain nectar? You do now, and that's just the start of the fun. Tip: Admission is separate from regular museum entrance, and online reservations are suggested. At 900 Exposition Blvd., (213) 763-3466 or nhm.org.
Anime Expo: Los Angeles Convention Center, July 3-6, Anime and manga, which you may know as animated shows and graphic novels, are Japanese creations with a seriously passionate fan base. See for yourself when huge, colorful crowds of newbies and obsessive fans converge on the Convention Center for the 2014 Anime Expo, the largest gathering of its kind in North America. The event runs July 3-6 and offers a lot of everything: concerts, panel discussions, a massive exhibition with more than 240 vendors, a nightclub, karaoke, parties with electronic DJs, gaming stations and a debate competition, among other activities. Don't forget about the cosplay, or costume play: Thousands of people will dress to impress as their favorite characters. The most ambitious will compete for glory in the Anime Masquerade. At 1201 S. Figueroa St., (800) 619-7689 or anime-expo.org.
Psomas Paper Yacht Challenge: City National Plaza, June 26, "Whatever floats your boat" becomes more than a cliché on June 26. That's when engineering and consulting firm Psomas takes over the big fountain in City National Plaza for the seventh annual Paper Yacht Challenge. Huge fans will be set up and dozens of Downtowners will fold, tape and staple pieces of plain white paper in the effort to build an aerodynamic, watertight craft. Heats will feature about six boats, and those that catch the wind and cross the fountain in about 30 seconds have a good shot at winning a trophy. Alas, some will simply sink to the bottom. The challenge will raise money for the Hope Street Family Center, and the proceedings include a silent auction with some impressive prizes, among them a trip to Hawaii. At Fifth and Flower streets or psomas.com/yachtchallenge.
Lucha VaVoom: Mayan Theatre, July 17, The thing that's wonderful about Lucha VaVoom is the oddity of its familiarity. Or is it our familiarity with its oddity? Whatever the case, the familiar and odd combination of masked Mexican wrestling, creative striptease and saucy comedians returns to the Mayan Theater on July 17. As usual it's all about "sexo y violencia," and though the lineup has not yet been announced, one can expect familiar grapplers such as Li'l Cholo and El Jimador, as well as burlesque artists including Michelle L'Amour and Lucy Fur. Lucha VaVoom may have launched 12 years ago, but somehow it still doesn't feel old. At 1038 S. Hill St or luchavavom.com.
Nike Basketball 3 on 3 Tournament: L.A. Live, August 8-10, The Clippers and Lakers won't take the court again until the fall, but those with an insatiable basketball jones can get their fix at the sixth installment of the Nike Basketball 3 on 3 Tournament. Dozens of half courts will set up throughout L.A. Live, and more than 1,200 teams with 4,500 players will compete in a series of three-on-three games. An estimated 25,000 spectators will attend the free event, and the many divisions include adult elite, youth, wheelchair and Special Olympics components. The weekend of festivities also features a celebrity game, and plenty of expos and related entertainment. At 800 W. Olympic Blvd. or nike3on3.com.
Citizen Kane: Orpheum Theatre, June 28, The final installment of the 28th season of the Los Angeles Conservancy's Last Remaining Seats series is a whopper, with not one, but two screenings of Orson Welles' 1941 masterwork in the lovely 1926 Orpheum Theatre. Interestingly, the showings of Citizen Kane are just a few blocks from where William Randolph Hearst once ran the Los Angeles Herald Examiner. Show times are 2 and 8 p.m., and each will be preceded by music on the theater's Mighty Wurlitzer organ. Other events in the Last Remaining Seats include Luis Bunuel's El Gran Calavera (The Great Madcap) at the Palace Theatre on June 25 and, get this, Back to the Future on June 21 at the Theatre at the Ace Hotel. At 842 S. Broadway or laconservancy.org.
Friday Night Sing-Alongs: At Grand Park, June-August, The great thing about the Music Center's free Friday Night Sing-Alongs is that you don't have to be a very good singer. In fact, you can be a lousy, oh-sweet-heavens-please-stop-that-racket singer. All that matters is you love to sing, and on five Fridays this summer, those ready to raise their voices will join hundreds of others in Grand Park. The lineup is all over the musical map, with the Detroit Sound on June 20, Songs of '64 on July 18 and, come Aug. 1, Broadway Favorites. Also, you don't need to know the words in advance — lyric sheets will be provided. The 6:30-8 p.m. events are free and a live band will play. Tip: Sing-alongs are first come, first served, so grab tickets when they are handed out at 6 p.m. At Grand Park or musiccenter.org/events/activearts.
Designing Hollywood: FIDM Museum, All Summer, The Fashion Institute of Design and Merchandising Museum is known for its annual exhibits featuring the best of the current year's film and TV costumes. With Designing Hollywood: Sketches From the Christian Esquevin Collection, the South Park institution focuses instead on Hollywood from the 1920s through the 1960s. The exhibition, with more than 100 pieces from Esquevin's private collection, showcases the creations of the greatest designers working in the film industry in the 20th century — yep, there are duds from Edith Head, Gilbert Adrian and other luminaries. Also on display are some rare studio wardrobe materials. Designing Hollywood, which opened this month and continues through Nov. 1, is free. At 919 S. Grand Ave., (213) 623-5821 or fidmmuseum.org.
Land of Smiles: Los Angeles Theater Center, July 23-26, When you think about the trafficking of women in Thailand, do you think stage musical? Downtown resident Erin Kamler does, and Land of Smiles is her new work on the subject as seen through the eyes of sex workers, grassroots activists and non-governmental organization employees. Kamler's show, which will be on the stage at the Historic Core's Los Angeles Theatre Center July 23-26, was inspired by more than 50 interviews and examines how the trafficking story is being told while showing that finding a solution is a lot more complicated than it seems. The plot concerns Emma, an American caseworker, who must prepare Lipoh, a migrant from Burma, to be a witness in a trafficking prosecution. What transpires is a journey into Thailand's anti-trafficking movement. Get ready for a tale of politics, morality and the rhetoric of human rights. At 514 S. Spring St., (213) 489-0994 or thelatc.org.
Survivor: Pershing Square, August 2, You know Survivor's "Eye of the Tiger" by heart. Sometimes, when no one is looking, you even sing the song made famous in Rocky. You do this loudly. On Aug. 2, you'll get to sing it with a bunch of friends and strangers when Survivor plays a free show at Pershing Square in Downtown. The evening event is part of the six-week free Downtown Stage series, which features a number of throwback and tribute acts. Other highlights include former members of Electric Light Orchestra on July 12, and The Original Wailers, featuring the guitarist and keyboardist who played in Bob Marley's band, on Aug. 16. Another treat comes July 26, when Missing Persons, who penned the '80stastic anthem "Walking in L.A.," play in Downtown L.A. Food trucks and a beer garden are available during every Saturday concert. At 532 S. Olive St., (213) 847-4970 or laparks.org/pershingsquare.
Dog Day Afternoon: Cathedral of Our Lady of the Angels, July 9, There will be dogs. Some will be big and some will be small. They will be black, white, brown, orange-ish, speckled and spotted. Some will bark, but unless something goes horribly wrong, none will bite (they will be on leashes, after all). These dogs, about a thousand of them, and a slightly larger number of their two-legged companions, will come to the Cathedral plaza for the eighth annual event sponsored by the Archdiocese of Los Angeles and the Downtown Center Business Improvement District. From 6-9 p.m., new friends will be made, people will have snacks and drinks, and the dogs will have snacks and sniffs. At 555 W. Temple St. or downtownla.org.
Downtown Art Walk: Throughout the Historic Core, July 10, August 14 and September 11, Summer is the busiest time for the Downtown Art Walk, with literally tens of thousands of people wandering through the Historic Core, visiting galleries and local bars and restaurants. It's a curious event these days, and those who claim it's more about the party than the art aren't wrong. Still, the Art Walk brass do the best they can to ensure that the creative community gets its due, and dozens of galleries fling open their doors. It's easy to find the food trucks and the vendors, and if you're looking to make a special friend for a night or even longer, that might happen too. Throughout the Historic Core or downtownartwalk.org.
Dodgers All-Access: Dodger Stadium, July 28, Generally speaking, only members of the Los Angeles Dodgers take batting practice or throw pitches in the bullpen at Dodger Stadium. On July 28, however, the opportunity is open to Dodger diehards when the Los Angeles Sports & Entertainment Commission presents the inaugural Dodgers All-Access. Modeled after the LASEC's massively fun Lakers All-Access and NFL 101 events, the evening (it's a benefit for the Dodgers Foundation and the LASEC) offers the aforementioned treats, along with photo ops in the bullpen and the press box. One set-up will even allow attendees to get their face on a baseball card. There is also dinner plus some panel discussions, with participants including Manager Don Mattingly (shown here), outfielder Andre Ethier, team President and CEO Stan Kasten and General Manager Ned Colletti. Tickets start at $550. At Dodger Stadium, (213) 236-2361 or lasec.net.
Chinatown Summer Nights: Central and West Plazas, July 12 and August 9, Central and West plazas in Chinatown come alive on two Saturday evenings, as the Chinatown Business Improvement District teams up with KCRW for a couple family-friendly happenings. The Chinatown Summer Nights on July 12 and August 9 will run from 5 p.m. to midnight and will include bands, DJs, beer gardens, dancing, martial arts demonstrations, a batch of food trucks and more. Usually the early hours bring parents pushing strollers, while the place turns into hipsterville after 9 p.m. Of course, there are also dozens of Chinese restaurants in the neighborhood eager to serve. Tip: Leave the car at home and take the Metro Gold Line. At 943-951 N. Broadway or chinatownsummernights.com.
BET Experience: L.A. Live, June 27-29, The BET Experience is filling L.A. Live again this year, and the three-day music and culture celebration hosted by the network Black Entertainment Television has a hotly anticipated headliner: groundbreaking rap duo Outkast. Fresh off their first performance in eight years at Coachella, Andre 3000 and Big Boi will be shaking Staples Center like a Polaroid picture on Saturday, June 28. They're just one of many acts on the BET Experience bill, which includes Mary J. Blige, A$AP Rocky, The Roots, Trey Songz, Rick Ross, Future and more. Most of the concerts take place in Staples Center and Club Nokia, but the Nokia Theatre will also host the BET Awards on June 29. Single-day tickets start at $59.50, while three-day packages go from $199. At 800 W. Olympic Blvd., (213) 763-5483 or lalive.com/events.
Ringling Brothers Circus: Staples Center, July 9-15, The ultimate three-ring spectacle returns to Staples Center for 14 shows on July 9-15. Though this installment of Ringling Bros. Barnum & Bailey Circus is dubbed Legends, and purports to visit mystical creatures including a Pegasus and a unicorn, the regular characters will show up. That means goofy clowns, dazzling acrobats and an assortment of animal acts, among them the elephant brigade. The show features more than 100 performers from 25 countries, and this time around the motorcycle daredevils will be back zipping through the tiny steel globe. Also on hand will be big cat trainer Alexander Lacey (shown here). At 1111 S. Figueroa St. or axs.com.
Dakah Hip Hop Orchestra: California Plaza Watercourt, June 28, Every year the folks at Grand Performances bring some familiar names back to the California Plaza Watercourt. In 2014, one of the returnees is Geoff "Double G" Gallegos, who will tote along his 60-plus piece Dakah Hip Hop Orchestra. The free event at 8 p.m. on June 28 will feature a full-on orchestra augmented by turntables and a rhythm section, as well as rappers and singers. Their music blends hip-hop and funk beats with jazz and symphonic arrangements. The group began in the late 1990s with less than 20 members, and Gallegos leads the orchestra and composes most of the pieces. At 350 S. Grand Ave., (213) 687-2159 or grandperformances.org.
danah boyd at Aloud: Central Library, July 29, danah boyd (that's not a typo — she prefers the name lower-case), a principal researcher at Microsoft, is often called one of the most influential women in technology. She brings her insights to the Central Library's Aloud program in a July 29 discussion dubbed "It's Complicated: The Social Lives of Networked Teens," after her newest book of the same name. She'll discuss the myths surrounding teens' usage of social media and examine the impacts of an increasingly interconnected culture. It is one of many Aloud highlights in June and July. Other intriguing events include a visit from filmmaker Miguel Arteta on June 30 and Francisco Goldman exploring life in Mexico City on July 17. Tip: All Aloud events are free, but you need to make reservations ASAP. At 630 W. Fifth St., (213) 228-7025 or lfla.org.
FYF Fest: Exposition Park and the Sports Arena, August 23-24, For years, Los Angeles State Historic Park was home to the indie celebration known as the FYF Fest. Though the park is closed for a year-long renovation, the spirit hasn't been dampened. The two-day festival again starts with the edge of the mainstream and then tilts to the alterna-world. Saturday's headliner is Phoenix, and other acts on the bill include Interpol, Death Grips, Against Me! (shown here) and decidedly old-school faves Slowdive and Slint. On the top of the lineup Sunday are The Strokes, who will be joined by sister act Haim, Flying Lotus, the curious rapper Earl Sweatshirt and many, many more. Set times will be announced the week of the festival and, believe or not, kids under 10 get in free. At 3939 S. Figueroa St or fyffest.com.
The Blues Brothers: Pershing Square, August 8, Most of the time, the people you meet in Pershing Square who claim to be on a mission from God are of a dubious mental state. Come Aug. 8, you'll be rolling with a truly righteous crew as the park's Friday Night Flicks program features The Blues Brothers. The complimentary screening starts just after dark, but be sure to arrive early and snag a good seat. If you can't make it out that night to enjoy the story of Jake and Elwood, then drop by on Aug. 15 to see Purple Rain, the Prince vehicle that won Pershing Square's Facebook voting contest to be this year's viewer's choice film. Friday Night Flicks continues deep into the fall. At 532 S. Olive St., (213) 847-4970 or laparks.org/pershingsquare.
Ron Galperin: Town Hall at City Club, June 26, Does a breakfast with the Los Angeles City Controller count as entertainment? It does when it's Ron Galperin. Our pueblo's top fiscal watchdog is trying to reinvent the office through the use of data sets and placing information online. With a partner in transparency in Mayor Eric Garcetti, Big Data Ron is poised to alter how we think of fiscal accountability in Los Angeles. At the morning event hosted by Town Hall-Los Angeles on June 26, feel free to ask Galperin how the city spends its money and why reporters always use the word "scathing" when referencing an audit. Also on the Town Hall roster this summer is a July 22 luncheon with Edison International president and CEO Tom Craver. At 555 S. Flower St., 51st floor, (213) 628-8141 or townhall-la.org.
Summer Nights in the Garden: Natural History Museum, July 11, The quiet expanse of Exposition Park will be illuminated for five evenings in the coming months as the Natural History Museum introduces its Summer Nights in the Garden program. The inaugural event on July 11 features a cocktail bar, food trucks, a museum tour, the Citizen Science table (learn how to get involved in local projects), pickling lessons and a soundtrack from KCRW's Anthony Valadez. It's kind of like First Fridays, except that it's free (to those who RSVP beforehand), outdoors and includes a pickling lesson. The fun runs from 5-9 p.m. Future installments take place July 25, and Aug. 1, 15 and 29. At 900 Exposition Blvd., (213) 763-3466 or nhm.org.
Arctic Monkeys: Staples Center, August 7, Fuzzy guitars, spacious vocal reverb and a bare-bones backbeat herald the approach of Britain's biggest psych-rock export, the Arctic Monkeys. On Aug. 7, the quartet from Sheffield, who first burst onto the scene in 2005 with the pulsating "I Bet You Look Good on the Dance Floor," return to Southern California in support of their 2013 album AM. It's been quite a ride over the years, as the group fronted by Alex Turner has risen from club act to arena headliners. The new record, by the way, was recorded at the Rancho De La Luna studios out in Joshua Tree. Expect warm desert vibes and a cool British sensibility when the Arctic Monkeys plug in to the Staples Center's massive sound system. At 1111 S. Figueroa St., (213) 742-7100 or staplescenter.com.
Dodger Baseball and Tattoos: Japanese American National Museum, Through September 14, JANM showcases its range this summer with two big exhibits. Dodgers: The Brotherhood of the Game, uses photos, memorabilia, video and more to explore the impact of minority players such as Jackie Robinson, Fernando Valenzuela and Hideo Nomo on the team and baseball as a whole. It also looks at how growing international outreach from owners and managers, notably Tommy Lasorda, led to greater diversity in the game. Then there's Perseverance: Japanese Tattoo Tradition in a Modern World, which examines the legacy and artistry of Japanese tattoos. Featuring gorgeous photos of tattooed bodies by Kip Fulbeck and plenty of historical context, Perseverance is the perfect way to discover what that koi fish on your forearm really means. Both shows run through Sept. 14. At 100 N. Central Ave., (213) 625-0414 or janm.org.
Fight Club: Exposition Park, July 5, The first rule of Street Food Cinema is you don't talk about Street Food Cinema. Wait, that's not true at all. The gang who programs the movie/band/food events want everyone to talk about them, and people will do plenty of that on July 5, when David Fincher's Fight Club screens outdoors at Exposition Park. Music comes from the Komox Kids and there will be about a dozen food trucks, including The Urban Oven, Meat the Greek and the Pudding Truck (pudding truck!). Reserved seating is $17 and kids under 5 get in free, but if you bring someone under 5 to this show, then Tyler Durden wants a word with you. Other highlights on the Street Food Cinema lineup include Bridesmaids on July 12 and the Quaalude bonanza that is The Wolf of Wall Street on July 26. At Exposition Park, (323) 254-5068 or streetfoodcinema.com.
© Los Angeles Downtown News 2014
Click here to view full article
Tags:
actor
,
concert
,
film
,
movie
,
music
,
release
,
singer
,
television
,
tour
,
tv